Southside motor factors celebrate 40 years in style
02/05/2019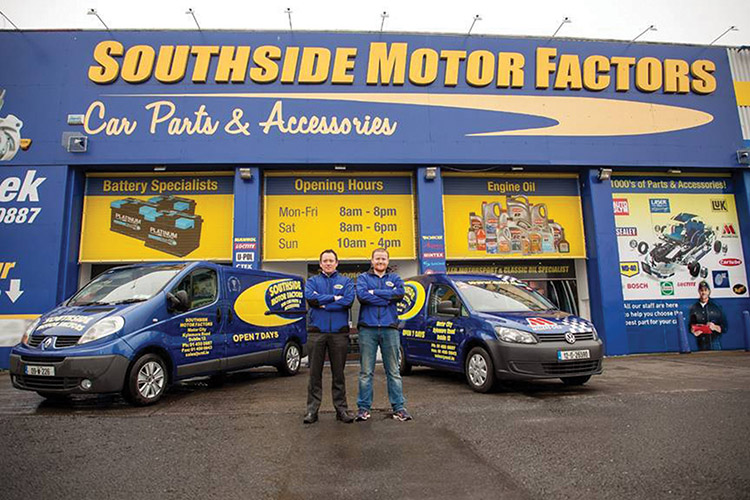 In a year when Southside Motor Factors celebrated 40 years in business, it was entirely fitting that this outstanding family-run business should be named Motor Factor of the Year at the 2019 Irish Auto Trade Awards which were held in Dublin's Citywest Hotel on October 20 last.
There was double delight for Southside Motor Factors as they were also named Motor Factor of the Year for Dublin for the second year running. Media personality Ivan Yates was the Master of Ceremonies at the prestigious awards which are sponsored by Search Workshop Supplies Northern Ireland and honour the best operators in all sectors of the Irish auto aftermarket. The categories cover: main dealership aftersales; independent workshops (servicing and repairs from cars through to trucks and buses); manufacturer and dealership parts suppliers; wholesale and retail motor factors; bodyshop / refinishers; body builders / converters; recovery operators; tyre manufacturers – wholesalers and retailers; manufacturer innovations; and other awards.
It was a great way to celebrate their 40th anniversary They had got a call beforehand to tell them that they had won the regional award for the second year-in-a-row, so to win the overall award – which they previously won in 2016 – as well was fantastic. It is a great recognition for the business, staff and the level of service they provide.
From humble beginnings, Southside Motor Factors has become one of the leading independent distributors of the highest quality car parts, workshop consumables, tools and diagnostic equipment in the capital. Established in 1978 by Neil Tohill, the company originally operated from beside the Walkinstown Roundabout before relocating to its current base in Motor City on the Kylemore Road, Dublin 12. With numerous car dealerships and garages surrounding it and the Naas Road and M50 just a short drive away, the location couldn't be any better.
Managing director Neil is joined in the business by his sons Neil Jnr and Gerard and a 20-strong workforce made up of warehouse operatives, counter staff, van drivers and accounts personnel. Store manager Mark McEndoo has a wealth of experience in the trade. Southside Motor Factors also have a dedicated sales team in the office and out on the road to support the growing needs of their customers. The company has five vans covering Dublin city and county on a daily basis.
The firm employ a top-class team of people who provide an exceptional service to their customers. They have the experience, expertise and knowledge to solve all motoring issues. They pride themselves on customer service more than anything. They have some very loyal customers and are gaining new ones every day.
With a wide range of car parts and accessories to suit all makes, the business stocks quality brands at competitive prices. There are thousands of parts in stock, from brake pads, oil filters, discs, exhausts, batteries and clutches to spark plugs, timing belts, CV joints, camshafts, head gaskets, air filters, shock absorbers and air fresheners. Among the brands stocked are Teng Tools, Castrol, Laser Tools, Motul, Febie, Blue Print, Knecht, Denso, NGK, Bosch, Autoglym and Concept.
Southside Motor Factors' expert staff can help you source any car part or accessory in Dublin. As well as parts and accessories, they stock all your everyday essential workshop consumables such as nitrile disposable gloves, disposable mats, steering wheel covers, hand cleaners etc. In addition, the award-winning motor factor stocks a wide selection of top-quality diagnostic tools for cars so that you can quickly, accurately and easily diagnose any potential problems in your vehicle's electronics.
Southside Motor Factors is proud to be one of Ireland's leading suppliers of high-performance car batteries, stocking worldwide recognisable brands such as Platinum. Platinum car batteries combine leading technology, incredible reliability and superior performance. The Platinum Prestige range are lead-acid car batteries and service 97%+ of the Car Parc and include a wide range of Japanese part numbers, all of which are manufactured to meet OE specification.
Platinum Prestige Plus car batteries have been specifically designed to exceed OE specification and to offer superior performance. With increased service life, the Prestige Plus range perform to the highest standards, even in the most demanding conditions.
Platinum Start / Stop ECM (Enhanced Cyclic Mat), also known as AFB (Prestige Flooded Battery) or EFB (Enhanced Flooded Battery), is an evolution of traditional lead-acid batteries and is the best option for compact cars equipped only with the Start & Stop function, perfect for entry Level Start / Stop vehicles. As part of the WEEE Ireland waste programme, Southside Motor Factors take back and recycle your old batteries.
Recently, Southside Motor Factors added Meguiar's Professional Detailer Series to its valeting range. The Series offers high-quality cleaning and detailing products in great value trade packs. The Detailer line is made up of bulk buy, highly concentrated products along with convenient individual spray applicators which are specifically designed to meet the needs of professionals and discerning enthusiasts. The range includes car shampoos, cleaners, dressings, polishes and waxes which are designed for speed, efficiency, cost-effectiveness, and which deliver outstanding results every time.
One of Southside Motor Factors' biggest selling points is its long opening hours. Their doors are open seven days a week, from 8am to 8pm Monday-Friday, 9am to 6pm on Saturdays and 10am to 4pm on Sundays.
With Southside Motor Factors continuing to go from strength to strength, they would like to take this opportunity to thank their customers for their continued support.
Here's to the next 40 years of this thriving family business!
Southside Motor Factors Ltd
Motor City,
Kylemore Road,
Dublin 12.
Telephone: 01 4500887
Email: [email protected]
Web: www.smf.ie
Taken from Irish Trucker & Light Commercials magazine, Jan/Feb 2019, Vol 22 No 1