Tadhg Hawes Motor Parts is one of Munster's finest
26/04/2019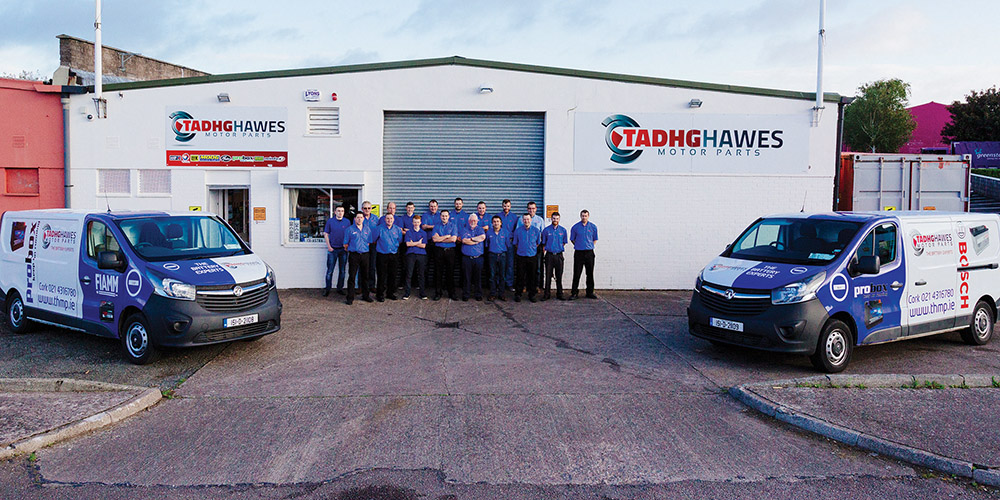 There were jubilant scenes at the 2019 Irish Auto Trade Awards in Dublin's Citywest Hotel on October 20 last when Tadhg Hawes Motor Parts was named Motor Factor of the Year for Munster.
Managing director Tadhg Hawes was both surprised and delighted to receive the award: "It came as a complete surprise as we were up against very strong competition and had never won an award before. It's great recognition for the company, our staff and the level of service we provide."
The Irish Auto Trade Awards are the culmination of a thorough and professional process in identifying the best operators in all sectors of the Irish auto aftermarket. The categories cover: main dealership aftersales; independent workshops (servicing and repairs from cars through to trucks and buses); manufacturer and dealership parts suppliers; wholesale and retail motor factors; bodyshop / refinishers; body builders / converters; recovery operators; tyre manufacturers – wholesalers and retailers; manufacturer innovations; and other awards.
With branches in Midleton and Cork City, Tadgh Hawes Motor Parts has established itself as the leading car parts and batteries supplier in the region. The Hawes name has been synonymous with the motor trade in Cork since the mid-1960s when Tadhg's father Joseph began supplying parts to local garages. This led to him setting up Joseph Hawes Motor Factors in Midleton in 1974.
Tadhg eventually took over the business – which had been trading as AD Ireland since 2003 – in 2012 and renamed it Tadhg Hawes Motor Parts. Three years earlier, he purchased his first van – a silver 2006-registered Renault Trafic – from which he sold automotive batteries directly to garages. He then began supplying batteries to agri stores across Cork before taking on his first employee in 2011 and putting a second van on the road selling engine lubricants to garages and agri stores along with batteries.
After taking over his father's business, Tadhg took on five employees to run the battery business and motor factors from under the same roof in Midleton. He also purchased three delivery vans at this time. In 2014, he increased the staff to 14 and this was followed in 2015 by the opening of the Cork City branch in Togher.
Tadhg added new product lines from Fiamm Batteries and Laser tools in 2016 before joining the Cookstown. Co. Tyrone-headquartered FG7 buying group the following year to ensure his business remained competitive in an ever-changing market and to safeguard its future. As a group, FG7 offers a vast range of quality products backed by dependably high service levels. To ensure that FG7 can deliver on its promise, stocks are specifically focused on the Irish market. Behind-the-scenes and supporting FG7 members are the most up-to-date IT systems which ensure that stock and pricing is as sharp as can be.
In 2017, Tadhg Hawes Motor Parts also launched its garage trade portal which allows customers to price, check availability and purchase parts online.
The family business currently employs 17 staff and has 12 vans covering all of Co. Cork as well as parts of Co. Waterford. Colm Gallagher and John Juliano are the respective managers of the Togher and Midleton branches. Tadhg attributes the company's growth and success to the experience and knowledge of his staff, the quality of its parts and products, and the advice and training he received from his father at the outset.
"He (Joseph Hawes) showed me the ropes and got me started. We wouldn't have got to where we are today without him," he opines.
"We have managed to recruit a high-calibre workforce who provide an outstanding service to customers. They have a wealth of experience within the motor factor sector and are dedicated to solving all your motoring issues."
With a wide range of components and parts to suit all vehicles, Tadhg Hawes Motor Parts stocks quality brands at competitive prices. Vans carrying out multiple daily deliveries ensure customers get their orders at their door on time, every time. There are thousands of parts in stock, from braking, filters, batteries and clutches to tools and garage equipment, engine oils, car paints, steering and shock absorbers. Top selling brands include Mintex brakes, Knecht filters, Moog steering parts, Luk clutches and NGK spark plugs.
Tadhg Hawes Motor Parts is recognised as the largest distributor of automotive and commercial batteries in Cork, with batteries accounting for 25% of its overall sales. Tadhg and his team understand the different applications for car battery requirements and pride themselves on meeting their customers' battery needs, whether it's for a car, HGV, motorcycle or tractor. They stock many brands of batteries, including Bosch, Fiamm, GS and their own PROBOX brand, which is purchased from a range of OE battery factories around the world.
"We're committed to broadening our knowledge of batteries, a market that is getting more and more advanced every day. We keep our customers up to speed on battery applications and go above and beyond to find the solution to their queries," the affable Cork man explains.
Tadhg Hawes Motor Parts' mission statement is to "exceed our customers' needs effectively and efficiently, and to support mechanics to perform at the highest level, whilst maintaining utmost integrity, quality and trust".
Opening hours are 8.30am to 5.30pm Monday to Friday and 9am to 12.30pm on Saturdays. Tadhg and his staff would be delighted to hear from you!
Tadhg Hawes Motor Parts
Cork branch:
South Cork Industrial Estate,
Vicar's Road,
Togher,
Cork
Telephone: 021 4316780
Midleton branch:
Grand Union House,
Drury's Avenue,
Midleton,
Co. Cork
Telephone: 021 4634201
Web: www.thmp.ie
Taken from Irish Trucker & Light Commercials magazine, Jan/Feb 2019, Vol 22 No 1