No stone unturned in Health & Safety at Saint-Gobain
23/04/2019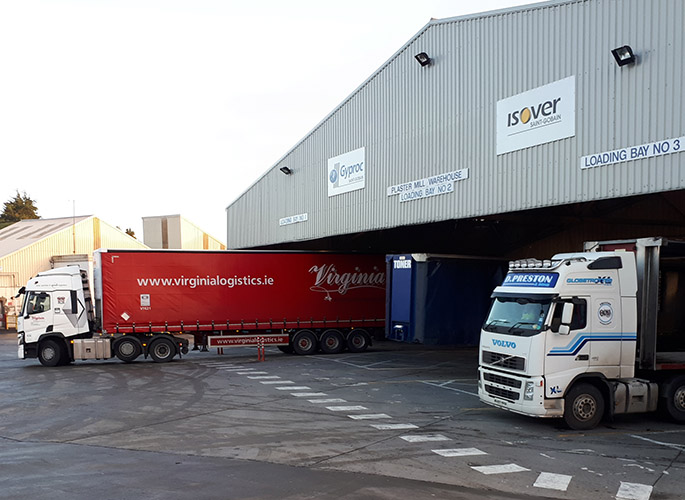 Logistics Manager with Saint-Gobain Construction Products Ireland Ltd., Jon Goodaker was shortlisted in the prestigious Transport Manager of the Year category of the 2018 Irish Haulier of the Year Awards. Irish Trucker touched base with Jon, who doubles up as chairman of the members council of the Freight Transport Association Ireland.
For the past three years, Jon Goodaker has been placing a major emphasis on Health & Safety in his capacity as Logistics Manager with Saint-Gobain Construction Products Ireland Ltd. Saint-Gobain is a world leader in the design and manufacture of construction materials, delivering innovative, sustainable solutions for partitions, wall linings, floors & ceilings, encasements, etc.
Saint-Gobain is firmly established as No.1 worldwide in Gypsum plasterboard and plaster, the Gyproc range of products incorporates plasterboard systems, building plasters and Gypsum ceilings (to provide the highest quality wall lining, partition wall and ceiling systems) as well as metal (Gypframe), access panels and accessories.
Market-leading brands provided to the construction trade in Ireland include Gyproc, Isover, Weber, Ecophon, JP Corry, Bassetts, Performance Plastics and PDM, which together offer a range of high-performance energy-saving products and solutions to help create a more sustainable built environment.
Needless to say, to get the vital materials to site, transport and distribution is at the heart of the Saint-Gobain Construction Products Ireland Ltd. operation, with Jon Goodaker's efforts recently recognised at the Haulier of the Year Awards, where he was shortlisted in the Transport Manager category.
"It was a real honour to be shortlisted, especially as this was the first year that we put ourselves forward for these awards," he notes. "It's nice to see that the seven-in-a-half years that I've been working in transport in Ireland have been noticed."
Jon is well known through his time with the FTAI (Freight Transport Association Ireland). "To make the shortlist of ten was a real honour, considering not just the number of applicants – up to 50 of them – but also the calibre of them. So, overall, I was thrilled to be on that shortlist."
As the worldwide leader in creating sustainable habitats, with 170,000 employees and represented in 66 countries, Saint-Gobain designs, manufactures and distributes building and high performance materials, providing innovative solutions to the key construction challenges of growth, energy efficiency and environmental protection.
Saint-Gobain is the worldwide leader for Habitat, which accounts for more than 70% of its sales, mainly for new residential construction and renovation. Saint-Gobain provides solutions that make buildings more efficient in terms of their energy consumption, and which help contribute to saving the planet. Most of its solutions (especially those using glass, mineral wool insulation, plasterboards, and facade and floor covering mortars) are already helping and will help even more in the future to improve the energy efficiency of buildings.
Gyproc began as Gypsum & Bricks in 1936 and has provided materials for some of the most iconic buildings on the island of Ireland. In 1965, BPB took a majority shareholding in Gypsum Industries and in 2005 became part of the Saint-Gobain group; the world leader in design, production and distribution of construction materials. The brand subsequently changed to Gyproc.
Over the years, Gyproc has become a major authority in the Irish construction industry with a long history of providing innovative, cost-effective and reliable products that meet the demands of the local construction industry. They have been involved in many of the biggest and most prestigious commercial building projects in Ireland since the 1940s - including Cork City Hall, Google Docks, The National Convention Centre, 3 Arena, The Aviva Stadium, Bord Gáis Energy Theatre, The Titanic Signature Building, the landmark Terminal Two at Dublin Airport, the Royal College of Surgeons, UCD's Science Block, Croke Park and countless schools, hospitals, offices, hotels, homes and apartments island-wide.
"Our head office and one of our technical academies are in Dublin 22, while the main operations take place out of Kingscourt, where we have two factories and a mine," Jon reveals. "Plasterboard is manufactured in one factory and bagged plaster in the other. The mine supplies the raw materials and we also import from the Nordics, France, Germany, China and the UK."
All end materials are destined for the construction trade within the island of Ireland. This is where transport and distribution enters the equation in a big way…
"There are a lot of movements, with all the materials either going to merchants or directly to site. All of the distribution is subcontracted out to an exceptional team of hauliers," the Logistics Manager continues. "Toner Transport and Virginia Transport are our two main haulage subcontractors and they would account for about 90% of the work. But we also use some smaller hauliers including Michael Sheenan Transport, John Power & Sons Transport and Pat Finnegan [Finnegan's Roadservice Ltd.] in Kingscourt as well as David Preston, J&G Cosgrave Transport in Limerick, Pat Foley Transport in Dublin and Denis J Downey Haulage in Cork.
"On the import side of things, we work with Surefreight, Woodside Haulage, HMT Shipping and Maxi Haulage.
"Airtight homes are becoming increasingly popular and we have airtight, energy-efficient solutions which cover insulation, steelwork, studwork, barrier and plasterboard. We are essentially a one-stop shop for plaster and insulation materials for attics, roofs, walls and floors and a home can be built from start to finish using our insulation products."
Saint-Gobain Construction Products Ireland Ltd. generates direct employment for over 300 people plus the aforementioned haulage subcontractors. "I meet up with all the hauliers twice a year to make sure they are all fully compliant and that all legislation requirements are being met in terms of weight, driver's hours and the Health & Safety of our drivers and the public.
"Good practice in load securing is an area that a lot of hauliers tend to ignore but is something that we place a major emphasis on and work very hard at," says Jon. "Health & Safety has always played a pivotal role within our operation."
Jon is current chairman of the member's council of FTAI. "The FTA is a massive organisation in the UK but was only really starting here in Ireland when I joined seven years ago, while working for Virginia Transport," he states. "The council holds four meetings per year, where we discuss the burning issues of the day, Brexit being the main one at the moment, which will have massive implications for haulage in Ireland."
FTA Ireland is a not-for-profit membership trade association for the Irish freight and logistics industry. It is wholly owned and governed by its members and acts solely to advance their best interests. FTAI covers all aspects of private and public freight transport, passenger transport and the logistics supply chain, including the movement of freight by road, rail, sea and air.
Its mission is to help members develop safer, more efficient and sustainable supply chains and transport operations. FTAI works hard to enhance the Irish freight and logistics industry's influence and image by promoting high standards of safety and compliance and is committed to working with industry and Government partners to achieve these objectives and develop a truly innovative, efficient, competitive and sustainable Irish freight and logistics industry to support the Irish economy.
"In partnership with DIT, we launched Ireland's first-ever Logistics Apprenticeship programme in September, a two-year course designed to address the skills gap in the market and make logistics a more attractive proposition to school leavers as haulage is suffering from a lack of logistics personnel and drivers," Jon concludes. "We are currently in the initial planning stage of a joint venture with the Enterprise Training Board and DIT to put together a driver training programme to address the driver shortage that is expected over the next five years.
"We address issues in a similar way to what the IRHA does, except we represent all freight personnel in Ireland."
Saint-Gobain Construction Products Ireland Ltd.,
Unit 4,
Kilcarbery Business Park,
Nangor Road,
Dublin 22.
Tel: 01 6298400 / 6237055
Kingscourt Road,
Lisnagrow,
Navan,
County Meath
Tel: 042 9698100 / 9667110
Email: [email protected]
Web: www.gyproc.ie
Taken from Irish Trucker & Light Commercials magazine, Jan/Feb 2019, Vol 22 No 1