The milk link
18/04/2019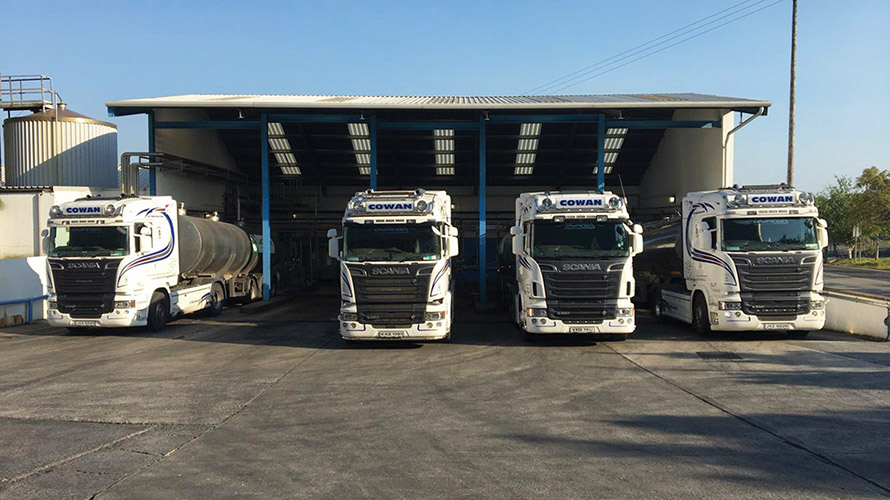 Ever wonder how you're milk gets to your kitchen table? Well, it's a process that has been carried out over and over again in Ireland for many years now.
Part of that process is when the cows are milked, that milk is drawn to a creamery. Hauling that milk are specialist transport companies who generally focus solely on bulk milk transportation.
For this month's edition of Irish Trucker, we focus on one long standing company that has bee supplying this specialist service for almost 30 years now.
For the past 28 years, Cowan Haulage have been providing an efficient and reliable service to the many farmers and co-ops in their area.
Established by David Cowan in 1990, the company specialises in bulk milk transportation. Based in Banbridge, Cowan Haulage draw milk to Strathroy Coop where the Lackpatrick brand of milk is produced and exported to over 30 countries around the world.
Time is certainly of the essence in the haulage industry and this is especially essential in the bulk milk transportation sector, an area that time constraints are of a great focus.
There are many bulk milk hauliers throughout the 32 counties as dairy farming plays a massive role in industry on the island of Ireland.
Many farmers are growing in size, particularly dairy farmers and this that there is an increase in milk collections.
Up north, the price of milk is working out about 26 or 27p per litre, which is a huge rise from 20 months ago when it was only 18p per litre meaning the work load has increased.
Very much a family run business, David has been joined in the day to day running of the company by his son Davie, daughter Linda and Davie's wife Tanya.
Davie spoke to Irish Trucker about the business and how they have managed to build on their success over the past three decades.
"We operate a fleet of eleven trucks, all of which are Scania and we collect milk from a number of different counties surrounding us such is the vast area that we cover.
With eleven trucks operating on a daily basis and two at night, this is very much a 24hr service and the experience they have gained over the years has stood to them.
Davie admitted that Scania has always been the preferred choice of truck for them as they find the Swedish make the most reliable for the type of work that they do.
"They are able for the hard work, simple as that. The roads and farms that we are travelling too, take a lot out of the trucks and we need reliable trucks as downtime is something we try to avoid."
Davie added that maintenance is key to running a good fleet of trucks and to that end, Cowan Haulage added a new work shop at their base in Banbridge a couple of year back.
"We would do a lot of our own maintenance, while the trucks that are under warranty go back to the dealers. Maintenance checks would be carried out on a regular basis to ensure that they trucks are going well."
The haulage industry is where anyone involved has a number of overheads to contend with on a regular basis, diesel and insurance are the two biggest costs for any haulier and Davie admitted that you have to run a tight ship in order to survive.
"The rates haven't increased at all over the last few years, but diesel and insurance in particular have. The cost of insurance has become ridiculous in the past few years and something needs to be done about it. Diesel prices are also creeping up and you have to try and keep the overheads down as much as possible, which is not easy at times, but we do our best."
Through their many years of business, the team at Cowan Haulage have built up a great rapport with not only the farmers, they collect from, but the two creamery as well.
"We would have a great relationship with anyone we are dealing with. The drivers are familiar with the farmers and vice versa, while the guys in the co-op would have a great relationship with all our drivers. Many of the drivers are here a good few years, some since almost the start and they would actually be friends with the farmers."
Over the years, the collecting of bulk milk has changed considerably and Davie stressed that it was essential that they moved with the times also.
These days, it is a lot more computerised and everything detail has to be recorded. The drivers are well trained and they ensure that everything is done correctly.
The increase in farm sizes generally means that it is easier to manoeuvre around a farm yard than it was in the past and this allows Davie and the rest of the drivers to get through the work quicker.
"Most farm yards that we go to now are easily accessible and that makes our job so much easier. But the lads are experienced drivers and no matter where they have to go, they will be able to collect the milk."
Davie admits that the Cowan family are happy with the direction of the business as milk quotas increase all over the country.
"We are kept going, we have a core of customers that we collect off and there is plenty of work to keep us going, so there is no point complaining."
Cowan Haulage Ltd
36 Cascum Road,
Banbridge,
Co Down
BT32 3EA
Taken from Irish Trucker & Light Commercials magazine, Jan/Feb 2019, Vol 22 No 1