Zellwood's stunning fleet keeps getting better
17/04/2019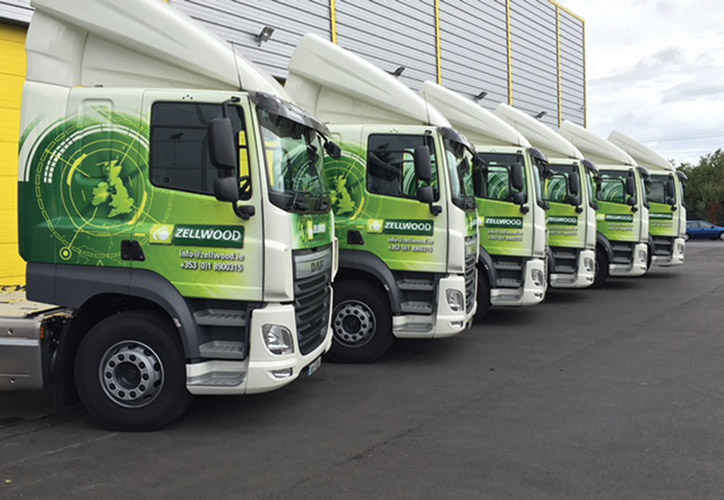 Dublin-based Ireland / UK chilled-foods distributor Zellwood Ltd. has taken possession of more than 30 new DAFs this year alone, increasing their magnificent DAF-only fleet to 70+ units. As the extensive fleet replenishment / expansion programme gathers pace, Irish Trucker caught up with director William Flanagan to get an update.
In Q3 2018, award-winning, family-run contract management and logistics solutions provider Zellwood Ltd. took delivery of six brand-new XF trucks from DAF Ireland, bringing the total size of their fleet to more than 70 vehicles, all of which are DAF.
Zellwood has been delivering the goods since 1995, when brothers William and Mark Flanagan began working two small trucks at the Dublin fruit markets. Today, the Dublin-headquartered company (with depots in Charleville, County Cork and Mullingar, County Westmeath) boasts an extensive DAF fleet with up to 140 drivers and contracts covering the length of Ireland and the UK.
For director William Flanagan, a strong business relationship is as important to the business as a hard-working truck – something he has learned from Zellwood's decade-long relationship with local DAF dealership, DAF Ireland.
"The main reasons we run DAF as our manufacturer of choice are of course for their reliability and service, but also for the relationship we've developed with DAF Ireland's sales and maintenance teams in Dublin. The whole aftersales service is very good, everything we have is contract maintained by DAF so we're in contact on an almost daily basis," he explains.
"We have an excellent working relationship with DAF. They are extremely reliable and in all the years we've been working with them we have had no issue. Between second-hand and brand-new vehicles, we took delivery of over 30 DAFs from the OHM Group in 2018."
According to operations director for DAF Ireland, Conal McCourt: "Regardless of who you speak to at our Dublin HQ, almost everyone will have heard of or worked with Zellwood. We have a lot to do with the supply, maintenance and servicing of their DAF fleet – so much so that Zellwood has become part of the everyday operations for many of our team members. We would like to thank Willie for his kind words; we wish him and his team all the best with their six new vehicles and look forward to many more years of doing business together."
The six newest XF trucks have been put into service delivering temperature-controlled foods across the UK. Zellwood has grown to become one of the country's leading retail temperature-controlled distribution operators, its fleet size more than doubling in the past 18 months. As well as expanding the fleet, a proactive replenishment programme is also implemented:
"We like to upgrade on a four-year basis," William confirms. "In the market we're active in, you simply can't afford a breakdown or to let a customer down, so upgrading the feet regularly is vitally important. Furthermore, as you move up to newer models, you are also reducing your carbon footprint and that goes hand in hand with providing an efficient, dependable service.
"All of our vehicles are also tracked by Blue Tree Systems, which monitors driver performance, vehicle whereabouts, time of delivery and the temperature point at delivery. For Health & Safety, they are also fitted with cameras to eliminate blind spots and reduce the risk of accidents."
Running a dedicated fleet of DAF trucks, Schmitz trailers, Thermo King fridges and D'hollandia tail lifts that not only performs brilliantly but also looks fantastic, Zellwood is totally focused on catering for the needs of its main clients, namely Gist Ireland, DHL, Lidl and Nature's Best, all of whom receive professional, tailored transportation solutions. While the majority of work is carried out nationally, Zellwood also have trucks in the UK on a daily basis.
ISO 9001, ISO 14001 and FTA-accredited, Zellwood – the 2018 Fleet National Haulier of The Year - has come a long way in 23 years to take its place at the forefront of the chilled-foods distribution sector and co-founder William has every right to be proud of the success and growth of the company to date:
"We are definitely very proud of what we have achieved over the years," he concedes. "We work for blue-chip customers exclusively and, if you are working for them, then you are obviously doing a good job. Going forward, we are hoping to grow the business further within our existing customer base."
Supplementing the superb fleet, the company's drivers - fully-trained, reliable, professional, friendly and experienced – are also instrumental in the success and growth of the business: "Having good drivers is a big thing and we're also fortunate to have the same management team that's been here since the start," William notes. "We have a small turnover of staff and that brings obvious benefits. Myself and Mark are directors, Patrick Quearney is operations manager and James Plunkett is fleet manager. Meanwhile, Bartek Moskala and Shane O'Neill are planning managers and they have a team of planners working underneath them. Planning is important as we have vehicles on the road 24/7, seven days a week to fulfil our customers' needs."
Down through the years, Zellwood Ltd. has won multiple awards for its striking livery, each vehicle resplendent in vibrant, eye-catching green and white. The aesthetics of the fleet is clearly something that William places a major emphasis on. At the end of the day, the mindset of a true trucker prevails…
"Image and branding is a big thing here and we invest a lot of money into developing and maintaining the appearance of the trucks," he concludes. "It's not just about providing an excellent service. There are a lot of trucks on the road and you want people to remember yours for all the right reasons."
Zellwood Ltd.,
Unit 18,
Turvey Business Centre,
Turvey Avenue,
Donabate,
County Dublin.
Tel: 01 8900319 / 890 0315
Email: [email protected]
Web: zellwood.ie
Taken from Irish Trucker & Light Commercials magazine, Jan/Feb 2019, Vol 22 No 1