B&F Trailerspares have a spring in their step
16/04/2019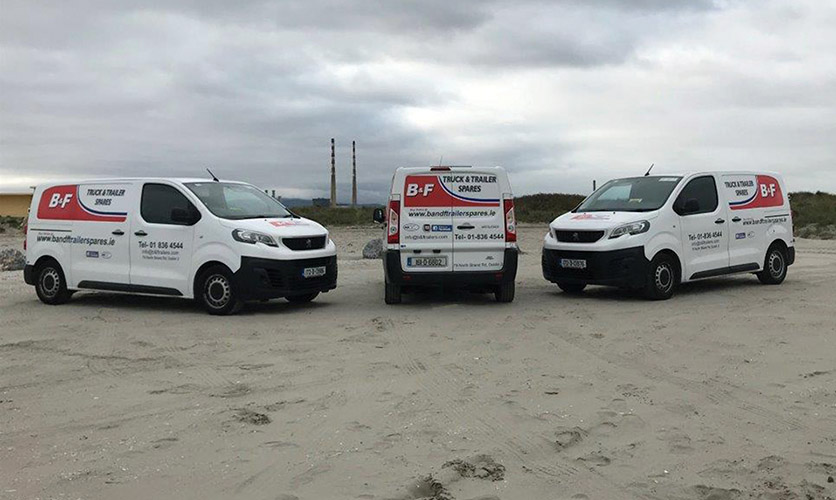 Dublin's newest commercial vehicle spring centre - now stocking all makes of HGV and LCV springs, mirrors, body panels and lights - B&F Trailerspares Ltd. continue to expand their offerings to truck, trailer, van, car and boat trailer owners across the Leinster region. As the family-run business marks its 40th anniversary, Irish Trucker touched base with director Jonathan Flood to get an update.
Synonymous with quality parts, quality service and quality prices, B&F Trailerspares Ltd. on North Strand, Dublin 3 specialises in sourcing and supplying a complete range of parts for trucks, trailers, LCVs and Car and boat trailers.
Mindful of the fact that to sit still is to effectively move backwards, the long-standing, progressive business – fronted by brothers Damien and Jonathan Flood – is constantly sourcing new products in order to offer customers the best solutions and level of service possible. To this end, 2018 is a landmark year for the company, the 40th anniversary of B&F coinciding with a couple of important new departures:
"We've recently started Dublin's newest HGV and LCV spring centre, specialising in all makes of springs for all commercial vehicles," Jonathan notes. "We've also launched a new catalogue featuring a large selection of mirrors, body panels and lights for all commercial vehicles – Scania, Volvo, Mercedes, DAF, Ford, Volkswagen, etc. For further information on any of the new products, customers can contact us by phone or email, or drop into the shop if they are in the area."
When you are catering for a fast-moving market, there's no option but to move with the times and continually reinvest in new products and variations. At present, B&F Trailerspares are stocking up to 7,000 different lines, ensuring that they have a great choice of parts on hand to cater for any want or need.
"You have to keep moving," Jonathan agrees. "We're providing a full range of parts for all makes of truck, trailer, car, boat and light commercial vehicle and customers expect us to have a wide selection of high-quality parts in stock all the time and available at competitive prices.
"This is our 40th year in business and we're very proud to have reached that milestone. Our father [Billy] started the business in 1978 and we have always strived to meet customer needs. Everything we have done has been in response to the needs and expectations of customers. We understand that commercial vehicle owners and operators can't afford any downtime so we make sure we can sort them out as quickly and efficiently as possible.
"We've built the business up over the years based on service and price. We have been ISO 9000 certified since 1996 and only earlier this year achieved new certification in the new standard ISO 9001:2015, which we are extremely proud off. We go out of our way to look after customers and thankfully our core customer base has remained loyal to us."
B&F Trailerspares stock and supply parts for DAF, Scania, Volvo, Mercedes-Benz trucks, Meritor, SAF and BPW, Schmitz, Bradley / Knott & Indespension trailers amongst others, and all their parts are carefully chosen for their reliability, optimal performance and affordability. The ability to pick out products that will meet if not exceed the expectations of discerning customers goes hand in hand with four decades of experience at the forefront of the trailer and commercial vehicle parts business.
Parts can be perused and ordered online, if desired, with an unbeatable same day / next day delivery service available across the capital and province-wide. "We have four vans on the road and we offer a 24-hour delivery service nationwide," Jonathan states. Experienced staff are on hand to deal with any queries. "All of our staff are experienced and have an in-depth knowledge of the products, which is important, but it all goes back to fact that the parts are competitively-priced and backed up by a very strong service. That's our real strength and why people keep coming back to do business with us again."
B&F Trailerspares plays a vital role in ensuring that the wheels of industry keep turning. When you are counting major haulage operations, oil companies, bus and coach operators as well as leading garages, workshops and service centres across the land - and even the Defence Forces! - amongst your regular list of clients, then providing a dependable, first-class service is an obvious prerequisite.
"Adding new products is very important and, to an extent, you are constantly trying to reinvent yourself to keep things fresh and exciting and to make sure you have every base covered," Jonathan adds. "The new products that we've added – the springs, mirrors, body panels and lights – are of extremely high quality, matching OE standards, and they have been going extremely well for us so far."
Delivering an ever-increasing selection of high-performing, competitively-priced commercial vehicle and trailer parts to cater for all eventualities, B&F Trailerspares in an exemplary small family business that has established itself as a market leader over the past 40 years. This has been achieved by catering to customers' exact needs.
Going forward, Jonathan Flood promises that they will continue to provide the best products and service levels: "Our long-term goal is to remain competitive and grow the business as much as we can through introducing new products," he concludes. "Our business is built on service so we intend to maintain the same high standards for which we're known whilst also continuing to grow."
Finally, Jonathan concludes by saying: "We would like to take this opportunity to thank our many customers and suppliers for their continued support and our staff for their expertise, hard work and dedication. We hope to continue with you all for many years to come."
B&F Trailerspares Ltd.,
79 North Strand Road,
North Strand
Dublin 3.
Tel: 01 8364544
Fax: 01 8559905
Mobile: 087 244 1510 / 087 2558537 / 087 2762268 / 087 7707999
Email: [email protected]
Web: www.bandftrailerspares.ie
Taken from Irish Trucker & Light Commercials magazine, Jan/Feb 2019, Vol 22 No 1