Looking after the customers' needs
08/04/2019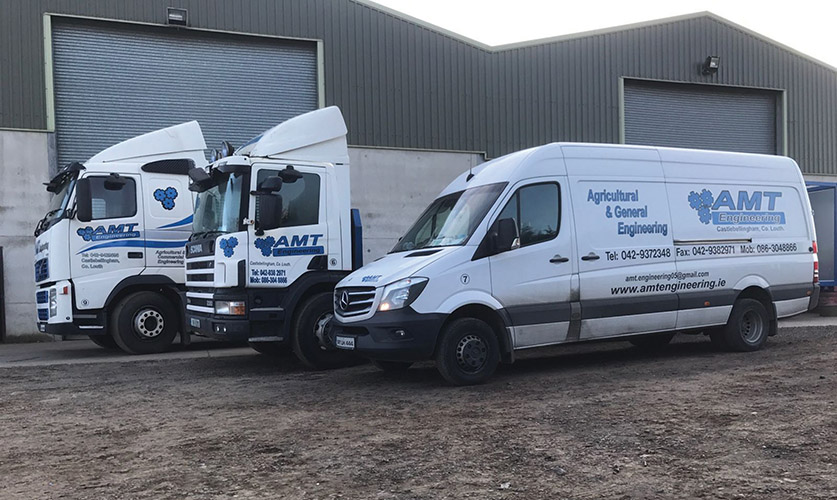 With so much experience in the design and manufacture of bespoke truck bodies, NSAI approved bodybuilders AMT Engineering is a name you can trust to provide you with your transportation solution. Their body-building team will work in unison with the customer to achieve something that's unique and 'just the job'
The specialist services they offer include truck and trailer body building, truck chassis modifications, axle fitting, steering conversions and truck crane fitment.
The speciality was building trucks to meet each customer's specific needs and requirements. With highly trained staff of engineering and production professionals, customers were assured delivery of what they asked for, knowing their equipment would meet the highest standards in terms of safety and design.
Based in Castlebellingham Co. Louth, the company has been building truck bodies and trailers to the highest standards since 2005. The team have worked hard to build a reputation for quality workmanship, excellent designs and well built products that will be around for a long time. Their products are used by some of Ireland's leading hauliers, farmers and contractors.
"We build truck bodies and trailers that are simply unrivalled in terms of quality, workmanship and performance and are competitive among our competition," said Alan Treadwell who formed the business.
"We are very busy at the moment and a lot of repeat custom would make up our client list. In recent years, we have become an N.S.A.I approved body-builder and that has enhanced our reputation even further.
"That was achieved three years ago and our work load has certainly increased since then. A lot of the work we obtain would come through word of mouth and we find that is the best form of advertisement.
"If you have a satisfied customer that tells someone about the work we do, then there is no better form of advertising in my mind."
Whether it's a typical truck body product to a specialised one, our team can build your single vehicle or a fleet of vehicles on a delivery schedule that we think will make you satisfied that you've made the right choice. AMT Engineering pledge to continue to manufacture the same quality, dependable, durable product lines that customers have come to expect from them. Moving forward, they will continue to implement new and innovative designs and features and strive to remain an industry leader.
"We take pride in working directly with the customers during the build process to meet specific customer specifications and needs."
AMT Engineering designs, engineers and manufactures all types of truck bodies and trailers amongst other products to the highest specification and standards, and the quality of their finished bodies and trailers speaks for itself. We have built our reputation on innovative design, excellent workmanship and quality, quality in everything we do.
"We cover a number of industries with our truck bodies and trailers as we build livestock, flat, dropside, box, curtainsider and a whole other range of bodies and trailers
Another string to the company's bow is the fact that they hire trailers to a select set of customers. Flat, extendable and curtainsider trailers are the most popular.
"This is a small part of the business where we would hire trailers to guys that we do other work for."
A full equipped workshop aids the staff of seven employees to carry out their daily duties to the highest standards possible.
"We do invest in equipment on a regular basis, you need to in order to keep the work coming in and give the customer what they want.
"A lot of the guys that come here are unsure of what they actually want, so it is up to us to work out a design that best suits their requirements, We can literally build any type of truck, for example a customer can drop a 6x2 tractor unit in to be converted and it can leave the workshop as an 8x2 rigid with a rear lift and steer axle and a brand new body of the customers choice. We can fit mid lift or tag axles or take them out where sometimes is the case and modify chassis to suit the job in hand. whatever needs to be done, we are more than confident that we can do it."
Alan admits that having a highly experienced staff around makes all the difference in being a success or a failure in this industry.
"The guys are very experienced and they can deal with any issue that a client may have. We are also working on our own brand of crash barriers at the moment, while we have a series of products being tested, so the future looks bright for us."
Customers are a lot more price conscious these days compared to before the last recession and Alan added that their aim is to give them what they want at an affordable price.
"Cost effectiveness is central to our approach. Every component, every process has to prove its value before it is included in our truck bodies and trailers and to recognise the quality of our products. Our customers keep coming back because they recognise the quality of our trailers and they appreciate the value for money."
Bodybuilding design starts from negotiations with the customer and acknowledging the customer's needs.
"We have a variety of specialists at your service from design, sales, production, and mounting departments. Together with the customer we will define load space, truck length, rear overhang, trailer coupling place, crane attachment type, headboard type etc. The manufacturer's bodybuilder instructions will be followed throughout design process to ensure best functionality and strength of truck and superstructure. We also make suggestions based on our experience."
AMT Engineering
Williamstown
Castlebellingham
Co Louth.
Tel: 042 9429595
Mob: +353 (0)86 304 8866
Taken from Irish Trucker & Light Commercials magazine, Nov/Dec 2018, Vol 21 No 8