J&F and Mitsubishi make the perfect combination
25/03/2019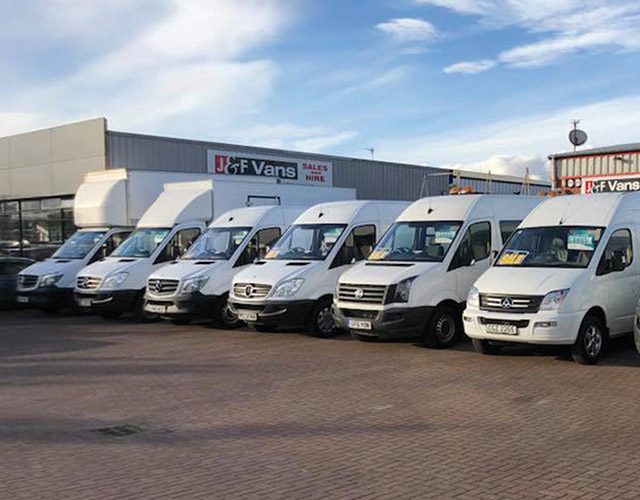 Established in 1972, J&F Group has developed a reputation for providing an excellent service to an ever-increasing customer base.
The experience gathered over the last 46 years means they are a leader in the sales and service of cars, light commercials and trucks.
J&F Trucks is a sister company of J&F Group and it is the main focus of this month's article as we look at what new vehicles are on offer to customers.
Based in Mallusk, Co Antrim, the family run business are main dealers for Mitsubishi trucks for over 20 years now.
The Current Fuso Truck lineup in Ireland consists of vehicles up to 7.5 tonnes gross. Most of the Fuso truck range can be driven on a standard car license.
"We constantly update our truck fleet and adhere to the latest vehicle and training standards," said Sales Manager John Paul Walsh.
The FUSO brand is known for its trusted quality, economic efficiency, solid & functional design and committed services. FUSO is the leading Japanese brand across many markets, known for its track record of technological innovations and high customer satisfaction based on the lowest total cost of ownership.
FUSO is an integral part of Daimler AG, one of the world's most successful automotive companies. With its divisions for Mercedes-Benz passenger cars and vans, Daimler trucks and buses, and financial services, the Daimler Group is a leading global vehicle manufacturer and the world's biggest manufacturer of commercial vehicles with a global reach. FUSO serves as a centre for the development of light-duty trucks and hybrid technologies.
"Hybrid trucks are going to become massive over the next year or two. They have lower emissions and they are they only vehicles that will be allowed into cities very shortly. I think it is going to happen quicker than people think," added John Paul.
Business at the moment is going well, according to John Paul, but he did reveal that the announcement of Brexit has affected them already.
"All of our chassis' are supplied to us from Dublin and as soon as Brexit was announced the pound weakened and the change over cost us a lot of money. It was a hit that we didn't see coming until very late, but it is something that we have had to get on with and make the most of. There is a lot of uncertainty with Brexit at the moment and no one really knows what way it is going to turn out.
" Even though Brexit is looming , we have never been busier with turnover and
vehicle sales increasing year on year . More and more of our customers are opting for us to carry out the maintenance on their vehicles and this has created further job opportunities within the company, especially in the service department. Unfortunately it is difficult to get vehicle technicians at the moment. The industry is struggling to attract new guys to take up apprenticeships and it is definitely a concern going forward."
Over the last few years, more and more customers have opted for contract hire, especially for trucks and light commercials.
"There definitely has been an increase in the interest of contract hire, there are so many payment options available to customers now and they are availing of some great deals. With contract hire, if there is a problem, a replacement vehicle will be sent out for the duration of the repair or service work."
John Paul stated that J&F Group are the longest serving Mitsubishi dealer in the U.K with 21 years' experience behind them now.
Customer satisfaction has always been the J&F Group's priority and that is something that has never waned over the years as this family run business continue to focus on their ever-increasing customer base.
"Everything we do is geared towards the customer. Our after sales is key to the success of the business and our customer know that we are just a phone call away if they have any queries or issues that need to be dealt with."
Their parts department continues to stock a comprehensive range of parts ensuring that no matter what the customer wants, they will have it on the premises or if not, they will endeavour to have it the next day.
Of the recent releases to the market, the new Canter is packed full of innovation. Such as the DUONIC dual-clutch transmission – a world first. The automatic start/stop function (ISS). Independent front suspension for all 3.5-ton models. And these are just a few examples. The result? Greater efficiency. Greater comfort and convenience for your daily transportation needs. And greater economy for our business.
Boasting a new design and outstanding efficiency, the new Canter is ready to get the job done for you. Augmented by innovations such as DUONIC, the world's first fully automated dual-clutch transmission for trucks.
"The Canter range has always proven to be very popular and that hasn't changed. They are extremely versatile vehicles with market leading warranty, payloads and fuel economy ."
J&F Group
43 Mallusk road,
Newtownabbey,
BT36 4PP
Tel: +44 2890 342019
e-mail: [email protected]
Taken from Irish Trucker & Light Commercials magazine, Nov/Dec 2018, Vol 21 No 8