A cool job
22/03/2019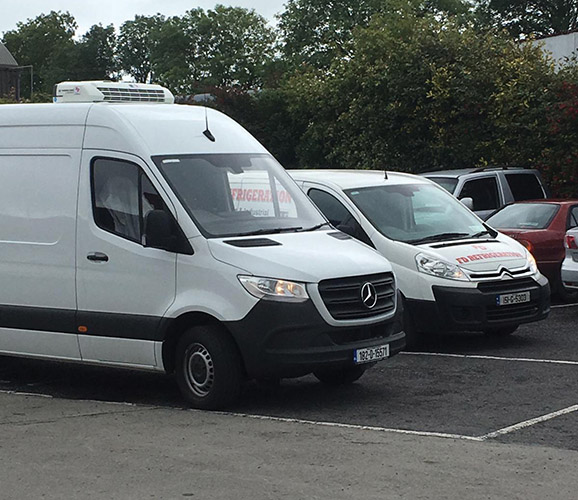 There are many different aspects and sections to the haulage industry as this sector employs thousands of people across the country.
The haulage industry is vitally important to our economy as it is essential to move products and goods from one location to another. Our export industry relies heavily on the haulage industry also and without it, well the country would surely come to a halt.
For it to run smoothly as possible, there are a number of contributing factors that keep the cogs turning and with so many different types of haulage to deal with, this is not an easy task.
Refrigeration work generally involves the transportation of foodstuff and in this area time constraints are greater than any other area of haulage work.
Hauliers working in this area have to have their refrigerated trailers and tankers in excellent condition as well as being well maintained. To ensure this is the case, they trailers and tankers are regularly serviced by highly trained professionals.
For this month's edition of Irish Trucker we profile Galway based FD Refrigeration Ltd, a family run business that specialises in refrigeration and electrical work for the transport and industrial sector.
FD Refrigeration was established in 1998 by Francis Donnellan who brought a wealth of experience to the role as he had worked in refrigeration for many years before hand.
Francis made a decision early to 'not get too big' and it is a decision that has stood him in good stead over the years as he has built up a loyal customer base, many of who have been with him since he started.
For the last number of years, he has been joined in the business by his son Finbarr who spoke to us about the services that they provide and the great lengths that they go to ensure that their customers are always satisfied.
"Business is going well at the moment and things have certainly picked up in the last couple of years," said Finbarr. "When the recession hit, there was a lull in the work, but in fairness, the customers that we have kept us going through that time and they have been very loyal to us."
Finbarr revealed that they are very much a nationwide company which sees them go to jobs in any part of the country. "The nature of the work means we could be in any county. We do all the work for the likes of Arrabawn Co-Op, Corrib Foods, Midland Fine Foods and BWG to just name a few.
"We do refrigeration and industrial work for these and other companies. I am a qualified electrician, while I also have done various courses with Thermo King who manufacture refrigeration systems. My father worked for Thermo King for years and he gained a lot of experience from there before setting out on his own."
Not only does Finbarr and his father cover the length and breadth of the country, but they generally have to do it at unsociable hours also.
"All our customers want their vehicles working as much as is legally possible, so we tend to do a lot of our work out of hours or when they are lying idle. This is certainly not a 9am to 5pm job. We will carry out breakdowns 24/7, but in general it's not too bad. We know that we have to look after our customers and that is something that we always strive to do, which I think they appreciate."
Finbarr revealed that the nature of the industry means that no two jobs are the same. "It certainly never gets boring that's for sure. You could be working on a refrigerated trailer one day and the next in some cold storage unit somewhere. We never turn down any job no matter how big or small it is and that is something my father has done since he started the business. The fact that we stayed small as a company has stood us in good stead I think. We keep our overheads down and are able to cope with the demand for our services."
FD Refrigeration
Cloonpee
Caltra
Ballinasloe
Co Galway
H53 X788
Tel: 087 2980847
Taken from Irish Trucker & Light Commercials magazine, Nov/Dec 2018, Vol 21 No 8