Portlaoise Springs on a roll
13/03/2019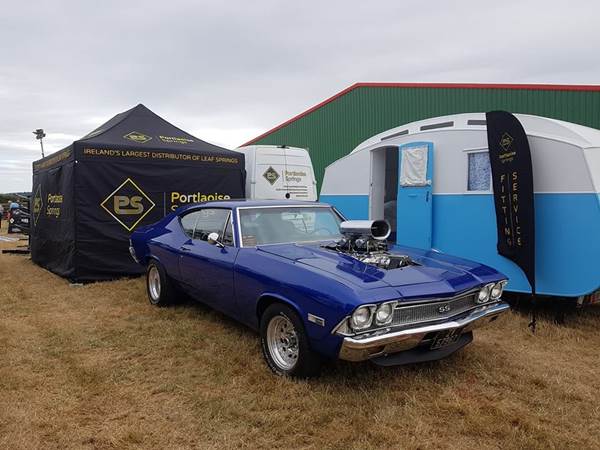 Portlaoise Springs Ltd. has been on the up and up since John Duff took over the business in October, 2016. We travelled to the midlands and met the personable proprietor to find out more about the ever-expanding range of products and services provided by Ireland's largest supplier of commercial vehicle springs.
Since its inception over 30 years ago, Portlaoise Springs Ltd. has grown to become Ireland's largest distributor of parabolic and multi-leaf springs for commercial vehicles, stocking over 500 different leaf springs with thousands of OEM part references to help identify the correct spring for each vehicle.
Springs can be identified by vehicle registration or chassis number, with a value-for-money spring repair, reconditioning, reinforcement and installation service offered at the company's well-appointed, fully-equipped workshop, manned by industry-leading technicians.
The longstanding business has been going through a phase of steady expansion since John Duff took the helm just over two years ago and decided to strive to take things to the next level…
"The business was initially set up by James Douglas and Kevin Maher and I worked for them for six years before taking over in October, 2016," the current owner and MD notes. Was it always in the back of his mind that he might one day run his own business? "I saw a good opportunity here. I knew it was a nice little business and they were coming up on retirement age, so the opportunity was there. I have always worked in the motor trade prior to that and it probably was something I aspired towards."
Upon taking over the business, John wasted no time in beginning an aggressive restructuring process aimed at reinventing and expanding Portlaoise Springs Ltd. "I've hired five new employees so we now have eleven on the books," he continues. "I've also purchased a couple of new company vehicles and I'm working on a new parts catalogue and website.
"I've opened a new motor-factors-style shop at the front of the premises and I've increased the product range quite a bit to give commercial vehicle owners a greater choice."
Furthermore, plans are at a very advanced stage to open a new stock distribution hub in south Dublin inside the next couple of months. "This will enhance our service levels as a lot of our business is coming from Dublin and it will enable us to get the stock closer to them," John points out.
Portlaoise Springs Ltd. also stock and distribute truck and trailer parts and are especially renowned for carrying a vast range of Hino spares. "We've always stocked a lot of Hino parts and that remains a big part of what we're doing but we've expanded that side of the business, too, to accommodate all makes of trucks, with a wide range of parts available for all light commercial and heavy goods vehicles, including brake drums, brake discs, lights, mirrors, filters, etc."
Competitive pricing and outstanding service levels are a given and Portlaoise Springs Ltd. is firmly established as the country's foremost commercial vehicle springs specialist. "We offer a professional fitting service and pride ourselves on being both more affordable and more efficient at fitting springs than any other garage," says the proprietor.
"We also offer a spring repair and reconditioning service. We can replace individual components that are damaged or broken if the customer doesn't want to replace the entire spring. We can also manufacture custom springs here on site, which is obviously a very niche business but one that's useful for customers with vintage vehicles or American trucks, where you aren't going to get parts off the shelf. We also supply all accessories for leaf springs – u bolts, pins, bushings."
Portlaoise Springs Ltd. stock all the leading brands of OEM quality parabolic and multi-leaf springs, which are sold to a wide customer base including hauliers, quarries, garages, motor factors and County Councils, etc. "We make sure to keep the price affordable to the end user right across the board," John states.
Naturally, the relatively new owner is pleased with how things have been going since he took over the running of the business: "Things are going in the direction that I wanted them to go in, so I'm delighted," he confirms. "We have also grown our export sales over the last couple of years, selling stock into the UK and Northern Ireland, and I'm confident there's scope for further growth."
In any economic climate, it's a rewarding achievement to be providing work for eleven people… "It's great, I'm very happy about that. I have three employees here who have been here for over 15 years. There are very few people who would have an in-depth knowledge of this business, so that experience is vital."
The prime location at the heart of the midlands – with the genesis of a Dublin hub imminent – represents another key strength: "We have a motorway network heading out of Portlaoise in every direction and we've started to offer an overnight delivery service for urgent items and also a next day courier service for less urgent orders."
The large investment of time and money is paying off handsomely for John thus far and he's hopeful that more expansion is on the horizon. "We're still synonymous with Hino and stock a very large range of parts, all of which are available off the shelf. We also offer a brake shoe relining service for heavy good vehicles. We'll keep expanding the range in response to customer demand," he concludes.
With an ever-expanding range of products and services to complement the specialist core activities for which they are renowned island-wide and beyond, the future looks bright for Portlaoise Springs Ltd.
Portlaoise Springs Ltd.,
Clonminam Industrial Estate,
Knockmay, Portlaoise, County Laois.
Tel: 057 8622377
Email: [email protected]
Web: portlaoisesprings.ie
www.facebook.com/portlaoisespringsltd
Taken from Irish Trucker & Light Commercials magazine, March/April 2019, Vol 22 No 2