Flynn Crane Hire is reaching new heights
07/03/2019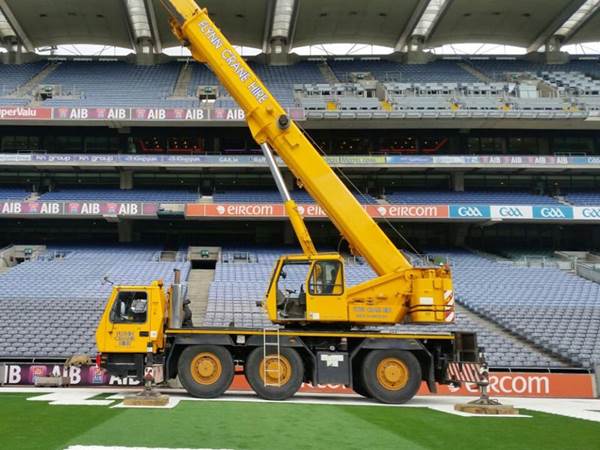 Approaching 20 years in business, Flynn Crane Hire Ltd is a leading crane hire specialist with a large fleet of mobile cranes, self-erecting cranes and trucks available to rent across Ireland. The company has excelled and grown to meet the requirements of the construction sector and recently added two new cranes to its impressive fleet.
The pride of the fleet is a 220 tonne Grove GMK 5220 which was four years old and in mint condition when it was purchased last year. This crane consists of a 5-axle crab steer and is suitable for all terrain mobile crane work. It can lift a maximum of 220 tonne at 2.5 metre radius with variable outrigger settings. Equipped with Grove's unique twin-lock system, it has a fully hydraulic seven-section main boom length of 223 feet.
All-wheel multiple mode steering provides unrivalled job site mobility and the exclusive Megatrack suspension system enhances drivability and traction, both on and off the road. Combined with fast highway speeds and excellent off-road performance, the Grove GMK 5220 is both efficient and capable.
Also purchased new from Irlequip in 2017 was an 80 tonne Grove GMK 4080-1. This model is a powerful all terrain crane with a host of impressive features. It can lift a maximum of 80 tonne and has a 21-metre maximum jib length. It comes standard with a turbo-charged water cooled six-cylinder Mercedes Benz-type diesel engine which produces up to 389hp and with a ZF-AS Tronic automatic transmission system.
The load moment and independent anti-two block system provides electronic displays of a host of parameters like boom radius, height, length, tip maximum permissible load and load indicators. It also comes with an advanced control interface that gives the operator full electronic control of all crane movements. Each wheel of the 4080 comes standard with an individual Megatrak suspension system with hydraulic lockout.
"We dedicate ourselves to safety and inspection and can guarantee the highest quality of machinery. We also take pride in the quality of the vehicles that leave our depot," says Colm Flynn, who set up the company along with his wife Joanne in 2000, and who learned his trade with Trackline Crane Hire in Tallaght.
"At the moment, the long-term hire cranes are out with Hegarty Demolition and Ryan Structural Steel Services, who are working for Keelings in north Co. Dublin. Most of our cranes are on hire in the Dublin area and are we always doing bungee jumps around the country."
Operating from Blessington, Co. Wicklow and employing 15 highly-trained and experienced staff, Flynn Crane Hire offers customers a selection of mobile cranes ranging from 25 to 220 tonne, along with a Spierings SK477 self-erector crane. The cranes in the fleet are a mixture of Grove, Demag, Kato and Faun. In addition, the company has a wide range of trucks at its disposal, including rigids, artics and Hiabs, which can transport everything from air handling units to machines. Flynn Crane Hire can also offer transportation to the UK and Europe.
In recent years, Flynn Crane Hire has become the only crane hire specialist in Ireland to offer skating / jacking services. With constructive planning and a highly-skilled team, the installation of machines is performed with great ease. The family-run business can also carry out site surveys on request. Lift plans and method statements are a requirement on all sites and are articulated by a fully qualified and reliable team to meet the WIP. Flynn Crane Hire's close proximity to Dublin and to all major routes enables it to provide a nationwide service.
The company operates a number of city and all terrain cranes as well as the aforementioned mobile self-erector, trucks and trailers. City cranes are versatile and efficient, with low headroom that makes them ideal for inner-city use, including inside industrial buildings. All terrains are compact cranes which are ideal for both on and off-road construction projects, with a swift on-site set-up. They combine both the road ability of truck-mounted cranes and the manoeuvrability of rough terrain cranes with their multi-axle steering.
A self-erector is a tower crane designed to be easily and rapidly transported and erected (it can be ready to use within 30 minutes of arriving on-site). It is an ideal crane for busy sites or cities where there is not adequate space for other machines to operate, while providing excellent height and lifting capacity.
The company also runs a number of trucks, including DAF and Scania Hiabs. A Hiab is a truck loader that has a hydraulically powered crane fitted to its truck / trailer, and is designed for uplift and transportation. With its selection of trucks and trailers, including multi loader, low loader, flatbed and extendable flat, Flynn Crane Hire can offer a wide range of transport solutions to cater for your needs.
A range of accessories, including teleporters, banksman, man baskets, glass suckers and spreader beams, are also available for hire. Furthermore, the company has a secure outdoor storage hub where it can off-load, store and complete the transportation / installation to the final destination.
Colm would like to take this opportunity to thank his customers for their continued support, and his staff for their expertise, hard work and dedication.
Flynn Crane Hire Ltd
Crosschapel,
Blessington,
Co. Wicklow
Telephone (hire desk): 045 900 709
Fax: 045 900 708
Mobile (Colm): 087 8186808
Email: [email protected]
Taken from Irish Trucker & Light Commercials magazine, Nov/Dec 2018, Vol 21 No 8