Experienced staff the secret to Cummins Tarmacadam's success
01/03/2019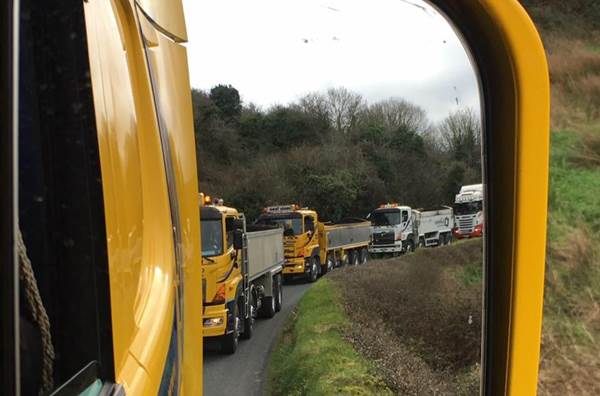 With over 27 years' experience, Cummins Tarmacadam Ltd has earned an enviable reputation throughout Munster as being a professional and reliable company providing specialised tarmacadam surfacing services.
They have a range of surfaces to suit your needs and budget requirements from roads, industrial areas, tar and chip to tarmacadam driveways.
Based in Corofin, Co Clare, Cummins Tarmacdam was established in 1991 by Declan Cummins and they are one of the most experienced tarmacadam surfacing contractors in the southern province.
The business has steadily expanded over the years and carries out all aspects of minor civil works including drainage, concrete works, kerbing, roads, car parks and domestic dwellings.
Declan Cummins recently handed the reins of the company over to his son Shane who joined the family business in 2005 but Cummins snr still retains a keen interest in its day-to-day operations.
"My father is retired now but he's always available for advice in the background," Shane stated.
Shane and his very experienced 23-strong team focusses on quality, safety and client satisfaction which is reflected in the amount of repeat business received from their clients.
Their valued client list includes the likes of Irish Water, Clare County Council, Limerick Corporation, Limerick County Council and Galway County Council as well as Government agencies, departments, consulting engineers and architects, builders and private individuals.
"We had six lads working with us back in 2011 and today we have 23. Some of the lads that are with us have up on 25 to 30 years' experience in the industry and the credit for the company's growth must go to our staff. You won't get anywhere without a committed staff, they are the ones out on the ground getting the work done and they are the back bone of our business."
One of the dedicated members of Cummins Taramacadam's staff is Colin Hegarty who was a joint-organiser of the hugely successful Full of the Pipe Truck which was held at Punchestown Racecourse over the weekend of June 9/10th last.
The ninth running of the show proved to be bigger and better than ever before with truck enthusiasts travelling from near and far to join in on the celebration of all things truck-related.
Shane was happy to help out when Colin approached him about providing sponsorship for the event.
"I've a good interest in machinery and trucks and I was happy to help sponsor the show. It was a great show, with a good variety of stuff and serious detail went into organising it. It was a very enjoyable weekend."
Back to business and Cummins Tarmacadam are VAT compliant, C2 registered and their team are FAS Safe Pass certified and completed Health & Safety courses and Traffic Management Courses.
They provide a broad range of tarmacdam services and operate a modern fleet of plant & machinery including pavers, rollers and skidsteer loaders with all staff fully trained and machines GA1 certified.
They also provide road line marking, car park line marking, warehouse and logistics line marking, playground markings etc.
Cummins Tarmacadam's commercial work includes carparks and roadworks and previous projects include O'Connell Street in Ennis and Lidl carparks. They also have extensive experience constructing industrial areas and undertake both public and private projects.
They will assess each area for drainage work and take into consideration all gradients and ground conditions before planning customers' individual drainage system.
"We cater for everything from domestic driveways to corporate work and cover counties Limerick, Galway and Clare," Shane explained.
How has 2018 been business wise for the progressive company? "We're kept going. The early part of the year was tough due to the weather but it has picked up considerably now and we're holding our own.
"We pride ourselves on the quality of our work and the large amount of repeat business we get is a strong indication of the quality of work. We don't really do advertising, we receive quite a lot of jobs from word of mouth and the recommendations of others."
Cummins Tarmacadam is an established business with a proven record of catering for the needs of their many clients in the Banner County and surrounding counties.
Whether you're planning a tarmacadam resurfacing project for a large car park or you want a new driveway, you can count on their friendly and efficient team to get it done. For all the projects they undertake, they only utilise materials that are of the highest quality. This way, they can ensure your driveway or car park remains durable for years to come.
Cummins Tarmacadam Ltd
Killeen, Corofin
County Clare
Ireland
Tel: (+353) 086 843 1111
Email: [email protected]
Website: www.cumminstarmac.com
Taken from Irish Trucker & Light Commercials magazine, Sept/Oct 2018, Vol 21 No 7