Fish tales
27/02/2019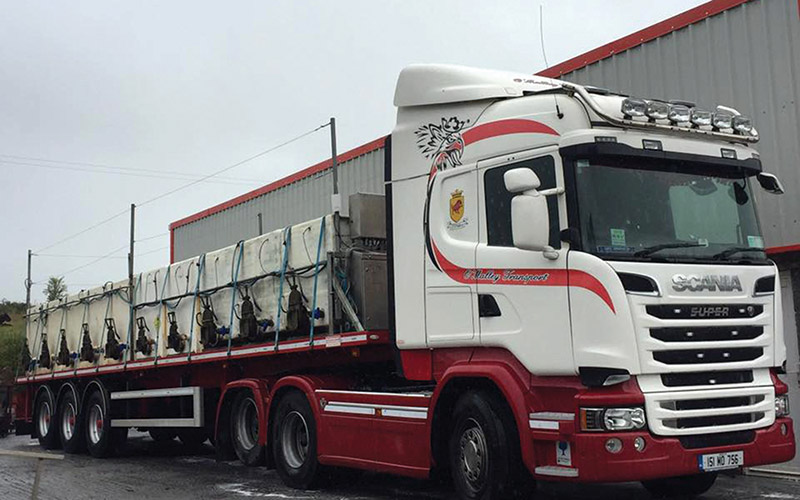 As well as boasting a proven track record in the transportation of timber and pharmaceuticals, O'Malley Transport in Newport, County Mayo is Ireland's largest independent live fish haulier. As they celebrate their 30th anniversary, Irish Trucker touched base with Kenneth O'Malley to get an update on this long-established, market-leading, family-run operation.
Providing unrivalled solutions since 1988, O'Malley Transport has established itself as Ireland's premier independent haulier of live fish, providing this unique and highly-specialist service to a large number of satisfied customers island-wide and beyond.
After starting out from humble beginnings with one truck transporting live fish throughout Ireland, O'Malley Transport has evolved and expanded its fleet and haulage services across Ireland, the UK and Europe. Although they specialise in live fish transport, keen general haulage services are also offered.
Audited and approved by Marine Institute Ireland and Freedom Foods UK, O'Malley Transport offers a highly efficient and reliable live fish transportation service, working hand in hand with clients to accommodate their fish movements by road to any destination in Europe. They pride themselves on having the most modern, specialist equipment and vehicles, while all drivers are vastly experienced in live fish transport and can advise on stocking densities depending on water temperatures, fish type and size.
All equipment is disinfected using steam cleaner and Virkon disinfectant before and after any movement of the live fish, which are checked before, during and after loading. Air is distributed to the fish tanks via oil-free air compressors. The in-cab oxygen monitoring display shows the oxygen levels in each tank during the journey.
Drivers also carry out a series of manual checks during transport. For long-distance journeys, two drivers are supplied to reduce journey time.
A wide range of convenient and reliable transportation services is offered, including curtainsiders, Moffet Mounties, flatbed trailers and box vans to deliver full-load consignments to any destination in Ireland, the UK or Europe.
A stunning fleet of trucks, trailers and tanks is at the heart of the operation. At present, there are four trucks in the O'Malley Transport fleet – three Renaults and one Scania. The Scania and one of the Renaults were bought new at the start of 2015 and the latter will be upgraded again in February / March of next year as part of the company's proactive fleet replenishment programme.
Kenneth O'Malley, who oversees day-to-day operations alongside brother Peter Jnr. and father Peter Snr., notes: "As well as live fish, we also do a lot of timber haulage as a subcontractor for Peadar Barker Haulage, while we've also been working for Allergan Pharmaceuticals in Westport for over 25 years.
"The fish are transported all over Ireland and also into France, Spain, Austria, Germany and England. The timber haulage is nationwide, mostly to mills in Waterford and ECC Connemara."
Meanwhile, another brother, David looks after the coal yard / solid fuels and helps with general maintenance of the trucks and trailer.
Business is going well, based largely on steady repeat custom that results from the provision of prompt and dependable services, although margins remain tight across the haulage sector, with overheads creeping up on an almost weekly basis while rates remain largely static…
"The price of diesel has gone up a lot in recent months and the cost of insurance is also very high," Kenneth agrees. "Rates aren't improving at all in this country and it's safe to say that they never will either unless somebody steps in and puts minimum rates in place."
It's a competitive, unforgiving business to make a living out of but O'Malley Transport are holding their own encouragingly, especially having come through the severe recession that followed the collapse of the Celtic Tiger.
"We're lucky in that we've been getting repeat business for more than two decades now from both Allergan and the different fish farms we work for nationwide – the likes of Douglas Valley Hatchery in Cork, Marine Harvest in Donegal and Cork, Derrylea Holdings in Galway and Wexford and Tom Doherty in Mayo and Tipperary. All of those customers have stuck with us and we have made sure we looked after them by providing the best service possible."
O'Malley Transport also sells a range of solid fuels from suppliers like A&N Fuels and Coyle Fuels.
All things considered, they are in a strong position going forward and Kenneth says they will continue to invest so as to ensure that optimum service levels are maintained across the operation: "We'll keep upgrading the lorries, trailers and the fish tanks. All the tanks are regulated and kept fresh by an on-board computer system and every possible precaution is taken to guarantee that the live fish remain in prime condition during transportation.
"We've had a 28,000 cubic metre stainless steel tank specially built in England for the transportation of live fish and it has Oxyguard software installed to maintain oxygen levels in the tank at all times."
Understandably, the O'Malley family are proud to have reached the notable landmark of 30 years in business. "It's a family business first and foremost, with myself, my brother and dad all driving and even our fourth driver, Joe Browne, is married to my cousin," Kenneth concludes. "We're proud to have reached this milestone. My mother Carol looks after the books and has also been instrumental in the success of the business. We all work closely together and provide a personal touch, which helps with repeat business as we get to know all of our customers on a personal basis."
O'Malley Transport,
Mulranny Road.
Newport,
County Mayo.
Phone / Fax: +353(0)98 41300
Mobile: +353(0)86 2578763
Email: [email protected]
Taken from Irish Trucker & Light Commercials magazine, Sept/Oct 2018, Vol 21 No 7