Ireland's largest fleet management and vehicle rental company
26/02/2019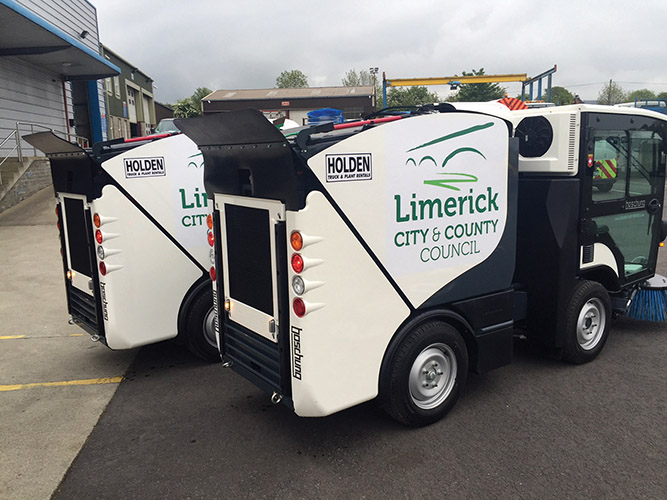 With a fleet of over 4,000 vehicles in service with semi-state bodies, local authorities and government bodies nationwide, Holden Plant Rentals Ltd. has evolved into Ireland's largest fleet management and vehicle rental operator. We touched base with director Paul Holden Jnr. to get an update on this exceptional market-leading, family-run business.
Headquartered in Mullinavat, County Kilkenny, Holden Plant Rentals holds fleet rental / maintenance contracts with a who's who of fleet operators in Ireland from Cork City Council to Dublin Airport Authority, RTE to the Road Safety Authority and Transport Infrastructure Ireland to Irish Water.
The incredible growth and success of the company has come about through providing a high level of service, dedication to customers and an awareness of a continually changing environment. In keeping with their ongoing commitment to improving standards, Holden Plant Rentals are accredited to ISO 9001, ISO 14001, BSOHAS 18001, ISO 50001, and ISO 55001 standards.
Their experienced and skilled management and maintenance team of over 70 personnel are highly motivated and knowledgeable in this sector, managing a vast fleet of vehicles in service with a variety of customers including all the major government bodies and local authorities. Plant and Vehicles are sourced directly from manufacturers and all warranty and modifications are carried out in house.
When we spoke to MD Paul Holden Snr. in late 2013, Holden Plant Rentals had just been awarded an exclusive and prestigious multi-million Euro contract to supply and maintain Cork City Council's entire new fleet of over 250 vehicles on a contract basis. This landmark contract has been a stunning success for both parties and, almost five years down the line, Paul Holden Jnr. told us that by mutual agreement the contract has been extended for a further period:
"It's going really well and there's a very strong working relationship in place with Cork Council, we're constantly keeping the fleet updated and fresh, for example, recently we supplied over 40 new VW light commercials.
In January of last year, RTE appointed Holden Plant Rentals as their national fleet manager. With a fleet of over 200 vehicles, this contract includes fleet management, maintenance, procurement and disposal for the RTE Group nationally, the fleet includes motorcycles, 4x4s, light commercials, heavy commercials, satellite news vehicles, outside broadcast units and cars. This also includes the newly built RTE Radio 1 Road Caster.
Meanwhile, LOETB, the government body with responsibility for managing the National Construction Training Centre at Mount Lucas has awarded the contract to Holden Plant Rentals for the lease with maintenance of its entire equipment and plant requirements at the training college, This multi-million Euro contract includes the supply of equipment covering every machine used in the construction sector - tower cranes, dozers, excavators, dump trucks, elevation equipment, rollers, teleporters, road sweepers, etc.
Shannon Airport Authority has appointed Holden Plant Rentals the contract for the authority's fleet management, encompassing the airport's entire fleet supply, management, maintenance, acquisition, disposal and hire.
"HRI (Horse Racing Ireland) is one of our newest customers. In June this year HRI selected Holden as the authorities nominated Fleet and Plant Manager with responsibility to supply its requirements to Ireland's most prestigious race tracks such as Leopardstown and Fairyhouse. Paul Holden Jnr. confirmed he has just finalised delivery of 14 new Massey Ferguson and John Deere tractors to the Curragh along with grass management equipment, teleporters, golf buggies and transport gators. The supply contract also provides for supply of executive hospitality vehicles to HRI which are mostly Range Rovers and Discoveries We'll also be hiring and maintaining the fleets into all of the other major racecourses in Ireland
Holden Plant Rentals is also contracted as the Road Safety Authority (RSA) fleet managers and fleet supplier this includes supply and management of RSA fleet cars, roadside enforcement vans, training rigs, coaches and motorcycles.
Dublin Airport Authority (DAA) awarded them the contract to supply and maintain its entire road and runway sweeper and metal recovery fleet.
Other clients include Inland Fisheries Ireland, Limerick City & County Council, Dublin City Council, Dublin Fire Brigade, Bus Eireann, Waterford Fire Service, the HSE, Veolia and local authorities from Donegal to Cork and Wexford to Galway.
"We're contracted to maintain Inland Fisheries Ireland's entire fleet of patrol boat logistics nationwide," says Paul Jnr. "TII (Transport Infrastructure Ireland) is another new customer; we've just been nominated as their sole fleet managers nationally.
"Waterford City & County Council recently took delivery recently of over 60 vans and road sweepers on a five-year contract. Tipperary and Roscommon County Councils took delivery of 3.5-tonne tippers off us last year also."
SFPA (Sea Fisheries Protection Authority) has just appointed Holden as the Authorities national fleet manager.
Holden Plant Rentals have fitters strategically located at central sites around the country (operating out of Kilkenny, Cork, Limerick, Waterford and Dublin), with mobile service engineers providing nationwide coverage. Everything is coordinated through the main depot in Mullinavat, where all vehicles and equipment are commissioned before going to the client.
"We very proud of the fact we built inhouse the RTE Radio 1 Roadcaster ourselves, working alongside RTE studio design teams to meet their exact requirements."
Holden Plant Rentals was founded in 1955 by Patrick Holden at Deerpark, Mullinavat, the original business mostly consisting of the sale and repair of cars and agricultural machinery. In 1968, the business was appointed an agency for Zetor tractors in the Kilkenny and Waterford areas, which turned the focus more to the agricultural sector.
In 1989, the business expanded into municipal equipment rental, mostly to local councils. This aspect has expanded rapidly as demand grew for services from a company that had the capacity to both supply and maintain specialist complex equipment.
Over the years, the Mullinavat depot has been continually expanded to meet demand, incorporating offices, a workshop, parts store, body repair shop, etc.
Holden Plant Rentals are the largest supplier and operator of road sweeping equipment in the country, with a range of equipment to cover all requirements from factory floor cleaners and scrubbers to street sweeper and scrubbers through to larger road washers and airport runway cleaners.
The policy of Holden Plant Rentals has always been to not only meet but exceed customer expectations by excelling in both service and back-up. This is why the company continues to attract a large volume of repeat business and regularly secure new contracts.
"At the moment, working alongside my sisters Ellmarie and Vicky with assistance from long standing employees Lisa Ryan and Mark Byrne we're concentrating on promoting the fleet management end of the business," Paul Jnr. concludes. "This we see as a growth sector but with UK and International competition for the major state and corporate contracts it's imperative that quality of supply/service is maintained to ensure repeat business, we also have to be mindful of imminent Brexit implications on our business but we'll keep working to expand and grow."
Holden Plant Rentals Ltd.,
Mullinavat,
County Kilkenny.
Tel: 051 898106
Fax: 051 898335
Email: [email protected]
Web: www.holdenplantrentals.com
Taken from Irish Trucker & Light Commercials magazine, Sept/Oct 2018, Vol 21 No 7