Safety is king at Wextestcenter
11/02/2019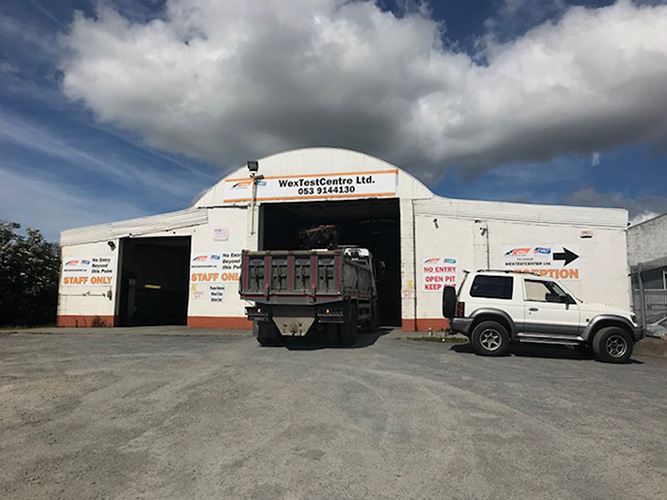 Previously known as Sean O'Leary & Son Commercials, Wextestcenter Ltd. is one of Ireland's longest-established and busiest commercial vehicle test centres. Irish Trucker touched base with founder / managing director Sean O'Leary Snr. and discovered that the Wexford man is extremely passionate about playing his part in ensuring that the roads are a safer place for everybody.
From the moment you meet Sean O'Leary it becomes wholly apparent that, to him, his company Wextestcenter, is more than just a business. In everything he does in his working day, Sean is driven to do all in his power to contribute to road safety…
"That's why we are here," he confirms. "And I like to think we are doing a good job. If you're not doing your job properly as a test centre, then something could slip through the net, which could have potentially disastrous consequences. The RSA won't tolerate that kind of slackness. From the point of view of owners and operators, it's in everybody's interest to be roadworthy as an accident can leave an awful lot of scars – physical, emotional and financial. Nobody wants that."
From its well-appointed location on the Rosslare Road out of Wexford town, Wextestcenter is one of the country's busiest commercial vehicle roadworthiness test (CVRT) centres. "We're very, very busy and have been for quite a while," Sean confirms. "There has been an upturn in the economy and that means more people working in distribution, with a lot more trucks, vans and trailers on the road."
The CVRT was introduced to Ireland as the DOE test in 1980 and Sean started testing commercial vehicles shortly after. "It has improved safety levels and the quality of vehicles on the road no end," he notes. "People who are working in the CVRT side of it are proud of the work we do and we get great satisfaction from knowing that a vehicle leaves our premises in a roadworthy condition and, that if there is an accident, then it was purely an accident and not the result of a defective vehicle.
"Even though obviously we all want to make money, this is not just a business; it's a very serious role we have when it comes to checking vehicles. Vehicles are much faster now and more powerful and there are more of them on the road than ever before, all competing for the same space. Everybody is in a hurry and drivers' hours are limited.
"In that climate, vehicles have to be right and the RSA are doing a great job in enforcing the rules and regulations. The walk-around check that drivers are expected to do before taking the vehicle out, for example, is very important because nobody would like to jeopardise somebody else's life on the road by operating a vehicle that they know is dangerous."
Wextestcenter tests the full range of commercial vehicles – from the smallest van up to the largest truck, including buses, coaches, ambulances, hearses, etc. etc. They also look after tachograph calibration and vehicle plating so that owners can prove that their vehicles are operating within the law.
At present, a team of eight is directly employed at Wextestcenter – three in the office and five in the workshop. "We have an excellent team here and they all work together," says Sean. "Everybody knows how important their job is and how vital it is that we operate to the letter of the law."
Each tester attends a course every three months to remain fully up to speed and they are all highly motivated in ensuring that they continue to operate at the highest levels of professionalism as demanded by the RSA.
A vehicle that's not roadworthy won't get through; it's as simple as that…
"It's a very open and transparent system, where everybody knows what's happening. The bottom line is road safety and they all know a vehicle is safe once it comes through the test.
"The system we have in place here is exactly as set down by the RSA. Essentially the same system you would get anywhere in Europe and the test is very rigorous. In fact, the test here in Ireland is superior to a lot of countries in Europe. The RSA wants the regime here to be the best in Europe and that's a very good thingto aspire towards, which I have to commend.
"At the end of the day, there's two ways to do something. One of those is the right way and that is what the RSA is implementing. That ad we all see on the tv, where an entire family lose a child over an accident, that is reality and that's what we have to fight to prevent."
Of course, regular investment is required to ensure that everything at Wextestcenter is up to scratch. "All the equipment has to be kept up to standard and they also carry out a consistency test every six months to make sure it's all performing as it should be and to leave nothing to chance."
Unlike many other test centres, this one takes in vehicles from a wide catchment area. "We're quite unique with this location, on the Rosslare Road out of Wexford," says Sean. "A lot of the traffic is going to the boats. People in transport know we are here and, if they are going to be passing by, they can leave home an hour earlier and have the vehicle tested as they are passing. This is why we have such a wide range of customers, from West Cork to Wexford, it's just as convenient for them to drop in to us as to go anywhere else as we are just off the roundabout and on their route.
"It's all about location, location, location and we are in a very good one. But you still have to do the job right and make sure the vehicle is roadworthy. You can't give the certificate out in a cavalier way, nor should you be expected to – people should be proud of the fact that their vehicles are roadworthy.
"Increasingly, I'm finding that more and more operators are proud and the pass rate is a lot higher now than it was five years ago. People are really focussing on the quality of their vehicles. Most of them are very serious about the look of their vehicle and, generally, if the visual impact of a vehicle is good, then the mechanical end of it will usually be good too."
As a family-run operation, Wextestcenter provides a personal and friendly touch. Sean runs the business in conjunction with his son, Sean Jnr. His late wife, Kathleen, who sadly passed away in December, was instrumental in the growth and development of the business from its inception, while daughter-in-law Deirdre is also a key part of the trusty team.
Wextestcenter Ltd.
Strandfield Business Park,
Kerlogue Industrial Estate,
Rosslare Road,
Wexford Town,
County Wexford.
Tel: 053 9144130
Fax: 053 9144677
Email: [email protected]
Web: www.wextestcenter.ie
Taken from Irish Trucker & Light Commercials magazine, Sept/Oct 2018, Vol 21 No 7