Primo - excellence by design
18/01/2019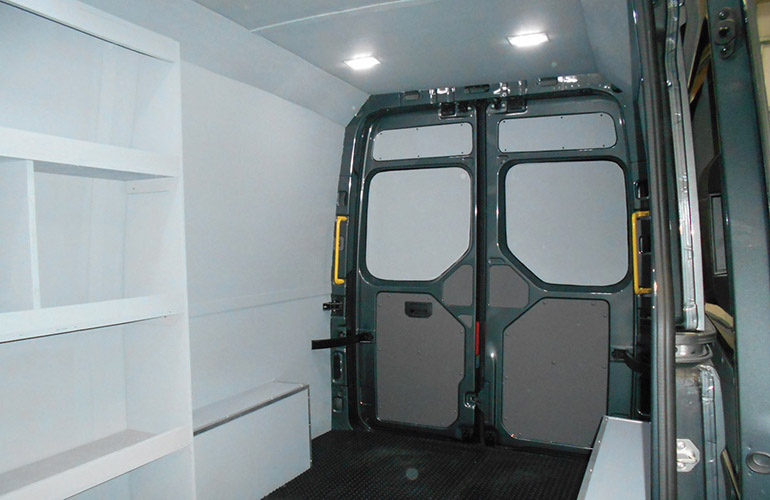 Excellence by Design award-winning Primo Coachworks Ltd was established in 2007 and since then has produced world-class engineered vehicle designs both for Ireland and on a global scale.
Since its inception, PRIMO has become a name to rely on for vehicle conversion in Ireland. Hailing from the heart of Ireland, County Offaly's PRIMO have proven themselves to be a brand name you can trust when it comes to vehicle modification, reconfiguration and conversion. PRIMO celebrated their 10th anniversary last year, and considering the economic climate of the past decade, the Ferbane-based family-run company continues to grow and grow.
Having started with a workforce of just eight, PRIMO now employs 25 and earlier this year opened two new production lines at their second factory facility in Ferbane. While PRIMO produce and engineer various bespoke vehicle conversions, their main area of expertise is automotive-electrical solutions. Government bodies rarely look further than PRIMO because they know that this exceptional company has the technical knowledge, the skilled craftsmen, and an ISO 9001:2015 quality system in place to produce exactly what the customer requires.
PRIMO converted vehicles can be seen on the roads of Ireland daily, and include ambulances, wheelchair accessible vehicles and rapid response vehicles. "Experts at creating solutions" to quote PRIMO's managing director, Ted Dunican. With that thought in mind, PRIMO was recently honoured during the public sector awards, and was bestowed with the title "Outright Winner Specialist in Vehicle Conversions to the Public Sector 2017." The award now takes pride of place in Ted's office right beside PRIMO's 2015 award for "Best Emergency Response Supplier", to Ireland's public sector. It is testament to PRIMO that they were chosen above their competitors by the Public Sector.
PRIMO also has the distinction of being the first vehicle conversion company to be accredited the ISO 9001:2015 quality system in Ireland and the UK. which shows that the company's management and staff are determined to maintain a high-quality standard of production process. PRIMO's work force boasts over 200 years of combined experience in the vehicle conversion and auto electrical industry. Ted Dunican and his brother Dave Dunican (Production Manager) boast 50 years' experience between them. Each member of the PRIMO team has been selected for their unique talents and abilities. This ensures a high-quality product for PRIMO's customers.
When it comes to giving a little back, PRIMO is by no means shy and over the last two years has worked hand-in-hand with Laois & Offaly Education & Training Board to offer training to young people who have a passion for and are interested in a career in auto-electrical engineering and vehicle sub-assembly. LOETB have consulted with PRIMO's electrical engineers for practical advice on various aspects of the course, and this course option is becoming a very popular choice for young people seeking employment in the industry. PRIMO is proud to say they have recently contracted two graduates from this course and have intentions to offer employment to many more as the company continues to grow.
In 2015 VFS Southampton decided they needed an Irish agency for the worldwide acclaimed Scattolini industrial body (i.e. tippers and drop-sides). They looked no further than Primo Coachworks Ltd. PRIMO and VFS now work hand-in-hand developing the Scattolini tipper/dropside market in Ireland. Most of you will, of course, be very familiar with the Italian Scattolini European type approved tipper and drop-side options for the light commercial 3.5t and 5t chassis cabs, a very popular choice now in Ireland. PRIMO can complete the body fitment, including all relevant type approval paperwork, in just three days – a phenomenal lead time in comparison to other bodybuilders. There is very little to compare to the Scattolini which is the industrial body of choice for all makes and models. If it is not fitted by the original chassis manufacturer, you can now have your Scattolini fitted by PRIMO. Just give the sales team at PRIMO a call or contact your local commercial vehicle dealer about the Scattolini /PRIMO option.
New for PRIMO in 2018 is the Spanish-produced Lider/Kit Box Body. After successful negotiations in the early part of the year, PRIMO was awarded the distribution rights for Ireland and Northern Ireland for the type approved Lider/Kit Box Body. The Co. Offaly firm plans to have the first of these well-known products rolling off the production lines in early autumn.
Primo Coachworks Ltd is now an approved convertor of choice for Renault, Ford, Nissan, Opel, Mercedes, Volkswagen, Iveco, Peugeot, Fiat and Citroen to name but a few. A long list of conversion products are available at PRIMO, among them being Rapid Response Vehicles, Command Units, Ambulances, Bespoke Wheelchair Accessible Minibuses both large and small, Mobile Libraries, Mobile classrooms, Wheelchair access for Taxis, Mechanic Breakdown vehicles, Mobile Showrooms, Scattolini Tippers and Drop-sides and Lider/Kit box bodies.
PRIMO's satisfied customer base includes the following: An Garda Siochana, Irish Coast Guard, National Ambulance Service, Irish Red Cross, RTE, Civil Defence, Various County & City Councils, and Fire Services nationwide.
Primo Coachworks Ltd is a true Irish and family-run success story that has grown and adopted a few more family members along the way! For friendly advice on ANY conversion or a no obligation quotation just call their expert sales team. Find PRIMO on Facebook and see the standards of workmanship for yourself.
Primo Coachworks Ltd
Specialist Vehicle Conversions
Unit D,
Rosfaraghan, Ferbane,
Co. Offaly.
Telephone: 09064 54368 (9) /
087 993 1954 (Ted Dunican) /
085 885 0305 (Baethean Bolton)
Email: [email protected]
Taken from Irish Trucker & Light Commercials magazine, August 2018, Vol 21 No 6