Offering quality at a fair price
17/01/2019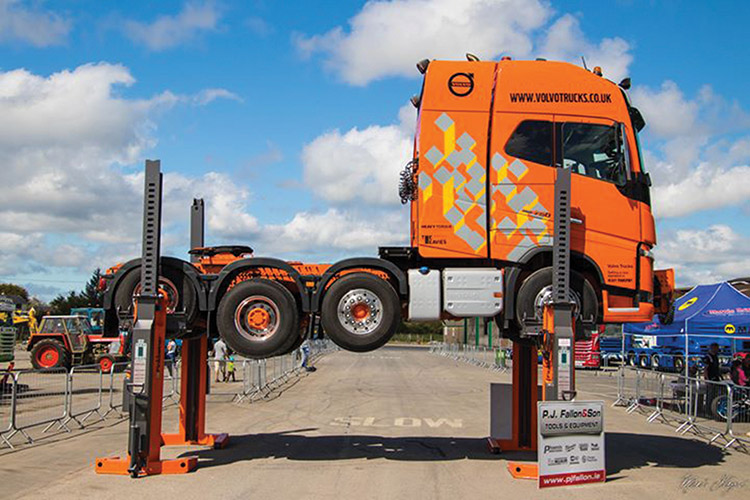 Closing in on an even three decades in business, PJ Fallon & Son in Co Roscommon has developed into a leader in trading in the automotive equipment industry. Company co-director Joe Fallon gave the lowdown to Irish Trucker recently.
Family businesses so often turn out to be the longest lasting ones and next year will see PJ Fallon & Son in Co Roscommon marking 30 years in existence.
Now run by brother and sister Joe and Linda Fallon, the company has become renowned for offering its clientele a nationwide sales and service network and also carry a large range of items in stock that are ready to be dispatched.
This past April saw the company reboot its website – www.pjfallon.ie – where customers can now place order for all the stock they need, with a fleet of five vehicles offering nationwide distribution.
Indeed business is good out at Ballyboughan Business Park on the Racecourse Road outside Roscommon town and Joe Fallon intends to keep it that way, having taken over the running of the business from his late father PJ.
"It's a family company and we are established 29 years now," Joe explained. "We're operating with eight staff and myself and my sister Linda are the directors. My father PJ was the original founder of the company."
Business operations take place in a modern and purpose built warehouse and PJ Fallon & Son always carry a large range of items in stock ready to be dispatched.
Buying from this firm gives the customer peace of mind that he or she is purchasing a quality product, at the right price and from a reputable company.
Ask Joe Fallon to breakdown what exactly it is his company offers to its customers and he'll give it to you plainly:
"We sell and maintain garage equipment and the tools that go around with it also," he stated.
"We would have started out here mainly hiring out equipment and then eventually converted to sales. Now we sell Phoenix, Finkbiner, Space, Apac, Accutrack – you name it. They're all brands that sell well for us and Finkbiner is for the heavy/commercial industry.
"Phoenix is a very popular brand and at the moment it's the number one selling list brand in the country. Then, on the truck side, the Finkbeiner would be the most popular."
Standard delivery of customers' products are normally despatched within one to two working days from clearance of payment and the company expect delivery to be within two to five working days thereafter from the date of clearance of the order. Standard delivery will be by Courier service for orders up to 30kg in weight.
Thus far in 2018, the orders have been flying out the doors at Ballyboughan Business Park and Joe says he can have no complaints if the next six months were to follow suit into 2019.
"Things are fairly good at the moment. We're busy enough and always looking for new opportunities," he said.
"There's plenty of competition out there as well and that keeps us on our toes and we're happy to have it that way. Hopefully we can keep going the way we are and get even busier now in the summer."
At present PJ Fallon & Son has five vehicles – between trucks and vans – on the road and the hope, according to Joe, is to add a new 12-tonne truck to the fleet so as customer demands can be met.
For Joe and Linda, they've carried on their father's approach to business in believing that the customer is always right.
Repeat business has been a huge part of PJ Fallon & Son's success to date. In fact, the Fallons still have their first customer with them from 35 years ago when PJ was first starting out in his chosen industry.
"The very first and second customer we ever had back in 1984 – his name is Damien Traynor from Ballygar – is still with us here," Joe enthused.
"I suppose the fact that we started out with Damien and he's still with us shows that repeat business is a big thing for us and we're obviously happy to have our customers coming back to us."
Joe feels that there are two core reasons why customers continue to choose his family's business first ahead of other competitors out there.
And there are no prizes for guessing that competitive prices have a lot to do with it.
"I think it comes down to the way we operate and the fact that we give the customer quality at a fair price," he said.
"The first thing a lot of customers look at is the price but long-term it's all about quality and I think we look after both well here."
The company also ensured to look after itself three years ago when it moved into a brand new purpose built warehouse along the Racecourse Road in Ballyboughan Business Park.
Joe and Linda have been delighted with how things have developed ever since the doors were opened.
"We moved into a new purpose built premises in 2015. We've a small little showroom here that we're very happy with and plenty of place to carry more stock," the former concluded.
So for all your tool and equipment needs, look no further than PJ Fallon & Son in Roscommon where they are open six days a week and have a nationwide sales and service network which is on offer 24/7 via their new website (pjfallon.ie).
PJ Fallon & Son
Unit 12,
Ballyboughan Business Park
Racecourse Rd,
Roscommon,
Co Roscommon
Tel: (0)90 662 6963
Web: pjfallon.ie
Taken from Irish Trucker & Light Commercials magazine, August 2018, Vol 21 No 6