The Auto-choice
10/01/2019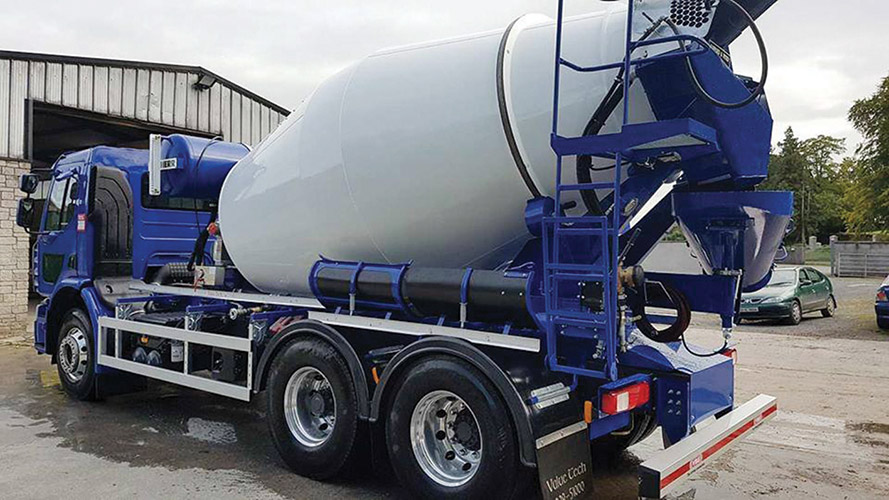 Autopaint has grown to become of one of the country's leading distributors of Automotive Coatings, Body shop equipment and Consumables to the Collision Repair Industry. Irish Trucker caught up with Managing Director Cathal Rogers recently to find out all about the Dundalk-based company.
Coming up on 20 years in business, Autopaint in Dundalk, Co Louth has had quite the rise over the past two decades and the plan is very much to keep things very much moving in the right direction for company owner and founder Cathal Rogers.
Along with its headquarters in Dundalk, Autopaint also has opened up depots in Dublin, Roscommon and Cork in order to meet the increasing demand for its range of brands and products, along with its services and very competitive prices.
Since setting up shop along the Racecourse Road in Dundalk in 1999, Cathal has grown his staff numbers up to 15 full-time and the hope is to keep increasing those numbers via demand from their customers all throughout Ireland.
The man himself took some time from what has become an increasingly busy schedule to tell Irish Trucker all about his business and why he feels customers choose them first ahead of other competitors out there?
"At Autopaint we deal solely in the refinish sector of the motor trade, and supply vehicle and commercial body shops all over the island of Ireland. At the moment we have four depots with the headquarters being in Dundalk," Cathal outlined.
"Cork was the most recent to open about a year ago and it has grown pretty rapidly – we are well established country wide in the motor trade at this stage. We recruit most of our employees directly from the refinish sector, as they have a much better technical understanding of the products we sell. This in turn leads to a much better line of communication and trust between our staff and our customers".
Indeed the team at Autopaint have a wealth of skill, experience and knowhow when it comes to the automotive paint industry.
The company's sales representatives and counter staff were chosen because of their background knowledge in the Collision Repair Sector, from owning and working in a bodyshop environment to associated sales positions within some of the world's top paint companies, consumable manufacturers and suppliers to this particular market.
As for Cathal's own background before starting up Autopaint, he revealed that this line of work is one that he's been involved in most of his career.
"I worked in Bodyshops and Motor Factors around the country from i left school and it kind of inspired me to have a go at it myself," he stated.
"So I started up in '99 and thankfully haven't looked back since. We've been quite busy this year and that's the way we like it here."
Now – nearly 20 years since its inception – Autopaint stocks a wide variety of products for from the world leaders in automotive paint supplies. Customers will find a truly extensive range of coatings, which include Mipa Paints, HMG paints, Mirka abrasives, Technico, Roberlo, Novol, Cartec and many, many more.
Cartec products are developed and produced in-house and are known for their high quality. In addition, the products are particularly effective in use.
Mipa offers the ideal solution for the professional user of automotive coatings, With an extensive product range.
HMG Paints has a vast product portfolio which covers a wide variety of industries and their products are supplied across the globe.
Roberlo are renowned for specialising in the development, manufacture and sale of coatings and other repair solutions for the refinish aftermarket and for industrial applications.
The full list of products which Autopaint have in stock can be viewed on the company's website (www.autopaint.ie).
With so many options available to the customer, it's not hard to understand why business is booming at the minute at Autopaint.
"Business is up on last year for us. It has basically been continued growth here," said the Managing Director. "We are always on the look-out to recruit the right people should the opportunity arise, A couple of more new lads started with us this week and it's because the service that we provide here is wanted by people.
"It's mostly repeat business, servicing the same vehicle and commercial body shops around the country, but we are always on the look-out for new business and actually we've recently diversified into industrial paints as of late. A new market and a new challenge"
Offering industrial paints is just another string in the Autopaint bow as the firm aims to optimise the profitability and productivity to the refinisher no matter what trade it services.
They do this by providing clients with world class quality automotive coatings, consumables and body shop equipment.
As far as Cathal's concerned, the secret to the company's success to date has come off the back of three simple attributes in particular:
"I think it comes down to providing quality products, delivering on service and having the correct price structures for all our customers," he stated plainly.
The quality and service has always been there for Autopaint's customers to avail of and the company endeavours to make sure that its prices are as competitive as what's out there.
It combines for a winning recipe – one that will help see the company celebrating 20 years in 2019.
So if you're looking for one of the country's leading and most progressive distributors of Automotive Coatings, Body shop equipment and Consumables to the Collision Repair industry, look no further than Autopaint.
Autopaint
Racecourse Rd
Dowdallshill
Dundalk
Co. Louth
Tel: 0429 328 317
E-mail: [email protected]
Taken from Irish Trucker & Light Commercials magazine, August 2018, Vol 21 No 6