B.D.F. - the walking floor specialists
20/12/2018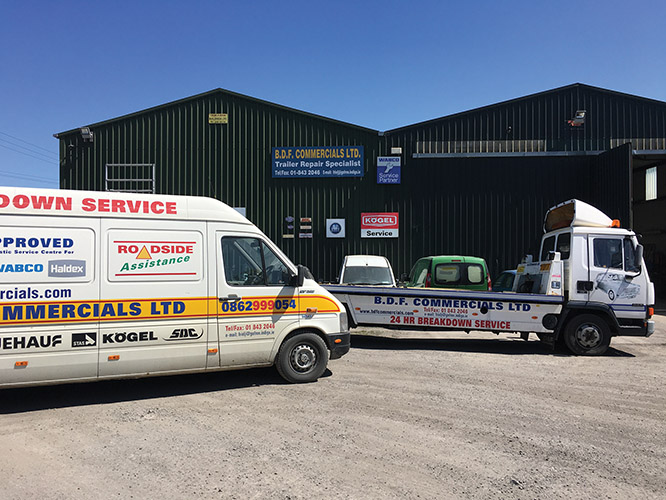 Walking floor trailers are becoming a lot more common in Ireland in recent years and like everything else they need great care and attention to ensure that they continuously work.
Walking floor trailers have capacity to load and unload a wide variety of products. Manufacturers provide a number of floor slat options and allow them to carry loose bulk materials.
They provide an efficient solution for loading and unloading loose material without requiring any additional equipment. Walking floor trailers- a type of ejector trailer - are also well suited to accommodating longer loads and enabling them to be removed from the load space without requiring side panels to be opened or removed completely.
However, they are a complex piece of equipment that needed to be looked after by specialists in this field of expertise. And in Ireland, there is no doubt that B.D.F Commercials lead the way when it comes to knowledge of walking floor trailers.
Anyone with any issues regarding these type of trailers turn to B.D.F for advice and guidance and the team are always on hand to help.
John Friel and his wife Kathleen are the company's directors. John has many years' experience in the industry and his knowledge of walking floor trailers extends back about 15 years.
"I would be servicing and maintaining walking floor trailers for about 15 years now. The knowledge and experience that we have picked up over that time has helped us become specialists in this area.
"We would have haulage contractors from all over the country who have these type of trailers coming to us for work to be done. We would also take a lot of calls from workshops seeking advice and we are only too glad to help.
"These trailers are very intricate types of equipment and some companies won't use them as there is so much that can go wrong with them, but having worked on them for much longer than any other company, there are no problems that we can't solve."
At B.D.F. Commercials they co-ordinate and manage all servicing and maintenance on each trailer to reduce time, cost and inconvenience to the operator.
"Our mechanics are fully qualified and experienced at working on trailers from body repairs to axle services."
Based in Lusk, Co Dublin, just off the M1 at Junction 5, B.D.F's location is ideal for hauliers who have easy access to the state of the art premises.
"For the walking floor trailers, we need twice the space of a normal workshop and fortunately we have that here. The workshop is well-equipped with the necessary tooling to carry out our work here. We have a fully equipped five-bay workshop with a 20-metre pit, they constantly strive to offer a high quality of service to each customer.
"We have a loyal customer base many of who are with us a number of years now. We are service agents for Kogel, SDC, STAS and Fruehauf Trailers. We are also authorised service agents for BPW and Daimler Chrysler Axles."
B.D.F. Commercials also provide Diagnostic services for trailers and are approved WABCO and HALDEX service centres. They can also diagnose and repair faults to trailers fitted with the Knorr Bremse braking system.
In order to facilitate the smooth running of the company, B.D.F. Commercials carry an extensive stock of fast moving spare parts.
"We carry a comprehensive stock of all BPW, SAF, ROR, Daimler Chrysler, York and Fruefauf axle components. We carry an extensive stock of air bags for most common type suspensions. We also stock all lighting fixtures for all trailer types. There are thousands of parts in stock here at any time and anything we don't have, it will be here by the next day."
Kathleen looks after the administration side of the business and she admits that there is plenty of paperwork to be looked after.
"We ensure that the personal touch is maintained at all times. The company has enjoyed rapid expansion over the last number of years and are now looking after the requirements of some of the biggest and best hauliers in the Country. There is plenty of paperwork to be adhered and there have been big changes to the regulations and legislation in recent years, but we strive to adhere to all and make sure to keep on top of it all.
"Business is going well, and we are keen to push the fact that we are a leading specialist in walking floor trailers. It is an area that we want to build on and it is something that we will be focusing on even more."
B.D.F Commercials have set a standard that is unprecedented in the servicing industry and the task for them now is to ensure that they maintain that standard and if possible try to improve on it.
The company has already came through a recession and is going stronger than ever and Kathleen concluded that maintaining those standards would be a challenge.
"This is a hard business to be successful in, but we have worked hard to get where we are and the aim now is ensure that we keep those standards going and try to improve where we can."
B.D.F. Commercials Ltd
Johnstown
Lusk
Co. Dublin Ireland
Email: [email protected]
00353 (0)862 999 054 - JOHN
00353 (0)868 910 489 - KATHLEEN.
OFFICE: 00353 (1) 8432046
FAX: 00353 (1) 8432046
Taken from Irish Trucker & Light Commercials magazine, August 2018, Vol 21 No 6