A wealth of experience and knowledge
20/11/2018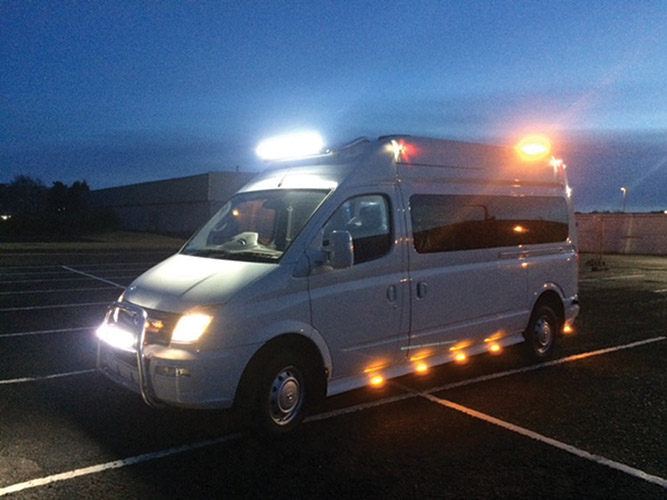 Joe Ferry of Donegal Automotive Services boasts experience of the vehicle conversion and refurbishment industry that few in Ireland can equal. In a previous incarnation, he ran Euro Coach Builders and he knows the trade inside out.
Established in 1984, the first bodies conversions of Ford Transits, Nissans, Ivecos and smaller Mercedes vans built in small numbers from 1987 under the Euro Van Converters name.
Later larger Mercedes and Iveco vans were converted, often using second hand vans as a base. Mercedes became the van conversion of choice, not least due to a tie up with the Irish Mercedes distributors MDL, who marketed the Euro Coach vehicles via their Cork dealership at Turners Cross.
In 1993 a contract was won to build a coachbuilt body on 20 Mercedes 709s for Dublin Bus and this then led to further orders from Dublin Bus and independents operators, on 709s, 811s and later O814Ds.
These bodies were not dissimilar to the Plaxton 'Beaver 1' design. Conversion of van shells also continued, mainly Mercedes 609/709s and later O814Ds.
"That was our big break," Joe Ferry recalled. "We won a contract with Dublin Bus to build City Imps and they ran up until 1998. Approximately 100 vehicles were built for Dublin Bus."
In 1997 a larger design appeared, the 'EX', built on the Mercedes 1120L truck chassis and infact based on a design by the Spanish coachbuilders Obrador (who actaully built the first one - 97 D 24350).
This was replaced in 2001 by the 'Clady' body built on the new Mercedes 1223L 'Atego' truck chassis. This was also offered as a specialist school bus design and a batch was sold to Bus Eireann.
The final larger body was the 'Loxia', built from 2005 onwards on the 1223L and also on the slightly larger 1523L chassis, although only fairly small numbers were produced.
The Vario was offered with 3 coachbuilt designs: the 'Pantera' introduced in 1999 with a revised front cowl (but only sold in very small numbers); the V29/V33 with the standard Mercedes cowl which was to be the standard body up to the end of production and probably the most popular of the company's designs, the LX29/LX33 a full coachbuilt body without the mercedes cowl, built in two slightly different designs, but again only in fairly small numbers.
A final design, the 'Arora', built on the Vario was shown at the 2009 Coach & Bus Show, but never entered volume production.
The Company's heyday was the period 1998 to 2003 when over 500 vehicles were bodied, but after that production tailed off in the face of strong competition from the Spanish bodies built by Incar and Unvi which were heavily marketed in the Irish market and the strength of the euro which affected exports to the UK.
As the bus market stalled, and after a period in administration, the business folded in early 2009.
It is difficult to calculate the total number of vehicles built as the body numbers were also used to cover repair work, but there would seem to have been around 1100 complete vehicles produced from 1987 to 2009, about half of which were van conversions and the rest fully coachbuilt vehicles.
Most bodies were sold in Ireland, with smaller numbers in Northern Ireland and a few in the mainland UK. However, from 1997 to 2001 a considerable number of LHD Mercedes 312D van conversions were produced for a customer in Germany.
By and large the bodies have proved durable and well constructed and many of the Mercedes built in the mid-1990s are still in use.
"The V29/V33 was a high quality product and one of the most successful buses ever built in this country," added Joe who now operates under the name, Donegal Automotive Services, a company he set up in March 2010. "There are still a lot of them on the road and holding a high value."
Today, Joe and Donegal Automotive Services counts the Harris Group among its list of valued clients.
The Harris Group is known throughout the UK and Ireland as a leader in the commercial vehicle sector. One of Ireland's most respected and long-established automotive distributors, they have developed an unrivalled reputation for service excellence, which comes from more than 50 years of experience. Harris is the distributor for the LDV range of vehicles in the UK and Ireland.
Joe and team of six employees at Donegal Automotive Services, which includes his son Stephen, are now converting the new LDV V80 van to a 14+driver seater minibus,
Conver. The spec includes 6 speed, aircon, cruise control, park assist, privacy glass, Bluetooth, colour coded, tachograph and surround sound.
In addition, they are the north west sales agent for Higer coaches which are a China built coach and imported by the Harris Group.
Meanwhile, under the amended Construction and Use Regulations that came into force in 2001, all new buses, coaches and minibuses must be fitted with seat belts with improved anchorages.
At the same time, the Vehicle and Operator Services Agency (VOSA) introduced new procedures for checking that new seat belt installations comply with these rules.
Donegal Automotive Services have tried and tested over 200 buses and coaches. Throughout this time they have refined their testing process and the result is an efficient, high-quality and totally unbiased advice and confidential service.
"All new buses go through rigorous testing," Joe – who is quite rightly proud of the quality of their work - stated. "Last October we got involved with the Harris Group and we've been kept busy as a result. I'd expect to see some gradual expansion in the coming years because I'd be optimistic about the future," he concluded.
Donegal Automotive Services
Derrybeg Industrial Estate,
Gweedore,
Letterkenny,
Co. Donegal
Ireland
Tel: +353 (0)74 95 31000
Mob: 087 257 8408
Email: [email protected]
Taken from Irish Trucker & Light Commercials magazine, July 2018, Vol 21 No 5