Still going strong after 40 years
19/11/2018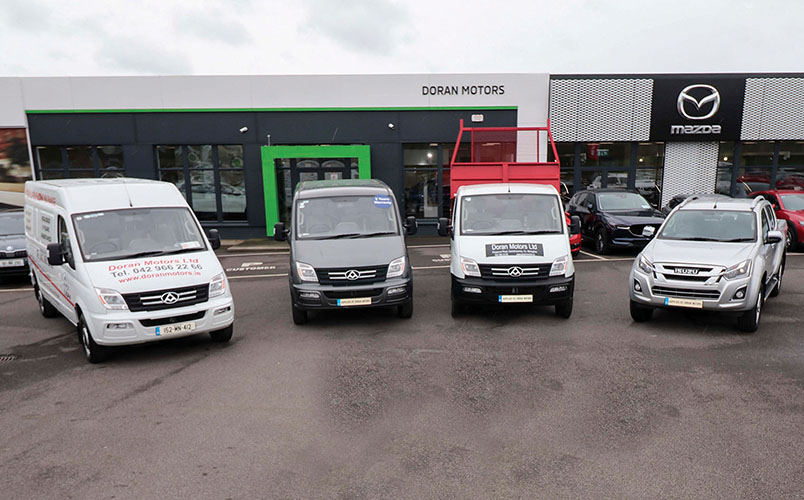 This year sees Doran Motors Ltd of Monaghan celebrate their 40th anniversary in business. Dealer principal Peter Doran revealed the secrets of their success.
The Carrickmacross-based enterprise and sister company Drogheda Car Sales offer a wide range of new car and commercial vehicles for sale and represent five exciting brands.
Renowned as the leading suppliers of Mazda, Hyundai, Skoda vehicle and Isuzu and LDV Commercial vehicles in the North East of Ireland.
During the past four decades, they have enjoyed incredible growth and have always placed a strong emphasis on improving customer care and satisfaction which plays an integral part in their continued success.
They have a make and model to suit all budgets and tastes and pride themselves on their remarkably high levels of customer retention
"We have a customer base of approximately 10,600 and we're very pleased and proud to have such a huge customer base," Peter Doran explained to Irish Trucker & Light Commercials magazine.
"Our customers have been very good and loyal to us down through the years. Recession or no recession, we have always had a very strong customer retention rate."
Having trained originally as a mechanic and extending his training to become a panel beater, Peter founded Doran Motors Ltd along with his wife Angela and diversified into car sales from 1986.
Fast forward to today and there are approximately 60 employees on their payroll and their customers appreciate the fact that they deliver quality vehicles they need at a price that works for them, and with the best range of finance options in the North East.
LDV, for example, is the name for high-quality vehicles that offer a range of options to suit every delivery need.
From front to back, the LDV V80 van gives you more, combining efficiency and comfort as only European designed vehicles can. Its low floor clearance gives you greater room, payload and ease of loading.
When it comes to cabin comfort, the LDV comes complete with air conditioning, cruise control, remote keyless entry, audio with radio and MP3 connectivity, an 8-way adjustable driver's seat, power windows and mirrors.
Isuzu, meanwhile, is a world leader in the production of reliable medium-duty trucks and is world-renowned for its expertise in engineering, from diesel engines to pickups to SUVs. Whether you're looking for a light commercial vehicle, crewcab 4x4 or light Truck, Doran Motors have what you need.
"We were appointed main LDV and Isuzu dealers for the north-east back in 2015 and both brands have settled in really well for us. They are reliable and economical vans and anyone that has purchased one has been more than happy with their van," Peter added.
Open Monday to Friday (9am-6pm) and Saturday (9am-1pm), Doran Motors Ltd offers a comprehensive range of services to compliment the sales end of their business. They have a full on-site Service Repair, Bodywork, Valet and Stores departments, along with a breakdown assistance service, and a modern pre-test centre.
They are one of the leading ISO 9001 accredited car dealerships in Ireland, and have won many prestigious awards for exceptional standards for Mazda, Hyundai and Skoda service and customer satisfaction, including Dealer of the Year. Customer care is always a priority for all their staff.
"One of our main goals is our back-up service. We would be well-known for being efficient and reliable in that regard. We are always here for our customers if any problems arise."
With their car finance partners, Peter & Co can provide you with competitive car finance packages to meet your budget. Their in-house Business Manager is always at hand to ensure that you receive the best car finance package available.
"Business is steady," Peter revealed. "Brexit has affected the market a little bit but overall things are goings well. We've reached our targets for the first quarter of the year. There's a huge demand out there for quality used Irish cars with service history. From a resale point of view, that's very important to our customers while we have fantastic finance offers going since January."
Peter and his team would like to take this opportunity to thank all of their customers for their continued support. Without them, they would never have reached this significant milestone and they are truly grateful to each and every customer and look forward to seeing them again in the not too distant future.
Feel free to call their dedicated sales and service team who would be delighted to assist you. They would welcome the opportunity to quote you personally on your requirements particularly if you have a trade-in.
"Were in a good position We're well established, having been in the business for 40 years and Drogheda has really grown in the last six years," Peter concluded.
Doran Motors Ltd
Clonseady, Magheracloone
Carrickmacross, Co. Monaghan
Tel: 042-9662266
Drogheda Car Sales
North Road, Drogheda
Co. Louth
Tel: 041-9845288
Website: www.doranmotors.ie
Taken from Irish Trucker & Light Commercials magazine, July 2018, Vol 21 No 5