Stunning fleet, superb service
07/11/2018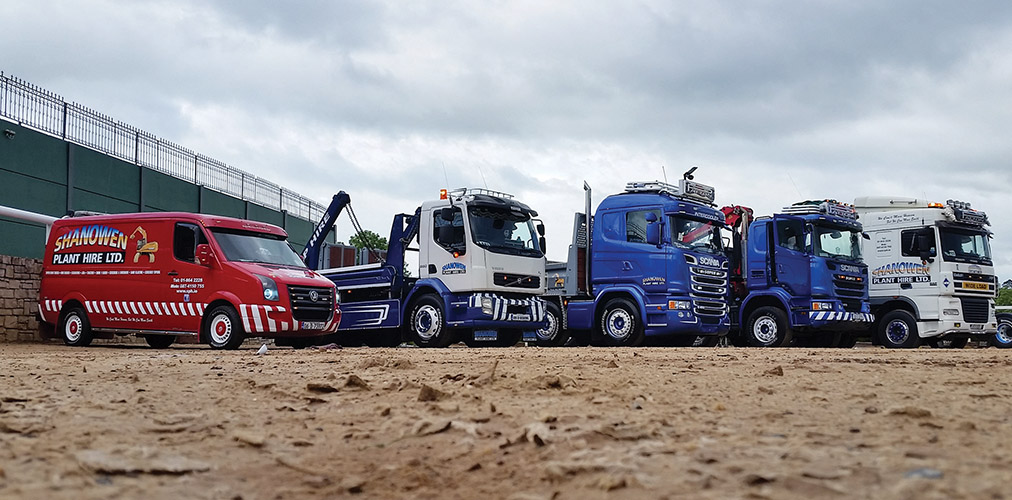 As well as providing exceptional plant hire, site clearance, demolition, haulage and groundworks solutions, Shanowen Plant Hire Ltd. also operates one of the best-looking fleets in the Leinster region. We dropped into The Ward, Dublin 11 and touched base with director and veritable trucking enthusiast Paddy Patton to get an update on the outstanding, family-run operation.
When we renewed acquaintances with Paddy Patton of Shanowen Plant Hire, he was putting the final touches to his fleet ahead of the annual pilgrimage to the Full of the Pipe Truckshow in Punchestown. As a man with a great passion for all things truck-related, Paddy is certainly in the right line of work and his genuine enthusiasm for trucks is evident in everything Shanowen Plant Hire does.
Founded by Paddy's parents, Joe and Julie, in 1984, the family business has gone from strength down through the years, delivering service rivals that are simply second to none and also placing a major emphasis on running trucks and trailers that look the part. From Day One, the pristine appearance of the Shanowen Plant Hire fleet has been a constant and it's something that separates them from the competition.
A mere glance at the vehicles and it is immediately apparent that tremendous pride is taken in the appearance of the fleet… "We have a good team of lads here and they all have a great interest in helping out with the upkeep of the trucks and that's half the battle," Paddy notes. "The staff are great. We look after them and in return they look after us. In fairness, they put a serious amount of work into keeping the fleet looking good."
To have trucks that work so hard invariably looking shiny and new must take up a great deal of time? "Yeah, that's the topic of the week here most weeks," Paddy laughs. "They are overhauled from top to bottom every Saturday and – weather permitting – we try to get a bit of work done on them midweek as well, if possible. As we're working in construction, it's not the easiest thing in the world to keep all the gear looking clean, but the lads all buy into it and play their part. They know it's important to us."
While operating a striking fleet obviously promotes the business in a positive light and represents a great reflection of the directors' commitment and passion, the flipside of this is that all the additional hard work and graft – on top of running the business and carrying out the day-to-day plant hire, site clearance, demolition, haulage and groundworks services for which Shanowen Plant Hire are renowned - is surely a pain in the proverbial? But Paddy is adamant that it's 100% worth it:
"We're fully dedicated to it and it's in the blood at this stage," he states. "And the lads get great feedback. People want to get their photo taken with the trucks and kids love them … they go mad wanting to sit in them. We enjoy the response. As I said, the lads are all great and it's good publicity and I'm sure our customers appreciate the lengths we go to in order to make sure the fleet is fresh and clean. We've never had any issues with any of our customers; they keep coming back and doing business with us, which is a good sign."
In the run-up to an event like Full of the Pipe – now one of the premier truck shows in Europe! – even more Autosmart and Autoglym products than usual are required! "We go to Full of the Pipe every year and we try to get a lot done in the weeks and days running up to the show. You rotate the newer ones, wash them daily and then it's polish, polish, polish," Paddy told us.
"I leave it up to the individual drivers to decide whether or not they are going to attend. It's a good team-bonding exercise and I'd always throw a barbecue and we have a few drinks, but some of the lads have young families and are pressed for time, so we don't put any pressure on any of them. They're welcome to come along and bring their trucks but we understand if anyone can't make it."
At the time of writing, Paddy was about to take possession of a brand-new grab truck and he was hoping to have it ready to make its truck show debut at Full of the Pipe 2018.
Joined in the family business by his parents and sister, Annita, Paddy is pleased to report that things have been picking up again in the past few years as the worst of the recession eases: "We managed to sustain ourselves through the recession and we're still here, thankfully. We had bought a lot of new machinery in 2006 and '07 and that helped us ride the storm.
"Everyone was hit, including ourselves, but we were lucky to have fresh plant and we kept working away alongside our loyal customers and managed to keep afloat. My mother and father, who set up the business, had come through another recession prior to this one, so they had first-hand experience of it and knew how to get us through."
The fleet has been gradually updated again in recent years and Shanowen Plant Hire currently operate nine trucks – tippers, grabs, beaver tails and lowloaders – as well as 14 machines. "The trucks are Scania, Volvo and DAF while, in the plant end, we have diggers, 360º excavators and have just bought a new McCloskey screener while enables us to provide screening and crushing as well as demolition."
Situated in a convenient location just off the M50 (Exit 5), Shanowen Plant Hire have been providing main contractors and developers large and small, local authorities and private clients with keen solutions for three-and-a-half decades, using fresh and immaculately-maintained machinery and experienced, qualified personnel who are committed to offering customers the best possible solution to suit their needs.
Although most of the work undertaken is in Dublin and surrounding counties, Shanowen Plant Hire hold a nationwide waste collection permit and can provide haulage, plant hire and site clearance services anywhere in Ireland.
"We'll travel if the price is right, but most of the work is close to home," Paddy concludes. "We're doing a lot of asbestos removal now as well, which goes hand in hand with demolition. We try to look after all of our customers and we provide a full range of services, from a bulk bag of topsoil to large dig-outs. We're here to provide a service and we won't turn anybody away."
Shanowen Plant Hire are committed to their work. You can tell this straight away by looking at the fetching fleet!
Shanowen Plant Hire,
Bishopswood House,
The Ward,
Dublin 11,
D11 K1EW.
Tel: 01 8642228
Web: www.sph.ie
Taken from Irish Trucker & Light Commercials magazine, July 2018, Vol 21 No 5