Double celebrations for TTP
02/11/2018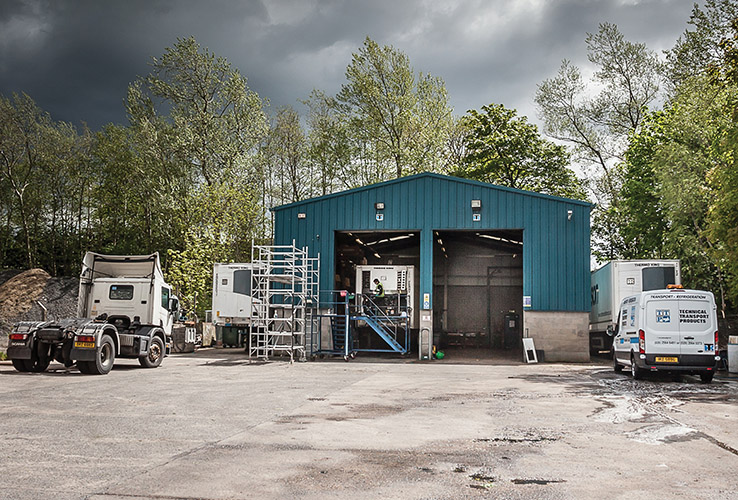 Technical Transport Products (TTP) recently celebrated 40 years in business in style by winning the 2017 Thermo King Connectivity Dealer of the Year Award. It's the fourth major award the Ballymena-based Thermo King Dealer has claimed in the last decade and one the TTP team were delighted to receive.
Sisters Tracy Martin and Kathryn Dickey of TTP travelled to Marrakesh in Morocco earlier this year to accept their latest award at the annual Thermo King Dealer Principal's Conference. The Connectivity Dealer of the Year Award is a new accolade introduced by Thermo King to recognise the dealer who has been most successful in the telematics field.
"We were very honoured to win this award," TTP sales and marketing manager Tracy Martin says.
"We were up against strong competition from Dealers in South Africa and The Netherlands. The award is given to the dealer who has been the most proactive in selling the Thermo King 'TK Tracking' system to their customers. This allows customers to remotely track not only where their trailer is, but also to interact with the Thermo King unit to access information, including the setpoint and mode of operation. Technology now allows us to have two-way communication with the unit, i.e. to be able to change the setpoint of a trailer on a road in Germany, for example, from your office PC."
TTP are no strangers to the Thermo King Dealer Awards which recognise excellence and leadership in all aspects of performance, as well as dealers who provide a superior customer experience. In 2009, the successful family-run business was named the Thermo King Dealer of the Year, which is the highest recognition any dealer can receive. TTP was also honoured with the Special Recognition Truck Dealer of the Year Award at Thermo King's 75th anniversary gala dinner in 2012 and with the Spare Parts Accessories and Telematics Dealer of the Year Award in 2007.
TTP has come a long way since it was set up by the late Billy Finlay and his wife Muriel in 1977. Now run by their daughters Tracy Martin and Kathryn Dickey from dedicated premises in Ballymena and Portadown, the company is the sole distributor for Thermo King products in Northern Ireland. Its customers include Dale Farm who were featured in TTP's award-winning 'The Fast and the Refrigerated' short film, which is a celebration of the company's 40-year history, their services and the people who work there and can be viewed on Youtube.
"The company had humble beginnings," Tracy explains.
"My father started in a shared one-bay workshop in Ballymena. He then moved to a purpose-built two-bay premises in 1988 which was extended over the years and now spans a seven-bay workshop. We recently opened a new depot at a great location in Carn, Portadown, which is just off Junction 11 of the M1, giving an additional four bays. This was in direct response to our customers' needs.
"We also have a service affiliate based in Newry called Transcold Refrigeration. As Thermo King's only sales and service dealership for Northern Ireland, it's important that we are close to all of our customers."
TTP offers the full range of Thermo King products for bus, trailers, rigids and vans and can advise you and deliver solutions based on your needs. Single temperature units for trailers ranging from 12m to 13.6m are supplied, with the multi temperature range offering up to three zones of temperature control. Also supplied are single temperature units to suit refrigerated bodies from 4m to 9m and multi temperature units offering up to three zones for chassis mounted fridges to suit refrigerated bodies up to 9m.
For today's aerodynamic shaped vans, Thermo King offers stylish, compact equipment for small, medium and large vehicles. The range covers fresh and frozen applications from 2.5m3 to 28m3. Multi temperature units offer two zones of temperature control. In addition, Thermo King supplies a complete range of air conditioning systems for buses as well as a full range of telematic products for data recording and data transfer.
"We have a very high market share," Tracy proudly states.
"My father always said: 'Put the money into the service side and with the world-leading products of Thermo King, we will succeed' – and we have 40 years later. We are specialists in pharma and remote tracking. Our customers are looking for flexibility and we offer contract maintenance packages to suit their needs.
"These are becoming increasingly popular as it takes all the service planning, F Gas Certification, Calibration Certification, dealing with breakdowns and so on from them, with optional servicing on the customer's site. We have a dedicated mobile team to cover the area and a 24/7 breakdown service.
"For the van market, we offer the full package, from picking up and delivering the van back, where we insulate, shelf out and fit the required refrigeration unit for the customer's application."
Tracy is full of praise for TTP's 26-strong team of engineers, sales and office staff.
"Our dedicated team are one of our greatest strengths. We have always put a strong emphasis on training, as do Thermo King. All engineers have gradings – Gold, Silver and Bronze. The majority of our engineers are gold-certified, with a dedicated and highly experienced management team to guide them.
"Customers will be familiar with Drew McKee and David McAlister from calling with them and keeping them up-to-date with all the latest products and services we offer."
Here's to another 40 years of this awarding-winning dealership!
Technical Transport Products (TTP)
Woodside Industrial Estate,
Woodside Road,
Ballymena,
Co. Antrim BT42 4HX.
Telephone: 028 256 40373
24-hour telephone: 028 256 46481
Fax: 028 256 40351
Email: [email protected]
Web: www.technicaltransportproducts.com
Taken from Irish Trucker & Light Commercials magazine, July 2018, Vol 21 No 5