An unbeatable waste tyre collection service
01/11/2018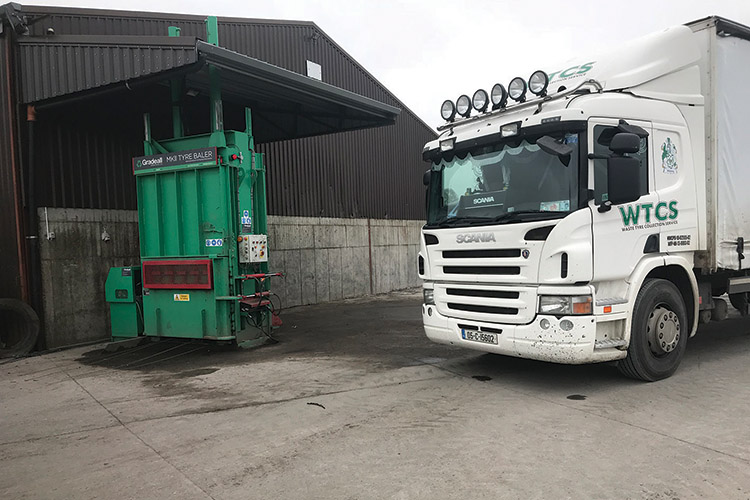 Established by Kieran Mooney in 2007, Waste Tyre Collection Service has developed into one of Ireland's longest-serving and most-dependable tyre collecting / recycling operators. We touched base with Kieran at his well-appointed facility in the midlands to get an update.
Waste Tyre Collection Service (WTCS) is a fully-licensed operation, which provides a nationwide tyre collection and recycling service from its modern waste facility located at Attanagh, close to the Laois-Kilkenny border.
Since inception, the business – a member of Repak ELT has been fully-permitted, complying with all prevailing guidelines and legislation governing the waste collection and recycling sectors. Meticulous, conscientious and professional in every facet of its operations, Waste Tyre Collection Service has gone from strength to strength over the past eleven years and continues to provide outstanding service to longstanding and new customers alike, not just from the midlands but from east to west of the island.
Having the second generation of his family on board to help out with the day-to-day running of the business has proven to be a major positive development for founder Kieran Mooney. "It's going very well at the moment, thankfully," he told Irish Trucker magazine.
"My son, Donal, has come on board in the last year and he has been a big help to me. He plays a big part in daily operations now. We have split the work between us, which takes a bit of the pressure off: he does most of the collections, while I transport the tyres in containers to Dublin for export."
Another big advancement in recent years was the installation of a 60-tonne weighbridge in 2014, which allows Kieran to keep an exact record of the tonnage of everything that's coming on and off site at the fully-licensed Waste Tyre Collection Service waste facility.
Regulation has become a massive part of the waste / recycling sector and operators are expected to leave no stone unturned in ensuring that they are wholly compliant, with every i dotted and t crossed. While some might find the degrees of compliance demanded to be a pain in the proverbial, Kieran welcomes such close monitoring of the industry and the subsequent protection of the environment.
As a fully-licensed waste collector running a fully-licensed facility and also a member of the Repak ELT (End of Life Tyres) compliance scheme, he says strict regulations can only be a good thing: "I think it's for the better and I've always agreed with it. Repak ELT was a positive development and they have got rid of all the rogues who had collection permits but nowhere to go with the tyres. Sheds were filling up with tyres and that's both unacceptable and unsustainable.
"Tyres need to be recycled properly. The days of tyres just being dumped are coming to an end. Kilkenny County Council come to me with tyres that have been dumped and they are finding that there are fewer and fewer of these."
As well as local authorities and the NRA, Waste Tyre Collection Services also collects from breakers, garages, tyre depots, farmers, etc., providing a coast-to-coast service "We go around all the Kilkenny tyre depots every week and we do Galway and Wexford every fortnight," notes Kieran.
"We call to our customers weekly and fortnightly. We're offering a collection service and that's what we pride ourselves on. We've always looked after our customers and a lot of them have been loyal and have been working with me for years. They are sticking with me and are happy with the service we're providing. We'll keep looking after them and hopefully they'll keep looking after us."
For these customers, the peace of mind that goes hand in hand with knowing they are dealing with an operator who is fully authorised and above board is a major plus.
Waste Tyre Collection Service operates a mixed fleet of five trucks – three artics and two rigids – as well as a couple of vans. With the high cost of diesel and insurance these days, this represents a major overhead.
"I have a good team around me and they all play a part in the success of the business. Donal is a huge help now and I also have two men in the yard, Janis and Davis, who bale the tyres and also do some collections. Orla works part-time in the office and my wife, Kathleen, is also a big part of it."
So where are most of the exported tyres destined for these days and how are these markets discovered? "We're mostly exporting to India at the moment," says Kieran. "We can only export to Repak-approved facilities, which is again a good thing. We're fairly well known at this stage and a lot of these customers would make contact with you via email, etc. It's a small world now.
"There are still a lot of tyres out there to be collected. We bring them to our facility and bale them and then bring them up to Dublin for export. Today, I'm taking a 20-tonne load to Dublin. There's 120 tyres per tonne and we're currently doing four runs a week, so that's a lot of tyres."
Waste Tyre Collection Service has been a big success story to date and Kieran's plan going forward is to continue providing the stellar service levels for which he has become renowned. "We'll keep going as we are – if we can do that, I'll be more than happy. It would be nice to have a viable business to hand over to the next generation. Another son Kenneth, who was in Australia for ten years, has just returned home from Canada. He's working as a plumber at the moment but who knows what might happen in the future? Donal is a mechanic by trade, which has obvious benefits, and he has been a massive help since joining the business."
The fact that WTCS is still going strong despite having been founded as a hard recession commenced speaks volumes for the quality of the service provided. "There was an opening there in '07 for a quality tyre collection service and we got in on it at the right time," Kieran concludes. "It's all about customer service. If you keep the customer happy and collect the tyres when you say you are going to collect them, and keep your customers in the loop, then there's a good chance they'll keep putting business your way."
It's certainly been a winning formula so far!
Waste Tyre Collection Service,
Earlsgarden,
Attanagh,
County Laois.
Tel: 086 2541226
Email: [email protected]
Taken from Irish Trucker & Light Commercials magazine, July 2018, Vol 21 No 5