CES Environmental Services leads the way
25/10/2018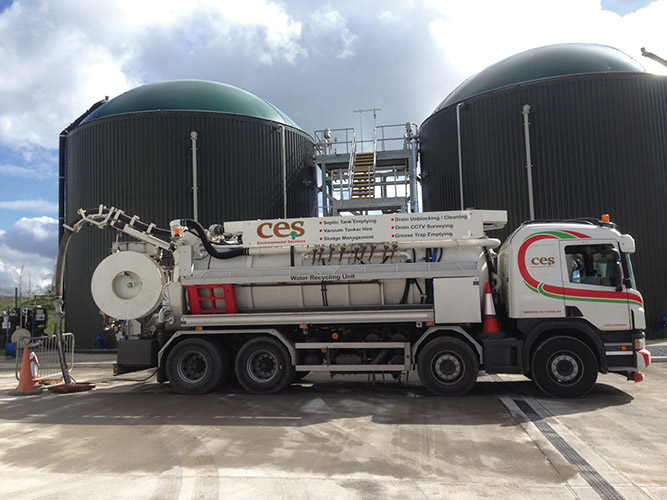 CES Environmental Services provide Nationwide Environmental Sludge Haulage, Drain and Sewer Cleaning and surveying, trenchless drain repair amongst other Drain services. CES is fully committed to enabling the best possible service to customers, domestic and commercial, private and public. Irish Trucker learned more from Managing Director Flann Cahir.
Next year will see CES Environmental Services celebrating its 10th anniversary since being set-up by Clare native Flann Cahir. Indeed the company has come a long way. Flann's background before starting his current venture had been in agricultural contracting and nine years ago he took the bold decision to go out on his own, despite the country in the midst of a harsh economic recession.
Flann Cahir took time out from his busy schedule recently to fill Irish Trucker in on what CES Environmental is all about.
"We're based in Ennis, Co Clare and the company was set-up in 2009," the Managing Director outlined. "We have 11 full-time working here and that includes my wife Claire, who looks after the accounts."
Indeed CES Environmental is at the forefront of its industry, ensuring a policy which provides a customer focussed and professional waste management service based on the following precepts: Sound Engineering principles, CCTV analysis, diagnosis and repair, Regulatory compliance and industry conformance and Value for money and cost control.
Drain and Sewer Cleaning couple with Drain CCTV Surveying are one of the primary services that CES Environmental provides and it utilises the most up-to-date specialist CCTV Camera Survey and inspection equipment to present the most comprehensive picture of drains, manhole condition, points of blockages or failure.
CCTV Drain Surveys are the most cost-effective and least disruptive method of obtaining accurate information on the condition and indeed the location of sewers and pipelines.
CES Environmental has invested heavily in technology and training so as to provide customers with the most professional and comprehensive surveys possible. Through the firm's affiliation with leading industry technology experts, they ensure continuous professional development and access to first class solutions and education services within their industry for all employees.
Those customers can be found all throughout Ireland, as Flann himself explained:
"We'd work with all of the councils, Construction companies, Engineers, Insurance Companies, Health boards throughout the country and we do a lot of work for EPS as well. We get a lot of repeat business here."
"I think they choose us because really and truly the guys we have on the ground are great. I really cannot speak highly enough of our employees.
"We also have the most up to date technology and that probably makes it easier. But we have great staff members here and have recently added to our team, so we are up to 11 in total."
CES Environmental Services have a Nationwide Permit for the Haulage of waste from the NWCPO. Operating with a fleet of eight trucks, comprising off Two Renault Trucks, two Daf, Two Scania, a Mercedes and Iveco.
Nearly a decade on and the company still continues to grow in every sense and there's no sign of the fleet at CES Environmental letting up either. For them, effective and efficient service delivery relies on three primary factors; skilled personnel equipped with the latest technology, effective project management and a proven process.
The expertise which CES Environmental applies is well reflected by the state of business at the minute.
"2016 Was a fantastic year for us" Flann has stated "2017 built on this and 2018 so far looks to surpass the previous years" Mirroring the business itself, the fleet has also grown year on year and CES Environmental ensures continual effectives for its clientele in a number of different ways.
CES Environmental has grown year on year with the management and staff always being clear in their vision of the importance of a consistent, repeatable approach, ensuring the company's reliable services to industry standards and customer expectations.
ISO 9001,OHSAS 18001,14001 is an integral part of the business process ,management and Staff are dedicated to ensuring its continual effectiveness by providing clear focus on priorities through the establishment of business and quality objectives. CES Environmental commits to providing all of the necessary resources, including finance, personnel, premises, staff facilities and specialist CCTV camera technology to assure quality.
Looking to the Future, Flann says the goal is to continue to grow and provide our customers new and existing with the best service possible. This will be achieved with continued investment in the most up to date technology and Machinery and staff training.
CES Environmental Services Ltd.
Riverside Business Park,
Quin Road,
Ennis, Co. Clare
Tel: 065-6866850
Email: [email protected]
Taken from Irish Trucker & Light Commercials magazine, July 2018, Vol 21 No 5