Still the First Choice
19/10/2018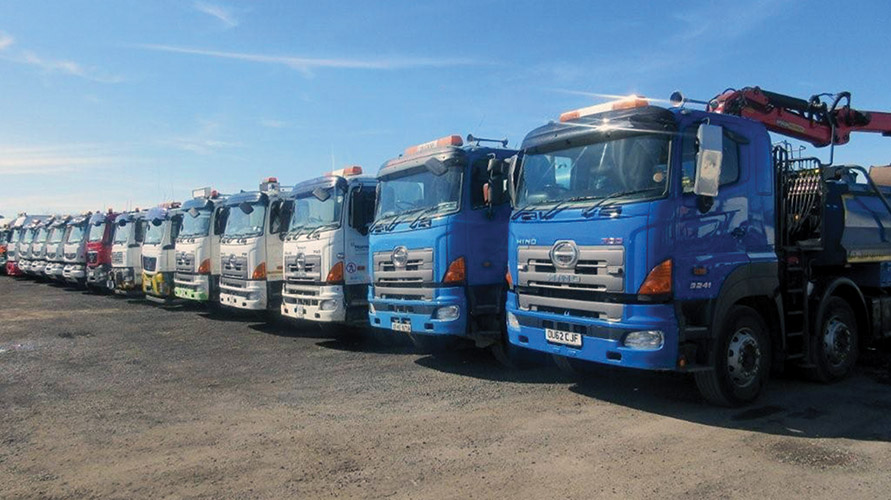 Established since 1999, First Choice Commercials Ltd sells new and used trucks plant and machinery to home and export markets. Irish Trucker learned more from Managing Director Mark O'Neill about the Naas-based company.
With over 150 trucks in its yard, First Choice Commercials Ltd is the premier supplier of used trucks, plant and machinery in the country.
Based in Naas, Co Kildare, the company can design and build vehicles and trailers to suit their customers' requirements, with approximately 70 per cent of all stock is sourced in the UK.
First Choice Commercials was founded by Mark O'Neill in 1999 after the Dublin native had located a gap in the market for quality used trucks.
As the years rolled past, Mark took the initiative to broaden his product range and today he stocks everything from tractor units, tippers, rigid trucks, mixers, trailers and hook-loaders to light commercials, 4x4s, plant and machinery.
Today, the company boasts a large Irish customer-base and exports many vehicles year in, year out, as well as exporting to destinations such as Australia, New Zealand, Africa, The Caribbean and The Far East.
Mark took some time from an increasingly busy schedule to fill Irish Trucker in on more of what they've been up to lately down around Naas.
"We have something similar to 150 trucks in our yard as well as mini-diggers, site dumpers and excavators," explained the MD.
"We carry a fairly broad range and our stock has changed here with the construction market improving. We specialise in crane lorries and hook loaders and usually have a good selection of those vehicles in stock.
Located on the M7 exit 10, which is just 20 minutes from Dublin, First Choice Commercials always has a large selection of rigids and tractor units in stock for its customers.
The business prides itself on the ability to source and supply any type of heavy commercial or machinery and Mark still sees the export of used vehicles as a growing sector for his company.
First Choice Commercials has many years of experience in shipping vehicles and machinery throughout the world. Whatever your requirements, the company will be happy to provide you with a shipping quotation to your port of choice.
All documentation can be arranged, while a packing service for containers is also offered. In addition, First Choice Commercials can also assist with inspections by both Jevic and Veritas.
The firm enjoys an excellent relationship with its Liverpool-based sister company, Williams Truck Centre, which it works closely with on sourcing and shipping issues all year round.
Customer satisfaction has always been the top priority since First Choice Commercials' inception in '99.
For Mark, strong relationships and continued competitiveness are two of the key ingredients as to why his venture has grown into the success story that it is.
"We have a large number of quarries nationwide that are customers of ours," he outlined.
"Repeat business is very important for us. We've always taken the approach to keep our customers from Day One and we work on a small margin that leaves us very competitive with regards to pricing. We always try and offer value and I think our customers see that."
First Choice Commercials sell a large number of vehicles into the UK and Northern Ireland.
Indeed First Choice Commercials' location on the M7 makes it easily accessible to all. Mark purposely chose Naas as the location for his new business 19 years ago for this reason and for its reputation as a hub for commercial vehicle sales and activity.
After the First Choice Commercials website – www.firstchoicecommercials.ie – received a complete overhaul in 2015 it became easier than ever for customers to navigate.
All of the stock is available to view, complete with make, model, year, mileage and price.
"There is no doubt that our redesigned website has brought in a number of new customers," Mark stated.
"We are also on Facebook and Twitter which gives followers a direct feed to what new stock is arriving. Our presence on social media has also strengthened our links with our existing overseas customers and created new ones."
Indeed the company has come a long way since Mark first started out and he was happy to highlight its origins, revealing that he initially began working in this industry by following in his father's footsteps.
"First Choice is trading since '99 and my father would've launched the Hino range for Harris in the UK in the 1980s, so basically I would have become involved in the industry at a young age, following in my father's footsteps.
"I travelled to the Far East in my mid-20s to develop export contacts and learned even more about the business."
Things have come a long way indeed for Mark O'Neill and his company…
For all your used truck, commercial vehicle and plant sales, be sure to give the team at First Choice Commercials a call today.
First Choice Commercials Ltd
Newhall,
Naas,
Co. Kildare
Tel: +353 (0) 45 98 85 33
Mark: +353 (87) 284 2830
Fax: +353 (0) 45 98 85 32
Email: [email protected]
Taken from Irish Trucker & Light Commercials magazine, July 2018, Vol 21 No 5