SDC Trailers celebrates 40 years of expert trailer manufacturing
17/10/2018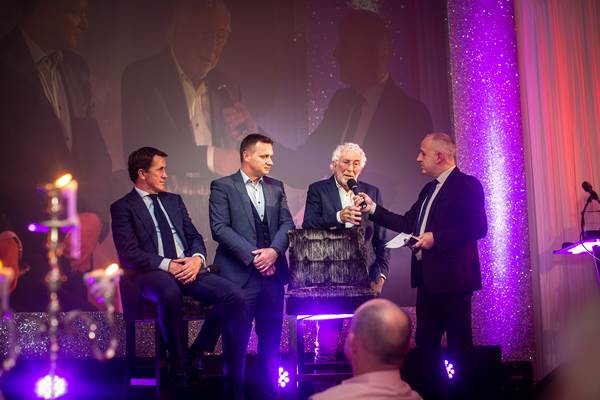 Established in a small tin shed in Bellaghy by welder and fabricator Seamus McCloy, SDC has grown significantly over the last four decades to become the UK and Ireland's leading manufacturer of bespoke semi-trailers. A local manufacturing success story, the company now employs almost 1,000 staff across four UK based manufacturing plants and is now a member of the world's largest trailer manufacturing group CIMC.
On 12th October, SDC marked the occasion by inviting customers, staff, suppliers and distributors to a tour of their factory in Toomebridge followed by a celebratory dinner held in the Europa hotel, Belfast. Over 350 people attended the event with highlights including entertainment by the Red Hot Chilli Pipers and a Q&A session with former champion jockey Tony McCoy. SDC's CEO, Enda Cushnahan shared his experiences from the last twenty-one years with the company and was joined on stage by Seamus McCloy to discuss the company's success as the UK and Ireland's largest semi-trailer manufacturer.
SDC's CEO, Enda Cushnahan said "I have been with the company for half of those 40 years and it is privilege to now serve as its Chief Executive Officer. I see my role as building on the legacy of our founder Seamus McCloy and taking the company forward into another 40 years of success.
It has been a great journey and I would like to thank all our staff, customers and suppliers who have made it possible. While our trailers have a deserved reputation for quality, reliability and toughness, it is the commitment and passion of these people that will ensure the company continues to thrive and grow."
SDC's loyal customer base has enabled the company to grow at such an impressive rate over the last 40 years and the company's mission to "understand your business, your logistics requirements and then tailor a solution to meet those needs." The manufacturer does not build standard products for stock – every trailer on the production line is built to order for a specific customer.
Around 40% of SDC's output leaves the factory with a body fitted, and their impressive trailer range features over 500 different variants from curtainsiders and boxvans, to skeletal, platform and urban trailers, all of which are bespoke manufactured to meet operator requirements.
Earlier this year the manufacturer completed a £7m expansion to their manufacturing headquarters in Toomebridge with the creation of 50 new jobs, making SDC one of Northern Ireland's largest private sector employers. The expansion has revolutionized the company's manufacturing process and increased trailer output by 50% on a weekly basis.
The company also recently opened two state of the art training facilities at their headquarters in Toomebridge - a piping and wiring training centre fully equipped with the latest semi-trailer technology and a welding centre which has 8 individual welding bays with cutting, extraction, burning, clamping, measuring and demonstration equipment. With new trailer sales in excess of 8,000 units and turnover of over £200m last year, SDC Trailers are well placed to continue their success in both local and international markets.
SDC innovation roll of honour
2010
Launches 3-axle skeletal trailer than splits in two, to form a single axle trailer for transporting 2x20ft containers.
Launches 'Aeroliner' aerodynamic trailer with 12% fuel savings.
Introduces roll stability systems (RSS) for brake type approval two years ahead of mandatory legalisation.
2011
Manufactures and tests the UK's first 14.6m and 15.65m longer length semi- trailers.
Develop a new lightweight walking floor trailer with an increased capacity of 90.2 cu m.
2012
Builds 3-truck transporters based on a longer length chassis - a first for the UK market.
2015
Named Motor Transport National Innovation Award winner with Malcolm Logistics for 15.65m extendable skeletal trailer.
2016
Launches the world's first application for a Kinetic Energy Recovery System (KERS) on a semi-trailer.
2018
Launches hydraulic lifting deck curtainsider featuring lightweight deck design suitable for 52 pallet operation, exhibited at the CV Show and received third place in the Trailer Innovation Award body category.