R&J O'Connor Transport gets the cream
15/10/2018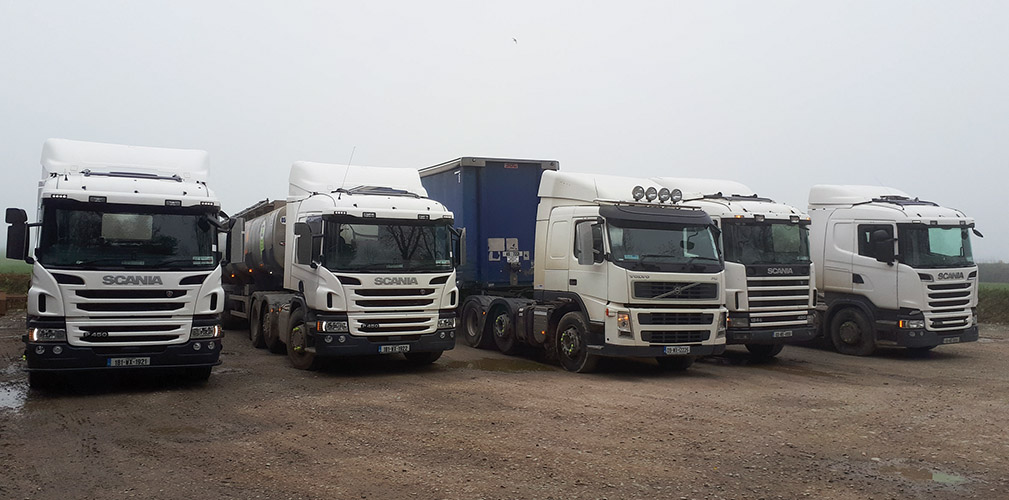 R&J O'Connor Transport Ltd provides a top-class milk collection and delivery service for Glanbia in Co. Wexford.The family-run business recently upgraded its fleet by taking delivery of two new Scania P450 6x2 Day cabs from local dealer KD (Garage) Services Ltd.
The new trucks represent a significant investment by brothers Richie and Joe O'Connor in their farm-to-factory bulk haulage transport business. They also run a Scania R500 V8, a Scania 420 and a Volvo FM. As well as hauling bulk tankers for Glanbia, the trucks pull flat and curtain-side trailers for other purposes.
"We pass KD (Garage) Services in Drinagh 11 times a day drawing milk into Glanbia's Wexford plant, so that was a factor in our decision to buy the new trucks from them. They looked after us well and we're very happy with how the trucks are performing for us," Joe says.
"We traded in a Volvo and now have three Scanias which are less than three years old. We're big fans of Scania and previously had a 08-registered 4x2 P Cab. It was a great truck, but unfortunately wasn't big enough for the type of work we were doing.
"In terms of trailers, we have two flats (32ft and 45ft) and a 45ft curtainsider, while Glanbia supply us with three milk collection tankers. The three newest Scanias pull the milk tankers, the other Scania draws coal for Stafford Fuels in New Ross, while the Volvo draws cheese for Glanbia from Wexford Creamery and is used as back-up for the milk lorries."
Decked out in the Glanbia colours, the collection tankers are designed to reduce milk collection times on farm and automate the secure transfer of information needed to pay farmers for the milk collected. They boast state-of-the-art technologies such as GPS supplier recognition, data transfer by satellite and GSM. They are equipped to pump up to 60,000 litres of milk per hour and have a capacity to carry 28,000 litres. High-speed pumping has become a prerequisite since the milk quotas were lifted in 2015.
"Some of the farmers on our milk run have doubled production," Joe informs us.
While Glanbia maintain the tankers themselves, the trucks are serviced and maintained by Eddie O'Hanlon in Ballymitty. The brothers buy their tyres from Meyler's Tyres in Wexford and their parts from B&R TranSpares in New Ross. They employ five full-time and one part-time driver. It goes without saying the drivers are highly-skilled, professional, friendly and reliable.
R&J O'Connor Transport collects milk from approx. 130 dairy farms located between Ferrycarrig and Rosslare and stretching down to Hook Head. Most of the milk is delivered to Wexford, with the remainder going to Glanbia's other processing facilities in Belview, Co. Kilkenny, Ballyragget, Co. Kilkenny, Ballintore, Co. Kildare and Virginia, Co. Cavan. Glanbia purchased its Wexford site from Wexford Creamery in 2014 and recently announced a €35 million expansion which will allow for more production of the famous Wexford cheddar cheese. Dating back to 1963, the plant processes 160 million litres of milk a year.
"Our father Richard provided a milk collection service for Wexford Creamery from the mid-1960s up until when myself and Richie took over the business in 2008. He had two rigids and his father Davy had steam engines and threshing machines before him," Joe explains.
"Since Glanbia bought out Wexford Creamery and the milk quotas were abolished, we have noticed a big increase in the volume of work we're doing. We're doing 11 runs into Wexford at present."
The O'Connor's are proud to be associated with one of Ireland's biggest and most successful companies. With deep roots in the dairy industry, Glanbia has a turnover of over €3.5 billion per annum, almost 6,000 employees and a presence in 34 countries around the world.
"They're a great company to work for. We enjoy an excellent working relationship with them and hope that will continue to be the case for many more years to come."
As farmers themselves, Joe and Richie can empathise with their customers, while their involvement in the local GAA scene is also the source of much banter. Their older brother David 'Doc O'Connor was a star defender for the Wexford hurlers throughout the 2000s and was also a key figure for St. Anne's when they won a famous county senior hurling and football championship double in 2000.
"We have a great rapport with our customers. There's always great banter when it comes to the GAA. It's a tonic for us to be able to get out and about and to mix farming with the collection service," Joe adds.
The affable south Wexford man believes that hauliers are sometimes underappreciated and that the government needs to do more to lower fuel costs and insurance costs for younger drivers especially under 25 years of age.
"There would be nothing on the shop shelves without hauliers. The cost of diesel, insurance, tyres, parts and the trucks themselves are going up all the time, yet the rates have gone down. It doesn't make sense. Surely there should be some type of government incentive to entice younger people into the haulage industry, it is just too expensive for young people to get a licence at the minute," he concludes.
R&J O'Connor Transport Ltd
Philipinstown,
Cleariestown,
Co. Wexford.
Telephone: 087 9901497 087 7767979
Email: [email protected], [email protected]
Taken from Irish Trucker & Light Commercials magazine, July 2018, Vol 21 No 5