Ireland's newest CVRT centre hits the ground running
10/10/2018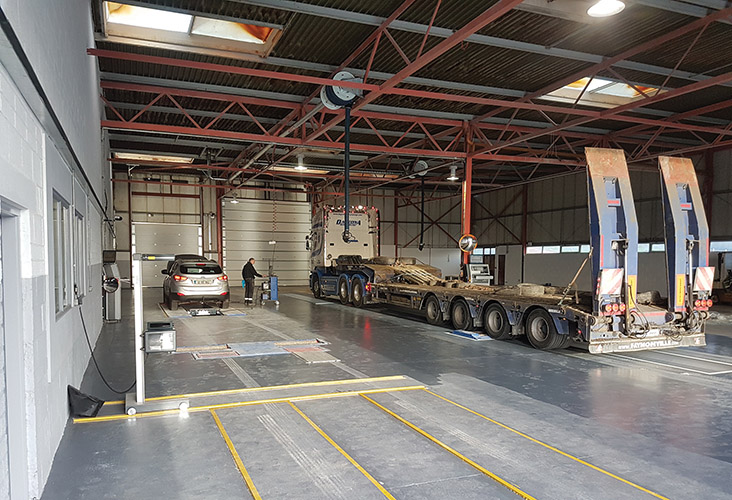 Opened for business in Ballyshannon as of September, 2017, TMC Commercial Garage Ltd. is Ireland's youngest commercial vehicle test centre. We travelled to the North West to view their stunning state-of-the-art facility and, while we were there, had a chat with Mark McNeely to find out more about this exceptional family-run operation.
At TMC, light and heavy commercial vehicles are guaranteed a bit of TLC.
Overseen by the McNeely family, who are synonymous with the haulage sector, this exciting new business offers a wide range of services for commercial vehicle owners and operators, including commercial vehicle roadworthiness testing (CVRT) for HGVs and LCVs, pre-tests, test preparation, seatbelt certificates, tachograph calibration and vehicle plating as well as mechanical repairs and servicing.
Though TMC Commercial Garage Ltd. has only been in existence for little more than six months, they have hit the ground running and throughout is brisk at their well-appointed, modern vehicle- and customer-friendly Ballyshannon Business Park facility.
"It's going really well so far," Mark McNeely confirms. "We knew there was an opening for a test centre here in Ballyshannon as the old one had closed 14 years ago and we believed there'd be strong demand for this service locally.
"We're located in part of the old Donegal Parian China Factory premises. They closed down their operations here in 2005 and then JF Mouldings were here until we took over in 2017. We've installed a two-lane test centre – one lane for light commercial vehicles, the other for heavy. Business is growing all the time and the feedback so far has been very positive."
A friendly, professional, affordable, no-nonsense service is provided, promptly and with a minimum of fuss. The comfortable, spacious facilities at TMC Commercial Vehicle Test Centre are excellent, with no stone left unturned in ensuring that both vehicles and their owners are looked after during the course of their stay.
As for the catchment area covered, most of the trade comes from truck, van and bus operators in Donegal alongside a steady influx of business from neighbouring counties. "It's mostly Donegal, Sligo and Leitrim, a lot of local business," says Mark. "There are a good few garages in Ballyshannon and they are all coming here and we've had customers from as far away as Gweedore and also Leitrim.
"As well as the test centre, we also have a garage here for repairs and maintenance. While the test centre is fully operational since last autumn, the garage is really only in its infancy and we're just building that up gradually as we speak. The goal is to eventually provide a one-stop shop for testing and all mechanical services. We'll grow the business in response to demand. There certainly seems to be plenty of work out there if you are prepared to do it."
Catering for trucks, trailers, vans, jeeps, buses, coaches, ambulances, motorhomes and mixed fleets, TMC Commercial Garage Ltd. has three fully-qualified commercial vehicle testers on hand. The Company is ran and directed by the McNeely family namely Tom McNeely, and his sons Mark and Colin (thus, TMC).
Tom has an innate understanding of the needs of commercial vehicles as he is a former truck driver who also ran his own licensed haulage operation. "He worked for McCaffrey's before buying an eight-wheel tipper and starting up as an owner-driver in 1997," Mark reflects. "At one stage, he was running a fleet of three demountable, two artic and two tipper trucks."
In addition to offering customers a fully-approved and professional service, the McNeelys are also firm believers in the old saying that it costs nothing to be nice. "We have a good friendly attitude and we go out of our way to be friendly to people," says Mark. "Obviously, it's extremely important to do a professional job but we always give a personal touch as well and we like to try our best for people, to look after them and accommodate them in any way we can. That's what we're here for at the end of the day, to serve our customers, within the guidelines set down by the RSA."
Second-worst hit after construction, the haulage sector was decimated by the economic downturn that struck in the late 'noughties. But there are signs that things are picking up again. "It seems to be busier now but rates for tipper men in particular aren't good and diesel and insurance have got a hike, so the truckers still have a lot to contend with," notes Mark.
Although the business is still very much in its infancy, the Donegal man is pleased to report that TMC Commercial Garage Ltd. has been a resounding success story thus far: "We've invested a lot of money to ensure that we comply with the RSA's rules and regulations for running a commercial vehicle test centre. There's very high demand for both light and heavy goods vehicle tests, and we're busy in both areas."
With over 1,500 tests carried out already, TMC Commercial Garage Ltd. is not just Ireland's newest CVRT test centre but also one of the fastest-growing. Open from 8am until 6pm Monday-Friday and 8am until 1pm Saturday, it has the distinction of being one of only four test centres in Donegal, with only one other outlet (in far-off Letterkenny) handling HGV tests.
As well as being a viable commercial entity providing outstanding levels of service and benefiting from a steady flow of repeat business as well as positive referrals through word of mouth, as an added bonus, the new commercial vehicle test centre in Ballyshannon is also contributing in no small way to maximising road safety standards in the north west and beyond by ensuring that vehicles are 100% roadworthy and compliant.
Looking to the future, Mark concludes: "We'll keep going as we are and continue to provide a good service. We'll also expand the garage side of things and hopefully we'll be able to grow the business more going forward."
TMC Commercial Garage Ltd.,
Ballyshannon Business Park,
Portnason,
Ballyshannon,
County Donegal.
Tel: 071 9822704
Email: [email protected]
Facebook: www.facebook.com/TMCcommercials
Taken from Irish Trucker & Light Commercials magazine, July 2018, Vol 21 No 5