Quinn Building Products' fleet replenishing programme gathers pace
27/09/2018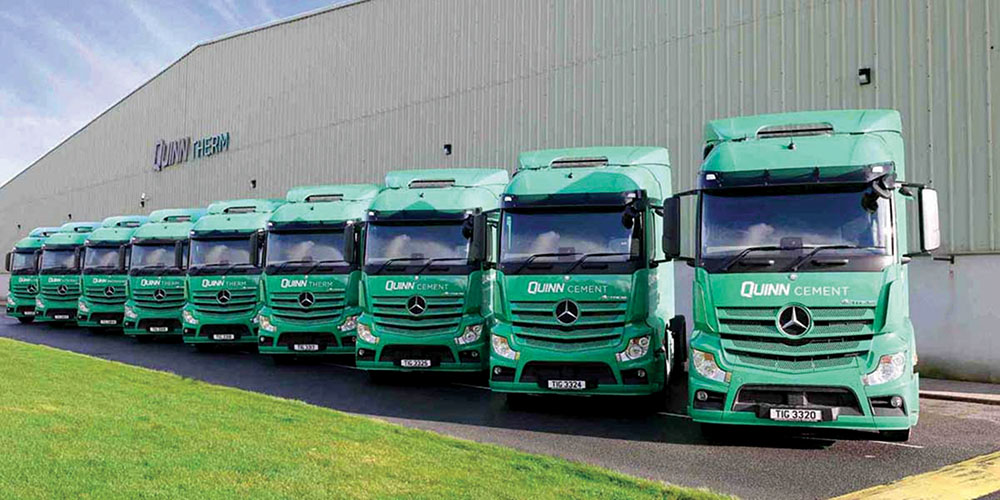 Comprising some 150 units between rigids and artics, Quinn Building Products operate one of the largest and most spectacular fleets of commercial vehicles on the island. As they took possession of 13 new Mercedes Benz lorries in early February, as part of an extensive replenishing programme that will see more than 30 trucks added in Q1 2018, we touched base with transport manager Gearoid Gilheany to get an update.
Quinn Building Products' massive fleet replenishment programme reached another major milestone in February, 2018 with the delivery of 13 new Mercedes tractor units. The new 44-tonne lorries include twelve for Quinn Building Products' own operations and one for Quinn Packaging, another subsidiary of parent group Quinn Industrial Holdings.
Seven of Quinn Building Products' new units are for Quinn Cement (six for bulk cement and one for bagged cement products); three are for Quinn Therm; and two for Quinn Lite Pac.
Receipt of the new lorries marks the latest phase of an ongoing, multi-million-pound fleet replenishment programme. Upon completion of this four-year upgrading programme, all older vehicles and plant machinery in the vast QBP fleet will have been replaced by new models, ensuring the safety and efficiency of the fleet and reducing the overall environmental impact.
The 13 new lorries were secured from MBNI Truck & Van and are more environmentally friendly models than those they are replacing, with Euro 6 engines, ensuring a significant reduction in harmful emissions. MBNI Truck & Van, will also supply Quinn Building Products with a number of other vehicles as part of the replenishment programme, including ready-mix lorries, mountain tippers and an eight-wheeler tipper for Quinn's Tarmac and Quarries divisions.
Speaking of the deal, Mercedes Benz Northern Ireland's sales director, Julian Brown, said: "We're delighted to be the chosen supplier of a large number of heavy vehicles for Quinn's operations. They have been a valued customer for many years, and with a total of 36 units ordered from Mercedes Benz NI as part of their fleet replenishment programme in the last twelve months, the relationship has been further strengthened and we look forward to supplying them in the future."
This latest investment follows the opening of Quinn's new state-of-the-art Vehicle Inspection Centre in the latter half of 2017, which is dedicated to the maintenance of their fleet of approximately 300 trucks and trailers. These large-scale investments reflect Quinn Building Products' commitment to vehicle maintenance and safety, a responsibility which is a high priority for the company, firmly established as one of the UK and Ireland's most diverse and experienced manufacturers of premium construction products.
Quinn Lite offers a range of highly-efficient thermal blocks for use in external walls, rising foundation walls, internal partition walls and party walls between dwellings, while Quinn Therm supplies an extensive range of PIR insulation products with top-performing thermal conductive properties for use in floors, roofs and walls.
Quinn Lite Pac produces an extensive range of expanded polystyrene (EPS) products for use in the insulation of floors, roofs and walls as well as a wider range of applications such as lightweight fill for roads and packaging; Quinn Rooftiles offers a range of high-quality, high-performance concrete roof and ridge tiles.
Backed by 20 years of cement manufacturing experience, the Quinn Cement range comprises a variety of high-quality cement products to suit every application, while Quinn Precast offers a market-leading range of prestressed concrete products including strong and durable precast hollow core flooring, T-joists and plate flooring.
Quinn Quarries delivers a range of locally- and responsibly-sourced raw materials including limestone, shale, gravel, washed sand, readymix concrete and concrete blocks; Quinn Tarmac produces an extensive range of blacktop tarmacadam products including hot rolled asphalt, stone mastic asphalt and various bituminous macadams.
Obviously, an exceptional fleet of trucks is needed to keep the wheels turning and Quinn Building Products is certainly not going to be found wanting in this department. Regarding the most recent additions, transport manager Gearoid Gilheany told Irish Trucker that a total of 31 trucks were being added in the first quarter of the current calendar year.
The first batch comprised the aforementioned 13 Mercedes plus four MAN tractor units. Seven more Mercedes are on their way imminently as well as another four MANs (tarmac / sand & gravel tippers) and three Renaults. As for the decision to go with MBNI Truck & Van and Mercedes Benz for 20 new trucks in Q1, the Derrylin-based TM explained:
"In this instance, Mercedes were the best available, they offered us the best package overall, including warranties and repair / maintenance. It was quite a lengthy process and we spoke to a lot of manufacturers. In the end, we got a great deal with them and everybody was happy."
While the fleet has to be functional, safe and efficient first and foremost, it is clear from the striking aesthetics of Quinn Building Products' vehicles that they take tremendous pride in the appearance of their trucks. "We try to present the best possible coverage with the look of the lorries and that's where the marketing department comes in as well," says Gearoid. "The vehicles all have the new, updated logos on them and they are cleaner, fresher looking. You want to project the best-possible image to the customer and these vehicles certainly achieve that."
The trucks are kept in immaculate condition at all times. "We provide our drivers with very good vehicles and it's their responsibility to keep them clean and well presented. We have high-pressure jets in the cement factory to wash off excess dust and we also have a brush system for the curtainsiders and two standalone wash bays."
As transport manager, Gearoid oversees fleet replenishment, maintenance and compliance, while also co-ordinating with the dispatch teams in each division who look after day-to-day logistics. "Historically, the fleet replenishment timeframe was around seven years for tractor units and ten years max for tippers," he concludes. "It wasn't possible to maintain that during the recession but we're in the process of replacing the entire fleet now and will be getting back to that situation again."
Quinn Building Products,
235 Ballyconnell Road,
Derrylin,
County Fermanagh,
BT92 9GP.
Tel: 08000 322 122 (UK) / 1800 322 122 (ROI)
Email: [email protected]
Web: www.quinn-buildingproducts.com
Taken from Irish Trucker & Light Commercials magazine, May-June 2018, Vol 21 No 4