Volvo Trucks presents its view of future transport solutions at IAA 2018 in Hannover
19/09/2018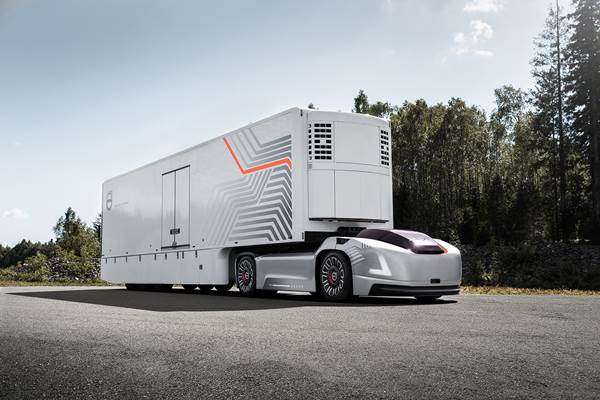 How can electromobility, automation and connectivity contribute to more profitable, efficient and safer transports with less impact on the climate and environment? Which solutions are available today and what's around the corner ? At IAA 2018 in Hannover (September 20th-27th), Volvo Trucks will show a wide range of visionary products and services that will create new opportunities for customers to take a step into the future on THEIR stand (A05) in Hall 17.
Volvo FH celebrates 25 years - 1 million trucks produced
The Volvo FH has paved the way for the success of Volvo Trucks during the past 25 years and to commemorate the occasion, Volvo Trucks will be showcasing its Volvo FH 25 Year Special Edition. It is characterised by its distinctive exterior and interior design, outstanding driver comfort and state-of-the-art additional features. One million Volvo FH models have now been produced since 1993 and the millionth Volvo FH will be officially handed over to a customer on the Volvo stand at IAA on Sept 19th.

"The Volvo FH is the perfect representation of a customer focused mind-set and a model that has been pushing the boundaries for a quarter of a century. Our magnificent 25 Year Special edition truck is therefore not only a tribute to the first 25 years, but a starting point for our continued successful journey with customers and drivers," says Claes Nilsson, President of Volvo Trucks.

Volvo FL Electric and Volvo FE Electric
In 2019 Volvo Trucks will start selling fully-commercial electrically-powered trucks for city distribution and refuse transport operations in Europe. The Volvo FL and FE Electric, introduced earlier this year, create brand new opportunities for cleaner and quieter urban traffic. Since they have no tail-pipe exhaust emissions, they are very suitable for indoor terminals or transport within urban low-emission zones.

The absence of noise, vibration and exhaust emissions, combined with the excellent driveability, also greatly improves the driver's working environment.

"Electromobility is in line with our long-term commitment to sustainable urban development and zero emissions," says Claes Nilsson. "It opens the door to new forms of co-operation with cities having a target to improve air quality, reduce traffic noise, and cut congestion during peak hours since commercial operations can instead be carried out quietly and without tail-pipe exhaust emissions early in the morning or late at night."

Volvo FL and Volvo FE Electric are available in GVW from 16 to 27 tonnes and with a driving range up to 300 km (190mls). The technology is based on the solutions used in Volvo electrified buses, with more than 4,000 units sold already.

Volvo FM LNG and Volvo FH LNG
Volvo Trucks' Euro 6-compliant heavy duty trucks running on liquefied natural gas (LNG) or biogas for regional and long-haul operations were introduced in 2017. They offer the same performance, fuel consumption and operating range as diesel-powered Volvo models, but their CO2 emissions are 20 to 100 per cent lower than that of a diesel vehicle, depending on the fuel. This makes them a very good option for environmentally-conscious customers and transport buyers. The new Volvo FH LNG and Volvo FM LNG models are available at 420hp or 460hp (309 or 338 kW) for heavy regional and long-haul operations.

Volvo Connect Customer Portal
Volvo Connect is a new user-friendly customer portal that offers a single interface for digital services and functions, making it easier for customers to access the full benefits of digitalisation and connectivity. Besides fleet management and maintenance planning, many more aspects of their operation will be supported, including help with administration and legal compliance.

Volvo Connect will also contain a marketplace where additional services can be subscribed to and activated. Users can adapt the interface so that the information and services most important to them are quickly and easily accessible.

Launched in September 2018 in some European markets, the UK & Ireland launch expected to be in 2019.

Volvo Trucks' future transport solution
Rising consumption, the fast growth of e-commerce and the wide-spread shortage of drivers place higher demands on efficient transport solutions. As a response to these challenges, Volvo Trucks has developed a ground-breaking transport solution with electrified autonomous vehicles which can be an important complement to today's vehicles in the long run.

Volvo Trucks' future transport solution is intended to be used for regular and repetitive tasks characterised by relatively short distances, large volumes of goods and high delivery precision. It can be seen as an extension of the advanced logistics solutions that many industries already apply today. Since autonomous vehicles with no exhaust emissions or noise are used, operation can take place at any time of day or night. The solution utilises existing road infrastructure and load carriers, making it easier to recoup costs and allowing for integration with existing operations.

"The full potential of the transport industry is yet to be seen. Everything suggests that the global need for transportation will continue to significantly increase in the coming decade. If we are to meet this demand in a sustainable and efficient way, we must find new solutions. In order to secure a smoothly functioning goods flow system we also need to exploit existing infrastructure better than today. The transport system we are developing can be an important complement to today's solutions and can help meet many of the challenges faced by society, transport companies and transport buyers," concludes Claes Nilsson.