"We can stand over our product"
13/09/2018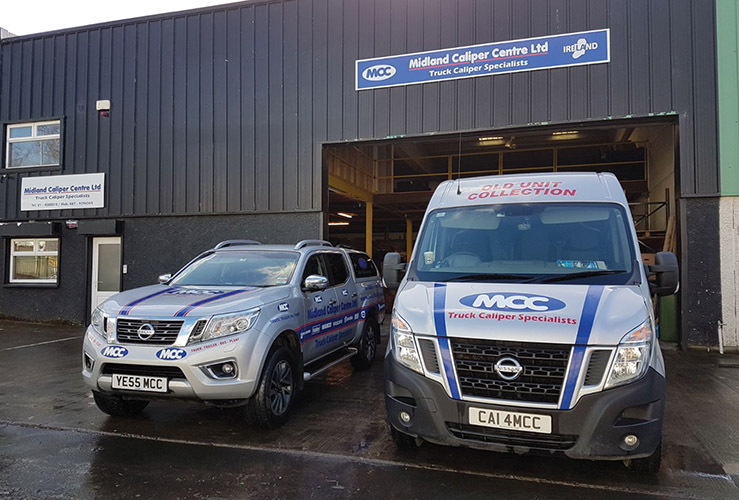 Headquartered in Leicestershire, Midland Caliper Centre is a leading supplier of reconditioned truck, bus, trailer and plant brake calipers for all the major manufacturers.
The ever burgeoning company opened a distribution depot in Dublin in 2014 and it's fair to say that it has proven to be a wise decision. Irish Trucker caught up with Managing Director Mick Bunney and the Dublin depot's manager Wayne Estill to find out more.
Established in 2002, Midland Caliper Centre is responsible for the remanufacture of commercial vehicle brake calipers. Employing one engineer working from a very small and basic workshop, business improved and with it saw the need for increased productivity requiring additional staff and larger premises.
The premises were located and the move was completed increasing the number of engineers to five. 2005 saw yet another move into a much larger factory of 4.500sq ft. facilitating year on year growth in sales and pushing the workforce to 28, this increase required significant investment in old core and an extra 1,500sq ft. unit was located to accommodate this investment.
In February 2014 MCC made its most significant and adventurous investment when they purchased a modern premises located on a prime industrial estate, this has pushed their workforce to over 30 utilising an impressive 13,500sq ft.
As if 2014 couldn't have been more exciting, they also opened a distribution depot in Dublin, located in Greenogue Business Park, Rathcoole, that carries an excellent stock and facilitates the supply and regular core collection to both the North and the South.
This has proven to be a massive success with their customers cutting down distribution costs and offering full hands on service that can only truly be achieved by having a personal presence.
"We're delighted with how well the Dublin depot has gone so far," Managing Director Mick Bunney revealed. "We're very proud of the high quality products we offer our customers and the excellent technical backup. We started trading in January 2014, out of a rented unit which was 1,500 sq ft in size. In 2016 we purchased our own premises in the same industrial estate, which is 5,500 sq ft in size."
Dublin depot manager Wayne Estill echoed those sentiments and revealed that further expansion is on the cards in Ireland: "We're extremely busy and business is going really well. We currently employ two people here in Dublin and we would hope to recruit another person in the near future. We also plan to put another van on the road to help us meet the demand for our products."
Described by Wayne as the "almanac of calipers", Mick has 25 years experience in the industry and his extensive knowledge has been the cornerstone of the company's impressive growth in recent years.
Remanufacturing is the process of returning a used product to at least original-equipment-manufacturer performance specification and giving the resultant product a warranty that is at least equal to that of a newly manufactured equivalent.
The principal components are reused. Dismantling is carried out so that it is possible to ascertain component condition, wear or deterioration. Each part is thoroughly cleaned and examined. Any broken, missing or damaged items are replaced by new parts, or reconditioned so that they are as new.
It may sometimes be acceptable to incorporate used items if their functionality is not affected. Any necessary rectification by, for example, machining or refinishing will be carried out to restore working condition. A refurbished product will operate to the same standard as a new one.
It is a commonly known fact the remanufacture/recycling process is environmentally green and friendly so we will not dwell on this subject.
Midland Caliper Centre are, however, pleased to explain their tried and trusted remanufacture process which is simple and effective.
Taking an old caliper, they strip it and separate the parts from the carcass, the main body is inspected for cracks, breakages and distortions etc. Should any of these faults be found the body is deemed to be scrap, those casings that pass the initial inspections are then degreased and cleaned in a hot pressure detergent bath.
Shot blasting is the next part of the process where they achieve a high quality finish, the unit is then chemically plated "in house" which achieves a far superior finish to painting and similar methods leaving the unit ready for rebuild.
The internals of the old caliper are thoroughly inspected, the overly worn parts are discarded, the main criteria in the remanufacture process is to use parts that are seen to be in a useable condition, bearings, rubber parts and the majority of smaller working parts are obviously replaced.
Once the unit has been re-assembled by Midland Caliper Centre's dedicated and experienced engineers, the finished product is bench tested to ensure it is functioning correctly, the necessary parts are aligned, adjusting mechanisms are functioning, rubber parts are not split etc. the unit is then date stamped and the assembler code is added to ensure complete traceability .
From testing the unit is then passed to their despatch department where a further inspection takes place and all the necessary caps, covers, bungs and labels are added, the unit is then boxed and either shelved or sent out.
"We cover the entire country here from our depot in Dublin," Wayne explained, "and my aim is develop sales. It's a very competitive market but we are holding our own because of the quality of our product and our extensive stocking of the product. It's very rare that we get caught out by not having something in stock. And, if it's a case we don't have it in Ireland, we'll have it in the UK and we can get it delivered here the next day.
"I wouldn't sell a product that is poor in quality and gives our customers lots of problems. I can stand over our product and that means a lot in this business."
Mick Bunney concluded: "We're very optimistic about our future in Ireland and the possibilities that will bring."
Midland Caliper Centre Ltd (Ireland)
Rathcoole, Co. Dubllin
Tel: 00353 (0) 14580010
Fax: 00353 (0) 14580018
Taken from Irish Trucker & Light Commercials magazine, May-June 2018, Vol 21 No 4