The diesel systems experts
21/08/2018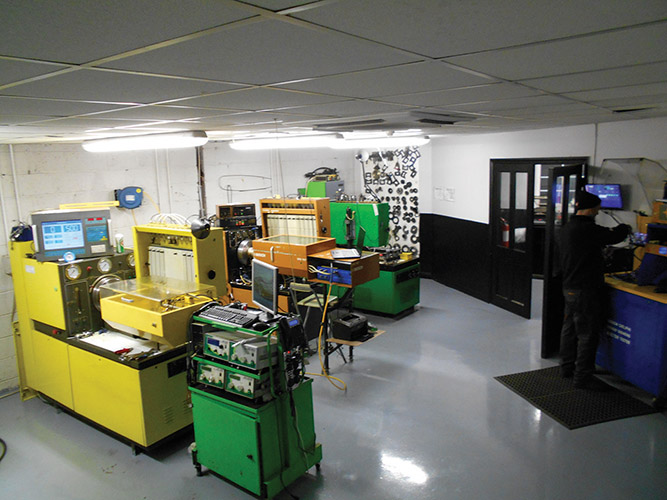 Ireland's premier diesel system specialists, Portlaoise Diesel Injection, enjoyed another positive year in 2017. We dropped into their state-of-the-art diesel centre in the midlands and touched base with parts and accounts manager Siobhan Love to get an update on this cutting-edge, market leading operation.
Down through the years, Portlaoise Diesel Injection Ltd. has established itself as the first port of call for customers nationwide when it comes to diagnostic testing and repairs of all diesel injection systems for cars, vans, trucks or tractors.
Experts in all fuel systems – including Bosch, Delphi, Zexel, Denso, Siemens and Standadyne – they regularly provide unrivalled solutions to vehicle owners from every corner of the island due to the professionalism, dependability and prompt nature of the services provided.
Now operating hand-in-hand with sister company Portlaoise Motor Repairs, Portlaoise Diesel Injection boasts more than three decades of experience in the diesel business, diagnosing and repairing all types of pumps and injectors.
As these are repaired in-house in the company's own state-of-the-art Timahoe Road workshop – as opposed to being sent abroad for repair – local employment is protected. At present, a team of twelve is employed between full-time and part-time. A comprehensive selection of new parts is also stocked for any type of diesel vehicle or engine.
His vast wealth of experience means that MD John Brennan is one of Ireland's leading diesel system authorities, which explains why he takes calls on a daily basis from all four provinces. Constant investment in new test equipment ensures that Portlaoise Diesel Injection are able to deal with the ever-changing modern diesel engine, while a conscientious team of skilled, qualified and experienced mechanics and dedicated diesel technicians is on hand to guarantee optimal customer / vehicle care.
Services provided include: Injector Test & Repair; Pump Test & Repair; Injector Pulling Call Out Service; Collection & Delivery; New Pumps & Injectors For Sale; and a Calibration Service.
Portlaoise Diesel Injection operate a dedicated workshop with five fully-qualified diesel technicians, including technologically advanced, state-of-the-art commonrail systems and electronic diesel control (EDC) systems for both cars and commercial vehicles. Injectors are coded where necessary with IMA coding - an industry standard which is required to allow the ECU to vary fuel accordingly and optimise engine performance.
With one of the largest diagnostic set ups in Ireland, any type of system can be catered for as well as Diesel Particulate Filter (DPF) and closter problems.
Established in early 2000, this superb diesel repair centre has grown from a tiny, one-man enterprise into a thriving national operation. In the late 1970s, John discovered his passion and talent for innovative diesel performance injection systems and repairing diesel pumps while under the watchful eye of Tom Cooney After honing his diesel repair skills, he set up a small repair shop from home. Portlaoise Diesel Injection was open for business!
John focussed on establishing innovative diesel performance that saves customers money over the long term, providing dedicated, honest service. Remaining true to those core values to this day, Portlaoise Diesel Injection has earned its place as a leader in the Irish diesel market.
The company expanded steadily and in 2012 they relocated to larger premises. As business continued to grow. The proprietor found himself with a garage running full time alongside the repair workshop. In October, 2016, sister company Portlaoise Motors Repairs was established, with John's brother Michael at the helm, allowing John to focus fully on his real passion - repairing pumps and injectors
"We had a very good 2017 and we're looking forward to continuing to provide our customers with high-quality solutions in 2018," says Siobhan Love, who looks after the parts and accounts departments. "There are two businesses now, working hand in hand under the one umbrella – Portlaoise Diesel Injection specialises in pumps and injectors while Portlaoise Motor Repairs handles mechanical work. The two businesses complement one another perfectly.
"As diesel diagnostic and repair specialists, we can work on any vehicle with a diesel engine, either directly for members of the public or for garages who refer work to us. We have pumps and injectors coming in here every day. Smaller vehicles would be the main area – cars and tractors, predominantly – but we do some work on trucks as well."
Regular investment ensures that the service provided continues to be of the very highest possible standard. "We operate the most up-to-date diagnostic equipment in our garage as well as the most modern equipment for testing the pumps and injectors," Siobhan confirms. "We're always updating the software – which is another significant expense – and investment is ongoing all the time."
As well as the best equipment and tools, you also need excellent personnel and Portlaoise Diesel Injection certainly won't be found wanting here. "Most of our technicians are here ten years plus, while John himself is a hands-on owner with literally decades of experience. He has been doing this since he was a teenager and he knows diesel systems inside-out."
As for the key to the enduring success of Portlaoise Diesel Injection, Siobhan continues: "Service and quality are obviously very important but John is the main reason for the success of this business. He's the driving force. He has farmers and motorists ringing him day and night and he will talk to them at length and talk them through things over the phone to try to get them past their problem first of all if he can, without them having to come in.
"He's very genuine and does what he can to help people and to advise them. He has developed an outstanding reputation and his mobile never stops ringing. He takes all the calls – even out of hours - and provides a very personal touch, which customers really seem to appreciate.
"That's how our name has spread nationwide and why we now get customers from all over Ireland. We benefit from a lot of repeat business and also pick up new customers as well. John also operates a 24-hour breakdown service locally and does call-outs if customers are stuck."
Looking ahead to 2018, Siobhan is confident that the company will continue to go from strength to strength: "You have to keep abreast of everything that's happening in the industry and John is constantly looking at and purchasing new equipment," she concludes. "He has always kept himself up to date with the best equipment to test and recondition the injectors and I'm sure that will continue to be the case so that we can diagnose and repair diesel systems as quickly and effectively as possible."
Portlaoise Diesel Injection Ltd.,
Timahoe Road,
Portlaoise,
County.Laois.
Tel: 057 8621024
Fax: 057 8666363
Mobile: 086 8945350
Email: [email protected]
Taken from Irish Trucker & Light Commercials magazine, April 2018, Vol 21 No 3