More than just a truck show
20/08/2018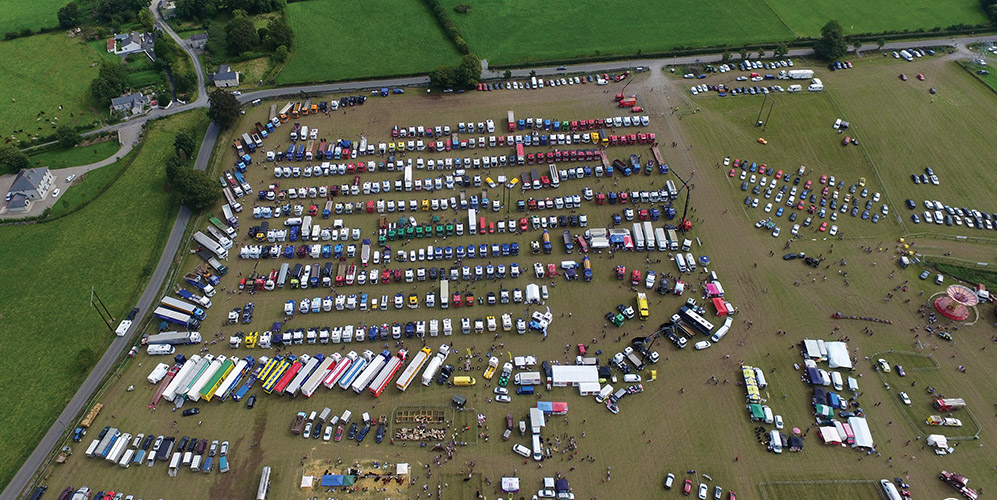 On Sunday, August 26th, the Tipperary Truck Show will once again be part of the renowned Dualla Show, which has been part of the county's landscape for a number of years now.
Since Daire Maher and Paddy Graham pitched the idea of a truck show as part of the event to the organising committee, the Tipperary Truck Show has grown year on year and last year saw 417 trucks pass through the gates.
Daire, Paddy and Philip Ryan along with a host of other truck enthusiasts are busy preparing for this year's event, which they hope is bigger and better than the previous events.
"Some of the work is already done, but there will be stuff to be done right up to the show itself. The main thing is that we are getting there," said Daire.
"We're delighted with the response that we have had since the first show in 2014 and it has grown every year. There has been a lot of enquiries about getting into our show.
"I do feel that the big thing for us is that the truck show is only part of the bigger event. There is so much going on here,the Dualla show is a family event and I can't stress that enough.
"There is a free circus that is paid for by the organising committee and all the kids activities are free also. There is a huge interest in the stalls and the feedback we have received from previous shows has helped us improve year on year.
"In addition to the stalwart livestock, show-jumping, Tipperary Truck Show and tractor pulling events, there will be free entry to a Big Top Circus which will run throughout the day, while other feature events will include a Volkswagen 'Carfest' Car Show, high-flying wrestling, dog show, sheepdog trials, tug o'war, craft village and much more."
Daire is doubtful that the Tipperary Truck Show would have grown to the extent it has if it was a stand-alone event.
"The great thing about being part of the Dualla Show is the variety it offers. You don't have to be a truck enthusiast to enjoy yourself. The Show caters for everyone and that's why it's such a great family day out," he says.
Of course, none of these events would be held without the help of their sponsors and this year the Tipperary Truck Show has Parts dealer Bennettsbridge Parts which is a subsidiary of DAF Ireland Parts as the main sponsors.
Meanwhile Midland Tyres and Emerald Trucks are also on board. Other sponsors include Bridgestone Tyres Ireland; Delaney Commercials, Naas; Barack Obama Plaza, Moneygall; McCarthy Commercials, Waterford; Casey Trailers, Naas; Maguire International Transport, Monaghan, Reflect Auto-Care, Grassmen, Longhaul Commercials and Crilly Livestock.
Daire revealed that the truckers involved come from far and wide and are not confined to just southern Ireland.
"We are located just two hours from Dublin and an hour from Cork. In fairness, the majority of the trucks would come from companies down south here, but we expect a lot more from Northern Ireland to attend, while there is a few coming over from the U.K as well.
"I would like to take this opportunity to thank all of our sponsors, without their generosity, the show would not be possible. I would also like to thank Surehaul for their support over the last few years.
"We want truck owners to come along and enjoy themselves, and to make a weekend out of it. It's not all about having the shiniest truck like in other Truck Shows. We have a light show on the Saturday night, while there will be music also and it is great way to relax an unwind.
Entry fee is €30 per truck. The Show field opens at 10am on Saturday, August 25th for truck show entrants only (it is open to the general public from 11am on Sunday, August 26th). To avoid congestion, trucks are encouraged to enter the grounds the evening before the show through the main gate. All entrants are given a wristband and trailer parking facilities are also available.
Last year there were 17 classes/categories in the truck show and this year Daire stated that there could have been even more.
The Dualla Show is proud to have contributed over €100,000 to local charities and organisations over the last six years. These include Wee Peter Heart Fund; Order of Malta; CARE Cancer Support Centre; Friends of St. Patrick's Hospital; Suir Haven Cancer Support; Bothar; St. Vincent de Paul; Order of Malta; Cashel Day Care; Hope Foundation; Irish Cancer Society; Scoil Chormaic; Dualla National School; Cashel Community School; Boherlahan-Dualla Senior Citizens; Boherlahan-Dualla GAA; St. Patrick's Brass Band, Cashel.
"It is great to be able to support the charities and it makes it all the more worthwhile when you see the money raised. Admission for the general public is €15, while U16s are free," Daire concludes.