Galway firm invests in trend-setting waste collection truck
17/08/2018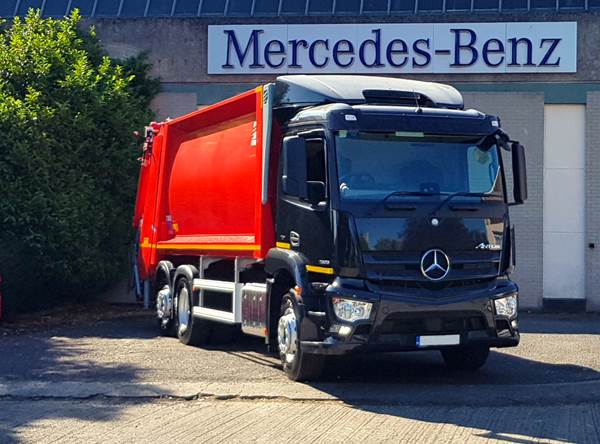 Galway waste management providers, Walsh Waste & Recycling, has completed a significant investment in its refuse collection service through its purchase of a new Mercedes-Benz Antos 6x2, 2535L model with a 2.3m Classic Space Cab and refuse collection body.
Soon to be seen on the streets of the city, the truck comes fitted with features that place it amongst the most modern in the country. Specification includes; velour-covered seats, adjustable air deflector, comfort cab and driver seat suspension. Safety features include Lane Keeping Assist, Attention Assist and Active Brake Assist. Bodywork is attractively finished to Walsh Waste specification in factory-painted metallic paint.
One of Ireland's longest established and most experienced waste management companies, Walsh Waste & Recycling has set something of a trend by being the first in Ireland to choose the Big Bite Jnr Refuse Collection Body. With a proven track record in the UK, the Big Bite Jnr carries out multiple operations including 5,000kgs skip emptying along with the full range of domestic and trade container collections. The 25 cubic metre body provides ample carrying capacity, whilst being very manoeuvrable when fitted to the Antos 6x2 rear steer chassis.
The new vehicle comes complete with a trade approved Moba high accuracy underbody weighing system. The completed vehicle is being supplied by Logic Fleet, who distribute the full range of Powerlink, Big Bite and Farid Refuse Vehicles, along with distribution of Moba Vehicle Weighing Solutions.