Limerick's 8th Diecast Model & Diorama Show 2018
14/08/2018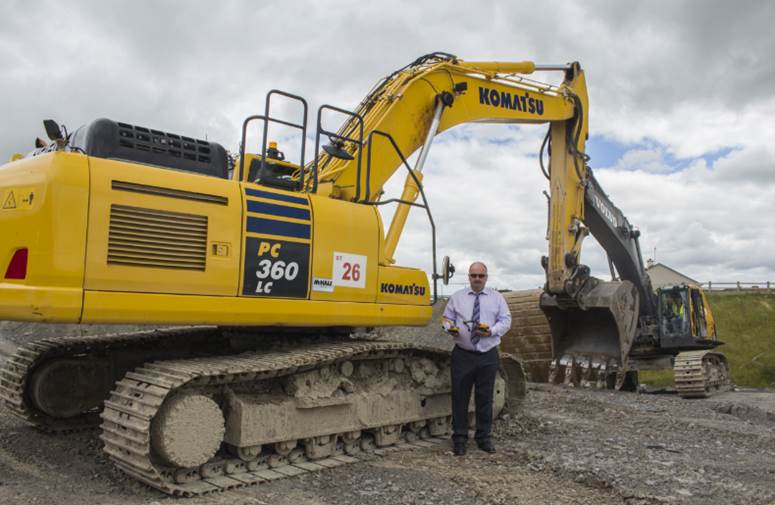 Mark Tierney of M&M Diecast Models in Co.Limerick will host Limerick's 8th Diecast Model & Diorama Show on Sunday 9th of September 2018 in the South Court Hotel, Courtfield, Raheen, Limerick from 10am to 6pm.
Due to the success of the previous Seven Years we already have a great variety of Traders and Displayers booked in and confirmed from all over the country showcasing their Model Diorama's and Model Collections.These will range from Trucks, Tractors, Plant and Construction Machinery, Lego, Trains, Military, Dolls Houses and Cars and of Course Show Organiser Mark Tierney of M&M Diecast Models Co.Limerick will have a full range of WSI Model Trucks Scale 1:50 and a Full Range of Agri Models Scale 1:32 at his Trade Stand.
Since the 5th Show in 2015 the organisers introduced a "Diecast Show Feature" to the Event well this year's 2018 Show is no different as they are extremely proud to have a very special "Show Feature" which is sure to attract the public in massive crowds as well-known Diecast Show Feature Specialist/Model Collector John Cusack from Fedamore Co.Limerick is creating "ROADBRIDGE" In Diecast Form.
"Roadbridge" who are the leading civil engineering and construction contractors in Ireland and the UK with their Head Office based in Ballysimon, Co. Limerick.
Over the years Roadbridge have undertaken and delivered various projects including Motorways and Gas Lines and Windfarm Projects in Ireland and all over Europe.
John had a lifelong Friendship with the Founder of Roadbridge the late Pat Mulcair. When Pat passed away this Friendship continued on with Conor Gilligan Managing Director of Roadbridge who has over 25 years' experience working in Ireland's Construction Industry and has overseen the expansion of Roadbridge in both the Irish and international construction markets.
Back in February of this year John approached Conor with the idea of remodelling a recent project that Roadbridge had undertaken so John got the Green light from Conor on constructing a "section" in Diecast Form of the New M17/18 Gort to Tuam Motorway In Co. Galway which works commenced in April 2014 and was opened in September 2017 and spans 57km Long with 4.25 Million cubic meters of earthworks excavation. The total cost of the motorway was €257m.
This special "Diecast Show Feature" is the brainchild of Johns and will be designed and built to the spec of the Scale 1:50 on site at the South Court Hotel.
This Diorama will consist of a full phase by phase build of a Motorway from a Green Field to a "Rock Cut" to the "Filling Of The Road Section" to "Taring The Road" and all other site works. It will also consist of a Fully Fledged Flyover/Underpass Bridge with Slip Roads off it including Timber Rail Fencing and Signage wright through to the completed Motorway open for Vehicles.
That's not all as Johns Diorama will also consist of a "Windfarm" which will Feature Concrete Bases been constructed for a Wind Turbine and will also demonstrate a lift of a wind turbine been positioned onto the above mentioned concrete bases.
John Cusack and Show Organiser Mark Tierney have travelled all over Ireland to Construction Dealers and other companies who Roadbridge would contract in to complete such a Motorway project.
The leading brand names of construction machinery sold by dealers in the construction industry and used by Roadbridge will include Bomag, Caterpillar, Hyundai, JCB, Komatsu and Volvo. Johns Diorama will incorporate Artic Lorries,ADTs (Articulated Dump Trucks), Cranes, Cement Mixer Lorries,Concrete Pump Trucks,Dozers,Excavators, Graders, Low Loaders, Rollers and Windfarm Loads.
These Models will stand out from the crowd as there are a few surprises planned for the day of the show. This is going to be one of the biggest and most detailed 1:50 Scale Construction Diorama ever constructed In Ireland. John's Diorama will span 32FT Long and 10FT Wide.
Above all years Johns Special Show Feature Diorama is very unique this year as when the Show is over on the 9th of September it will be dismantled and removed and rebuilt where it will be based in Roadbridge Head Office in Limerick which will remain its home. This will be showcased to clients of Roadbridge when they visit.
John and Mark are blown away with the huge support to date coming from the Construction Companies and Construction Dealers who are contracted into Roadbridge who have come on board from all over Ireland from Limerick to Clare into Galway over to Kilkenny into Offaly and back down to Cork alongside Construction Contractors in the industry for this event. This is a must see and not to be missed for every Construction Machinery Dealer, Contractor, Diecast Collector and anyone working in the Construction industry. To coincide with this we will have a lot of Construction Machines on display outside the South Court Hotel on the day. These machines will be an amazing line up and are involved in the real life day to day operations in the construction industry so public get your cameras out.
Also this year 2018 is a very important milestone for John as he is celebrating 25 Years as a Diecast Model Collector. John has a massive collection of Construction Models in Scale 1:50 and Agricultural Models in Scale 1:32 . This is big news for the Diecast Model Industry in Ireland. We here at Irish Trucker and Irish Tractor & Agri Magazine and Limerick Diecast Show Organiser Mark Tierney would like to take this opportunity to Congratulate John and wish you many more happy healthy years of collecting to you John.
Mark assures us that John is in for a few surprises on the day of the show to mark this great achievement so watch out John.
Proceeds of the Show are in Aid of the Charity Limerick Animal Welfare based in Kilfinane Co.Limerick who will have their information stand and donation buckets at the show on the day.
Also back for the third year in a row we are delighted to announce that we will have "Brick.ie" Displaying a Full Diorama Built with Lego along spanning 55FT long. Brick.ie are professional Lego Brick Builders. We will also have the Shannon Model Plane Club from Shannon Co. Clare who will display some of their outstanding Diecast Model Planes. Remember without our dedicated Displayers there would be no show. Traders/Displayers can set up on Saturday the 8th of September from 5pm onwards. If you are interested in Displaying your Model Diorama or Collection don't hesitate in calling Mark on 087 3277757 or Email : [email protected] . Follow us on Facebook at facebook.com/Limerick Diecast Show and watch out for Competitions and Updates. Also check out our Limerick Diecast Show Page on our website www.mandmdiecastmodels.com . This show is a great day out for one and all both collectors, model enthusiasts, and all the family.