'Best Livery & Corporate Identity' - Congratulations Anchor Tours!
09/08/2018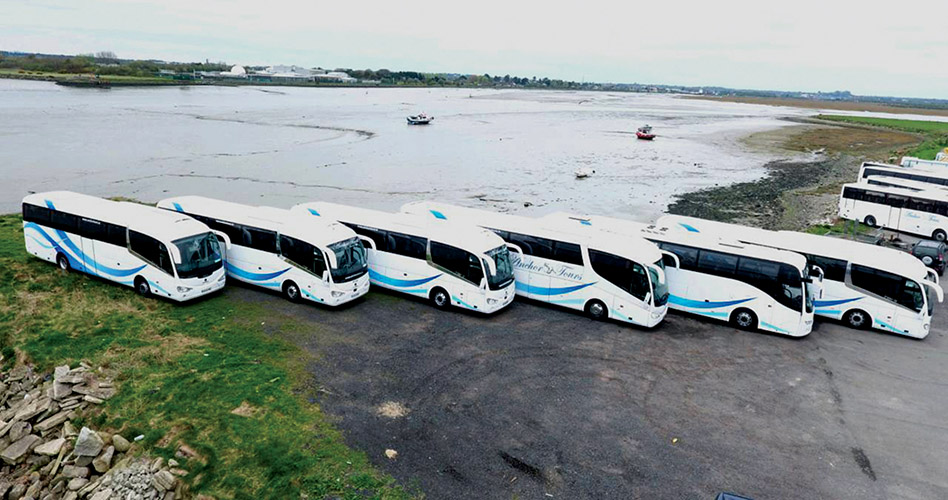 The dedicated and professional team at Anchor Tours of Dundalk, Co Louth were celebrating last November when they were announced as the winners in the 'Best Livery & Corporate Identity' category at the Fleet Bus & Coach awards.
Anthony Keenan was on hand to accept the award along with his father Seamus and sisters, Sinead, Siobhan and Elaine.
His grandfather Patrick Keenan sowed the seeds for the business over 50 years ago and it was a proud moment for all concerned when Anchor Tours was announced as the winners at the Killashee Hotel, Naas on Thursday, November 16th last.
"We were quietly confident in advance," Anthony revealed, "but you can never be sure until you hear your name called out. We were, naturally enough, delighted when the announcement was made. There was some stiff competition in the category so that made it extra special."
Based in Bellurgan, Dundalk, Co. Louth, Anchor Tours was established in 1963 by Patrick, starting with one bus, taking locals and football teams to their matches. What started as a Sunday hobby became a growing business and when son, Seamus, took over the company in 1982 there were five tour buses.
Fast forward thirty-six years and Anchor Tours offer their long list of valued clients a nationwide coach and bus hire service with 25 buses of different sizes at their disposal. This friendly company can cater for all private tours around Ireland and Europe.
Anthony & Co invite you to hire any of their mini buses, comfortable midi buses or luxurious coaches for any event or tour. With flexible and friendly drivers, you will find them very willing to accommodate your transport needs.
"We like to be professional in everything we do," he stated. "We're always on time and all of the buses are always clean and presentable. We try to ensure that everything runs as smoothly as possible for our clients."
Their drivers are a key ingredient in their winning formula and Anchor Tour's 35 strong work force includes 30 drivers.
To ensure the excellence and professionalism of their drivers, they have attended training programmes to make sure they meet the expected standards of customer care and safety. They attend regular training to ensure that they provide passengers with top quality service and are as courteous and as helpful as possible.
"Our drivers have a big role to play," Anthony – who joined the family business full-time 11 years ago – acknowledged. "Each and every one of them are always decked out in a shirt and tie. Their experience is also key for us when it comes to dealing with our customers and some of them have been with the company for 25 to 30 years."
Anchor Tours offers a wealth of travel and transport services, from mini-buses to coach group tours to hospital transfer services – you'll find what you need with them.
They can pick you up and take you where you need to be, whether you're a sports team, a corporate business person, school group, tour group, just going shopping or interested in taking a holiday tour around Ireland – Anchor Tours provides top quality services for all this and much, much more!
Their success at the Fleet Bus & Coach awards reflects their pursued policy of continuous investment in maintaining and updating their impressive white and blue coloured fleet.
They operate several different types of vehicles, so their diverse fleet allows them to meet any of your transportation requirements. Their fleet of vehicles are meticulously maintained and operated by professional staff, ensuring that their vehicles are always in optimum condition.
In addition, they make sure that all preventive and scheduled maintenance is completed on time.
When you travel with Anchor Tours, you travel in luxury, comfort and safety
"People spot our buses out on the road and they are very much part of our identity. Our fleet are the best form of advertisement from our point of view.
"Business is picking up every year and we're particularly busy during the summer months. We only started tours in 2009 and bought three brand new coaches that year. Now we try to buy one or two every year and keep our fleet as up-to-date as possible. Everyone looks at the licence plate these days!"
If you are looking for an award winning company to look after your Airport Transfers, Conferences, Corporate Events, Weddings, Sports Teams, Schools, Coach Tours or Hospital Transfers, then look no further than Anchor Tours.
Their office staff are available Monday to Friday, 9am – 5pm to assist you with any queries you may have.
Anchor Tours
Bellurgan Point
Dundalk Co. Louth
A91 Y422
Tel: 042 937 1405 Mob: 087 253 6077
Fax: 042 937 1893
Email: [email protected]
Website: www.anchortours.ie
Taken from Irish Trucker & Light Commercials magazine, April 2018, Vol 21 No 3