Give your garage a lift
01/08/2018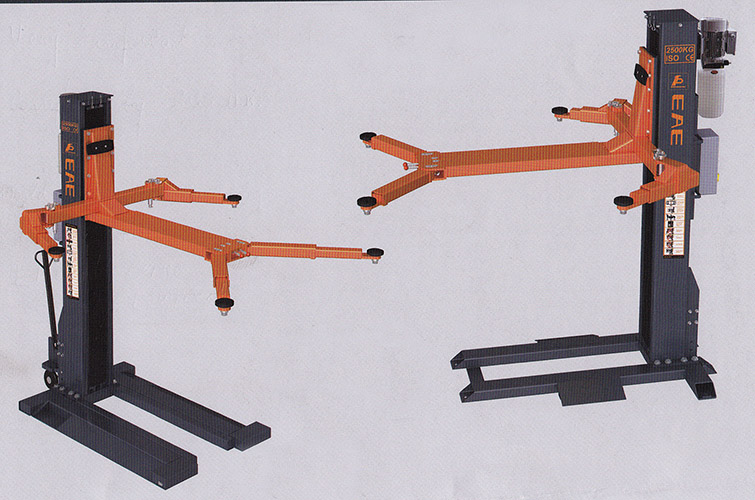 If you are on the look-out for quality garage lifts that you can rely on, Emerald Garage Equipment has the solution. From small domestic customers to large commercial contracts, they can provide you with a product and a service that are second to none.
Established in 1986 by Dan Holmes, Limerick-based Emerald Garage Equipment has developed an impressive reputation as importers and distributors of garage equipment to the motor trade.
Emerald Garage Equipment is main distributors for many well-known brands of equipment which cover both car and commercial workshops from vehicle lifts (4 post, 2 post and scissors lifts) to engine cranes, gearbox jacks, tracking gauges and beamsetters.
"I have worked in the motor trade since I left school, in parts or whatever," Dan Holmes explained when asked about the background to the setting up of the company 32 years ago. "I progressed up the ladder and got involved in equipment and decided to go out on my own."
A one-man show, Dan is assisted in the day-to-day running of the business by independent service engineer John Quinlivan. All of Emerald Garage Equipment's products are 'CE' certified and their long list of loyal clients bears testimony to the high standard of products they supply.
"I've been dealing with an Italian company – Werther International – since 1992 and that has proven to be a mutually beneficial arrangement," Dan revealed.
Werther International is a really dynamic company which has been working for more than 30 years in the automotive service equipment and air compressor field.
It has established a leading position in the manufacturings of garage equipment (car and motorcycle lifts, cranes, presses, jacks) and has gained a worldwide reputation also as a OEM partner of others manufacturers in different countries of the world.
"They are a big manufacturer of garage lifts – 2 posts, 4 posts and scissors and, as far as I am concerned, they are at the top as regards quality and longevity.
"I submitted my first order for four lifts back in '92 and three of those are still in perfect working order to this day. I have lost track of the fourth one but that speaks volumes for the quality of their lifts. I have been out to their headquarters and they are all very nice lads, very genuine and helpful."
There is, however, one downside to dealing in top quality lifts…
"Unfortunately I can't get trade in lifts!" Dan quipped. "I've had customers say to me that their lifts 'never cost me a bob'. The lifts are too good so there's not a lot of work to be got out of them once they are installed. That's a big plus - but also a minus from my perspective!"
He added: "I've also started working with a Chinese company, EAE, that also manufacture lifts. I placed my first order with them last year and they are already proving to be very popular with my customers. They are certified by the SGS UK worldwide group who gave them a 10 out of 10."
Other suppliers that Dan deals with includes SCOPE, UK (jacking beams ranging from 2 tonne up to 20 tonne) and Bowmonk UK Ltd (break checks).
"Bowmonk manufacture a hand held unit that tests the brake performance of a vehicle," he explained.
Another string to Emerald Garage's bow is the HydroFlow complete engine clean which is the latest in carbon clean technology. It helps remove carbon deposits and build-up, resulting in a more enjoyable, economical and environmentally friendly vehicle.
"The HydroFlow is very effective for diesel engines in helping to lower emissions. For example, a car failed the NCT reading 6.22 and it brought it down to 1.82. Another car failed the NCT reading 6.22 and the HydroFlow reduced it to 1.82.
"It also helps EGR values, turbo veins etc and takes your car engine performance back to when the vehicle was new, making the engine more economical while at the same time bringing down an engine's emission ratings," Dan remarked. "On an Avensis reading 5.2, it brought it down to 1.7. It brought a Mondeo reading 6.22 down to 2.42. A Rav4 was off the scale at 9.6 and it brought it down to 1.7. The fail figure is anything above 3!"
Emerald Garage Equipment's lifts can be found in workshops throughout the country. Dan's service is second to none and he offer a fast and efficient response to all of his customers' workshop needs.
"I have lifts in all of Munster as well as Dublin, Wicklow, Wexford and across the midlands. John (Quinlivan) has a call to make in Midleton, Co Cork in the morning."
Not known for resting on his laurels, Dan intends to add to his product range should the right opportunities arise.
"I'm always on the lookout for things that can assist my customers in the running of their business.
"Industry wise, I'm expecting to see swing back to good, quality equipment and that's very important because workshops are responsible for the safety of their mechanics. If you own a workshop, it's in your interest to have good, quality equipment that you can rely on.
"The products I distribute are renowned for their longevity as well as quality and safety."
Contact Dan today for more information.
Emerald Garage Equipment
Unit 63
Eastlink Business Park
Ballysimon Rd
Limerick
Tel: 061 410299
Fax: 061 410085
Email: [email protected]
Taken from Irish Trucker & Light Commercials magazine, April 2018, Vol 21 No 3