Premium metal, glass and tyre recycling services
27/07/2018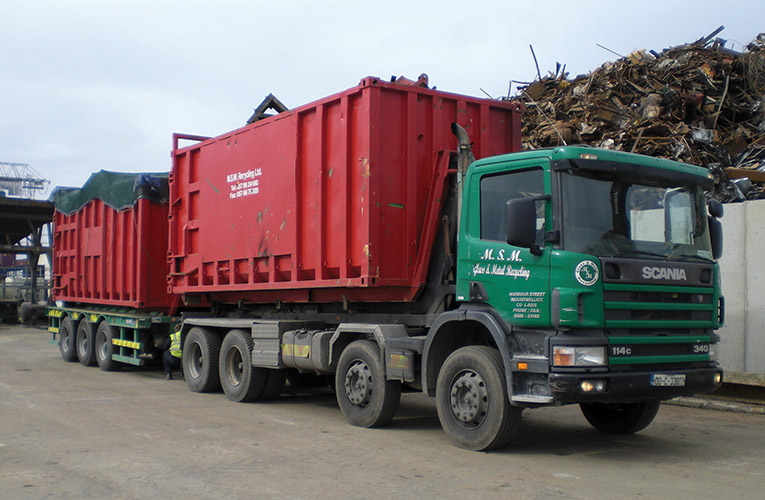 For more than 20 years, MSM Recycling have been providing top-class metal and glass recycling solutions to clients nationwide, with tyre recycling recently added to their list of services and end-of-waste criteria also secured. We popped into their well-appointed Birr, County Offaly facility to get an update on day-to-day activities from director Anthony Ward.
It's always busy at MSM Recycling. From their centrally-located facility at Annagh, Birr, the long-running family business provides its customers with high-quality, professional and environmentally-friendly metal, glass and rubber recycling services.
The Ward family boast decades of experience of their chosen trade and are fully committed to continual development of the potential for metal, glass and rubber recycling by Irish Industry. This outstanding fourth-generation family-run enterprise provides a personal touch at all times, from recycling a complete range of ferrous (steel and iron) and non-ferrous (copper, brass, bronze, stainless steel aluminium, lead, zinc) metals to packaging glass, flat glass and End of Life vehicles as well as offering an excellent off-site metal reclamation service.
Clients big and small, many from a who's who of Irish industry, regularly work alongside MSM Recycling – including the likes of Diageo and Roadstone – and, in addition to its fully-permitted waste recycling facility in Birr, the company also operates a second metal storage and export facility at Belview Bulk Terminal in Kilkenny.
A fully-permitted and –licensed fleet of waste collection vehicles operates nationwide and MSM is fully accredited to ISO 9001:2008 in accordance with End of Waste Regulation EU 333/2011 in addition to ISO 14001:2004 accreditation.
Anthony Ward co-founded and runs the business in conjunction with his brother, Con. "We've been in Birr for six years now, having relocated here from our previous base in Tallaght," he notes. "There was a car breaker's here and he wanted out so we leased the site from him and relocated. This is a good central location with plenty of space and we have invested in bringing the facility up to the highest standards. We are continually developing and expanding the business and looking at ways to make our service better."
As things stand, MSM Recycling is already firmly established as one of Ireland's premier recycling specialists. The Ward family have been synonymous with metal recycling for eight decades now and Anthony is pleased to report that there was a modest upturn in business in 2017: "It was better," he states. "Things are improving slowly but surely. The boom was really good to us but there was a downturn after that and thankfully things are starting to pick up again now."
In challenging times, businesses in any sector have to think outside the box and unlock more efficiencies or tap into new markets. "We've diversified into tyre / rubber recycling over the past two years," Anthony reveals. "We recycle them and then send them out for export through brokers, mainly to Turkey. India is another big market."
Waste is collected nationwide and processed and containerised before being exported to various destinations around the globe, in accordance with the Transfrontier Shipments (TFS) of Waste Regulations. For collecting the waste and bringing exports to the relevant ports, MSM operates a fleet of six trucks, predominantly Scania, all of which are maintained in-house to the highest standards. Additional haulage services are used on a subcontract basis as and when required.
Generating direct, gainful employment for a team of 15, MSM Recycling has made impressive progress since its genesis in 1996 and is held in high regard throughout the recycling industry for its adherence to all prevailing Environmental and Health & Safety regulations.
"These are extremely important and you have to keep up to speed with everything," Anthony confirms. "We have an environmental officer calling in twice a month to do all the paperwork and make sure we are as compliant as we possibly can be. It's all part of the recycling game now so you have to make sure you are meeting your obligations."
Of course, there's no point running a highly-compliant, environmentally-conscious recycling business if the operation isn't commercially viable. What are the main challenges facing MSM in terms of trying to make a profit at the end of each week?
"Overheads would be the biggest one … the cost of getting the product and moving it on for export. Haulage costs are frightening at the minute and that affects us on the double as we have to collect the waste, process it and then ship it on. Legislation also places an additional cost on us as it can be expensive to make sure that everything is completely up to speed."
In response to such challenges, MSM continues to seek ways of gaining a competitive advantage. One landmark recent development was the procurement of end-of-waste criteria, which only a select few recycling companies manage to achieve. End-of-waste criteria is essentially waste that ceases to be waste and becomes a product or secondary raw material. "After it's recovered or recycled, it's no longer considered to be waste but becomes a commodity," Anthony states.
MSM Recycling is also part of the Repak ELT (End of Life Tyres) compliance scheme for tyres in Ireland.
Fronted by brothers Con and Anthony Ward (who followed their own father Charles and grandfather – also Charles – into the industry), with Con's son Jason also involved, MSM is a market-leading, fourth-generation family business that has been at the forefront of metal and glass recycling in Ireland for more than 20 years.
Looking to the future, Anthony says the goal is to try to source more markets abroad for recycled materials and to continue to expand the business by becoming even more competitive and efficient. The lesson of history suggest that MSM will find a way to make this happen!
MSM Recycling,
Annagh,
Birr,
County.Offaly.
Tel: 057 913 9098
Email: [email protected]
Web: msmrecycling.com
Taken from Irish Trucker & Light Commercials magazine, April 2018, Vol 21 No 3