Airport Hopper - a real showstopper
10/07/2018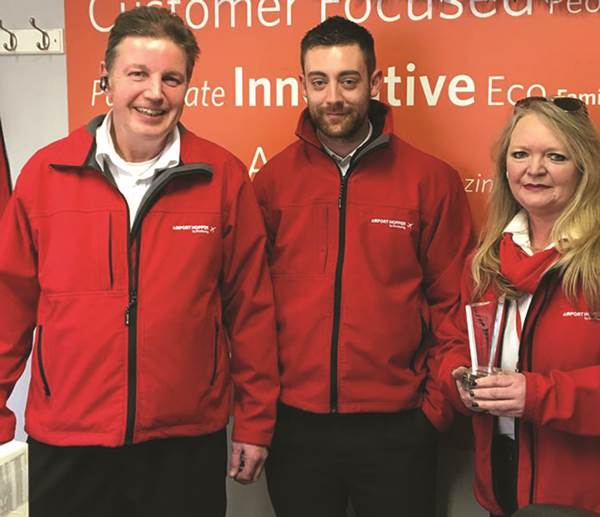 Part of the ever-expanding Dualway Group, Airport Hopper collected the Coach Operator of the Year award in the Airport Services category at the Fleet, Bus & Coach Awards in November. To coincide with Dualway's 40th anniversary, we touched base with director Trish McConn to find out more about this progressive, market-leading family-run operation.
Airport Hopper by Dualway has been a resounding success since its inception in 2012, currently running premium quality hourly services from both Tallaght (Route 777) and Maynooth (Route 767) to Dublin Airport. The high esteem in which this customer-focussed service is regarded industry-wide was underlined in November when the prestigious Coach Operator of the Year 2018 – Airport Services award was duly secured.
Providing luxury, scheduled airport services using brand new, top class, Euro 6 compliant, luxury mini coaches - such as the Mercedes Touras and the Sprinter – Airport Hopper is experiencing steady growth, with the fleet of six vehicles set to be increased in the not-too-distant future.
The company is part of the highly-successful Dualway Group, a family-run business which was established by Tony McConn in 1978 and provides gainful employment for up to 165 people at the time of writing. Now managed by three of Tony's children –David, Trish and Linda McConn – the Group can be divided into three distinct business units – Dualway Transport; Sightseeing Tours; and Tourism Retail.
Dualway owns and operates one of the largest luxury coach hire fleets in Ireland, ranging from 19-seater mini coaches to 80 seater double deckers. With professional, friendly and immaculately groomed drivers and a highly experienced operations and logistics team, Dualway's ground handling and destination management experience ensures optimal service levels from booking right through to delivery of service. This makes them No.1 in Dublin for business travel, coach hire, corporate events, custom tours, sightseeing tours of the capital, airport transfers or outings for schools or colleges.
The Group operates the iconic, red, open-top, hop-on hop-off buses that ferry visitors to the capital's major attractions and popular sites, as well as running the Dublin Visitor Centres.
Airport Hopper is the latest addition to a constantly evolving and expanding business model and director Trish McConn was delighted that this fledgling company was recognised with the prestigious Coach Operator of the Year Award for 2018: "Considering that Airport Hopper has only been up and running since 2012, it was a real privilege to accept this award," she states. "It's a relatively new service within the group and it has exceeded all expectations to date. We started off going from Tallaght to Dublin Airport every two hours and then went hourly due to demand. We also started with a service every two hours from Maynooth but increased that to hourly in 2016. The service has been so well received that we are now considering going half-hourly on our Maynooth route."
At present, 13 drivers are employed on the Airport Hopper routes, running six vehicles around the clock.
Within the past twelve months, Airport Hopper by Dualway also launched a striking new red and black livery with a distinctly corporate feel and this will be rolled out onto the entire fleet as part of the Group's plan to turn the fleet red. "Half of our executive fleet and half of the double deckers have already gone red," adds Trish, who confirms that the directors are always looking for ways to expand, improve and enhance their services:
"David, Linda and I have over 60 years' experience between us and we're very keen to keep driving the business forward. We have drawn up a 2020 Vision of what plans will be put in place. Identifying a gap during the recession for tourism retail units we acquired three city centre premises. We opened the first of 3 Dublin Visitor Centers in 2013 and plan to open more through 2018."
Headquartered in Rathcoole, The Dualway Group opened depots in Bluebell in 2014 and 2015, which were subsequently merged into one larger super-depot to accommodate and look after their open-top fleet. The executive coaches and Airport Hopper fleet still operate out of Rathcoole, with all maintenance, servicing and repairs being handled in-house. "We have our own team of highly-skilled technicians and we've invested in having them all trained in air-conditioning servicing - a service which we are now in a position to offer to other operators."
Regarding the secrets to Airport Hopper's and The Dualway Group's success down through the years, Trish believes that offering quality service is paramount. "Quality is definitely at the heart of it. We have a great team working with us, from management through to the drivers. Our dad [founder Tony] is still available for guidance as a non-executive board member, while we have a strong management team and business structure. Myself, David and Linda have a very strong work ethic, which we have instilled throughout the business."
Of course, to succeed and grow in this line of business also requires vision, business acumen and the courage of following one's convictions. Significant amounts of money are invested on a regular basis: "Last year alone, we invested over €1.5m in the fleet," Trish confirms. "We have a commitment to continually invest money back into the fleet.
"For the Airport Hopper service, we replace two of the six vehicles every year. Those vehicles are covering 650km per day, so we always keep that fleet within the three-year warranty period.
"Over the past twelve-eighteen months we have focussed on coaching and mentoring our team to achieve customer service excellence and we have had a tremendous buy-in from everybody. We set up two successful training schools and we are bringing in drivers based not on their skill levels but on their attitude. If they have the right attitude, then we can train them to become quality bus drivers in terms of their actual driving capabilities as well as route training, Health & Safety, etc.
"This is all in keeping with our pro-active response for the labour shortage that we feel is coming down the line.
"We've even gone as far as providing accommodation for our team. We have two company houses on site, which we are renting out to our drivers. This is to facilitate people from the country who are coming to work with us but might not be able to afford somewhere to stay in Dublin – we can work that into the package for them. It all boils down to looking after people – be that your team or your customers - and we are always thinking about ways to try to attract and keep good team members."
Little wonder The Dualway Group have developed into a hugely successful, multi-award-winning enterprise! As for the baby of the Group, Airport Hopper, the sky is the limit: "We have modern, premium vehicles and an excellent team of drivers on those routes, who have built up strong relationships with our customers, a lot of whom are airport staff or business people who frequently use the airport" Trish concludes.
"Those customers are putting the word out that that we are providing this service and demand keeps increasing. It's still a relatively new service, very much in its growth stage, so it's great to see so much positive feedback for the service and for our team."
Thoroughly deserved it is.
Airport Hopper / The Dualway Group
Keatings Park,
Rathcoole,
County Dublin.
Tel: 01 4580054
Fax: 01 4580808
Web: www.airporthopper.ie
Taken from Irish Trucker & Light Commercials magazine, April 2018, Vol 21 No 3