Where excellent service matters most
25/06/2018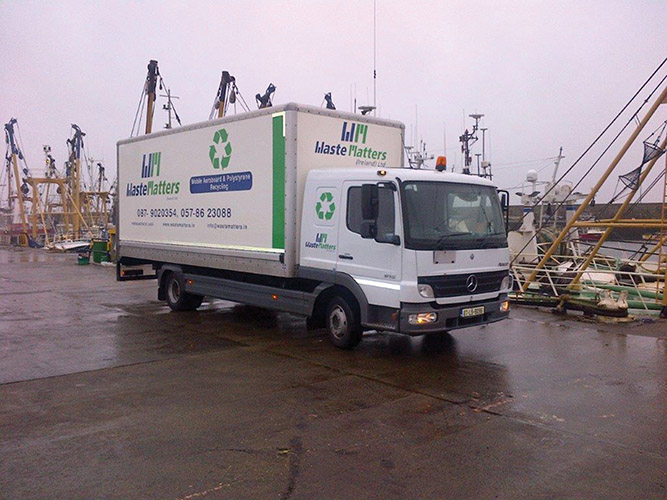 Waste Matters Ltd has grown rapidly in the space of four short years so Irish Trucker felt it was time to learn more about the Co Laois-based business. Office Manager Linda McCann was able to fill us in about the award winning firm recently.
These are exciting times for Waste Matters Ltd and the plan for the company in 2018 will be to continue following the trend they're currently on with regards to growth.
Based in in Mountmellick, Co Laois, the business tripled in size in 2017 and October marked the highlight so far for founder David Deverell and his staff when they picked up the award for Innovation in Waste Management at The Pakman Awards in Dublin's InterContinental Hotel.
Scooping the award was "a great honour" for such a young company, according to Office Manager Linda McCann, who gave Irish Trucker the lowdown about the business when we caught up with her recently.
"We're in Mountmellick and the company is established four years now after being set-up by David Deverell," Linda explained.
"David had a history in the trade and a couple of years ago he saw a niche for it. In the last 12 months, employment has tripled and hopefully by the start of 2018 will have two more on board with us."
Waste Matters Ltd is certainly growing. Along with looking to add to their staff numbers, the company is also about to add two more trucks to its fleet in the early months of 2018.
So what is it that they actually do down in Mountmellick? Linda filled us in:
"We provide a service for the recycling of polystyrene," she outlined. "We plug into a power source on site so a 40-foot container of polystyrene can be compact down . We have four machines for this and we break the polystyrene down into manageable blocks with them.
"At the minute we have four trucks operating with another one on the way."
To put in plainly, Waste Matters Ltd offers a polystyrene recycling service and because of the bulky nature of this awkward material the company's innovative approach is to travel to the material and process on site.
Currently Expanded Polystyrene (EPS) is not recycled in the Ireland to any significant degree. There is no recycling facility for the processing of EPS other than to dump it in the landfill where it takes up valuable space and works its way to the surface causing other environmental concerns.
Polystyrene is made up of 98 per cent air and 2 per cent plastic and thus has a high volume/low weight ratio, so even a small quantity can rapidly fill a bin or container. Waste Matters Ltd has equipment which can process large, medium and small volumes of Polystyrene efficiently.
After shredding, the material is transferred to an extractor which melts and compresses the Polystyrene, generating a solid mass, compressed down to 1/90 of its' original size.
A 40-foot container load of polystyrene can be processed down to one single pallet which allows economic transport and turning this historically landfill destined material into a raw material for further use. Over the last year, tonnage has increased by 200% and, as mentioned to earlier, employment has tripled within the business.
Much of the company's business comes from different fisheries dispersed throughout the country.
"Our main business would be coming from different fisheries all throughout Ireland," said Linda. "We have a contract with Tescos. They would use a lot of fish boxes and altogether we're servicing 54 Tescos all over Ireland. We would be servicing Tescos every other week basically.
"We've a couple of different County Councils on board with us, as well as fisheries. We're doing a bit of everything really but the main business is in fisheries. We are also able to collect and redistribute other recyclable materials, as per our customers' needs"
Linda says business has "really picked up" in the last 12 months for Waste Matters Ltd and she's very optimistic for what the next 12 have in store.
So why is it that their clients choose them first ahead of other competitors?
"The fact that we offer a service that is unique is one of the main reasons why I think our customers choose us," Linda stated plainly.
"It's not a case where we arrive on their doorstep unannounced. We are fairly flexible and we're cleaning out their skips for them too."
The company has four trucks in its fleet, including a Mercedes 13-foot box rigid truck along with a 7.5 Box rigid as well.
The plan is to add two more trucks in the first quarter of 2018 in order to cope with the increasing demand for business.
All going well, the fleet and staff numbers will continue to expand but, as far as Linda's concerned, 2017 couldn't have went more according to script for Waste Matters Ltd and taking home the Innovation in Waste Management in October really put a cap on things.
The award ceremony, which took place at the InterContinental Dublin Hotel, saw 400 representatives from leading businesses, organisations and community groups come together to recognise excellence in recycling, energy and waste management. Leading the congratulations was Minister for Communications, Climate Action and Environment Mr Denis Naughten.
Waster Matters Ltd learned in September that they had been nominated and, as Linda revealed, its Managing Director liked his company's chances after being nominated the second time round.
"We were finalists for the same award in 2015 and to win it this time was great," she said.
"David was feeling confident enough going up but he wasn't sure at the same time. When the announcement came through he was absolutely thrilled. It was a huge honour for such a new company which is only getting going."
You get the feeling that plenty more accolades are on the way for this up and coming firm.

Waste Matters Ltd
Unit 20 Bay Road Industrial Estate,
Mountmellick,
Co Laois 32 CXC1
Phone: +353 (0)57 8679692 / +353(0)87 9020354
Email: [email protected]
Web: www.wastematters.ie
Taken from Irish Trucker & Light Commercials magazine, February/March 2018, Vol 21 No 2