Technician of the Year
14/06/2018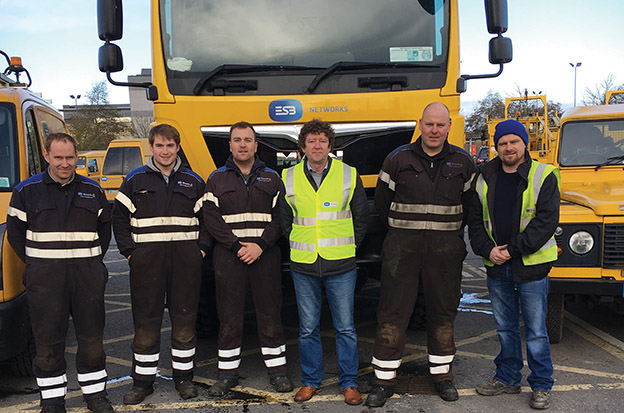 Martin Convey of ESB Fleet & Equipment (Portlaoise) claimed the prestigious 'Technician of the Year' award at the 11th annual Fleet Transport Awards Gala Banquet which was held at the Citywest Hotel, Dublin back in September.
Master of Ceremonies for the event was TV personality Marty Whelan with entertainment by The Camembert Quartet, aka The Late Late Show band and a panel of independent, industry-respected judges didn't look beyond Martin when it came to his category.
A deserving recipient, he modestly deflected much of the praise on to his work-mates when reflecting on his success with Irish Trucker & Light Commercials magazine.
"It was obviously great to get the award on the night because I was up against stiff competition but, having made the shortlist, I knew I was in with a great shout of winning it outright because I'm working with a good team here."
Getting his name on to the shortlist was an achievement in itself as no stone was left unturned by the judging panel.
"After the initial entry there was a selection process which involved submitting my qualifications, work experience etc.," he explained.
"Then it was on to a questionnaire with 25 questions about regulations within the transport industry and ESB's input within the industry, info on C02 emissions, the latest technology and so on.
"After getting through that round it was down to the technical end of things. We spent a day in Johnstown House in Enfield at the end of July where we underwent tests on technical assessments and competencies.
"There was a lot of work involved in getting through the process but, thankfully, it proved to be worth it in the end."
Martin – who joined the ESB workforce four years ago - was supported every step of the way by ESB Fleet & Equipment supervisor John Burke who oversees the smooth running of the Portlaoise and Waterford depots.
"We're all very proud of Martin's achievement and it reflects well on our work practices here," John – who has 40 years' experience under his belt – commented.
"It's a team effort and we all work well together. We have six employees here and there's a good mix of experience and young lads who have blended in well."
Electricity Supply Board (ESB) was established in 1927 as a statutory corporation in the Republic of Ireland under the Electricity (Supply) Act 1927. With a holding of 95%, ESB is majority owned by the Irish Government with the remaining 5% held by the trustees of an Employee Share Ownership Plan.
As a strong, diversified, vertically integrated utility, ESB operates right across the electricity market: from generation, through transmission and distribution to supply.
In addition, ESB extracts further value at certain points along this chain: supplying gas, using our networks to carry fibre for telecommunications, developing electric vehicle public charging infrastructure and more.
ESB is a leading Irish utility focused on providing excellent customer service and maintaining their financial strength.
They have a regulated asset base of approximately €9 billion with 43% of electricity generation capacity in the all-island market.
They currently supply electricity to approximately 2.3 million customers throughout the island of Ireland. ESB Group employs approximately 7,000 people.
"Eight-five people are employed in the fleet & equipment division," John revealed, "and approximately 42 of those are mechanics. Broken down into 10 regions nationwide, we have 2,000 vehicles in total."
John continued: "Our staff numbers have gradually increased over the last two to three years as we have taken on a quite a bit of newer equipment which is regularly checked using diagnostics."
The perilous situations that ESB workers can often find themselves in was highlighted by Storm Ophelia which wrecked havoc across Ireland back in October.
As ESB Networks crews battled to restore power to homes and businesses throughout the country, they had to have confidence that their vehicles and associated equipment were in top working order.
At ESB, they always put the safety of the public, their customers, staff and contractors first in everything they do, as they relentlessly pursue their goal of safe working and zero harm.
Martin, John and the Fleet & Equipment team have an important role to play in that regard and their fleet and equipment is operated in line with international standards and legislation.
"Safety is our number one priority," Martin added. "Before any job, a GWSP (Garage, Workshop, Safety, Plans) is filled out before a vehicle goes on site. Everyone has to fill it out and it is an important measure in ensuring a safe working environment."
It's this type of attention to detail that caught the attention of the Fleet Transport Awards judges.
ESB website: www.esb.ie
Taken from Irish Trucker & Light Commercials magazine, February/March 2018, Vol 21 No 2