Loud pipes at Full of the Pipe – a novel first for Ireland
08/06/2018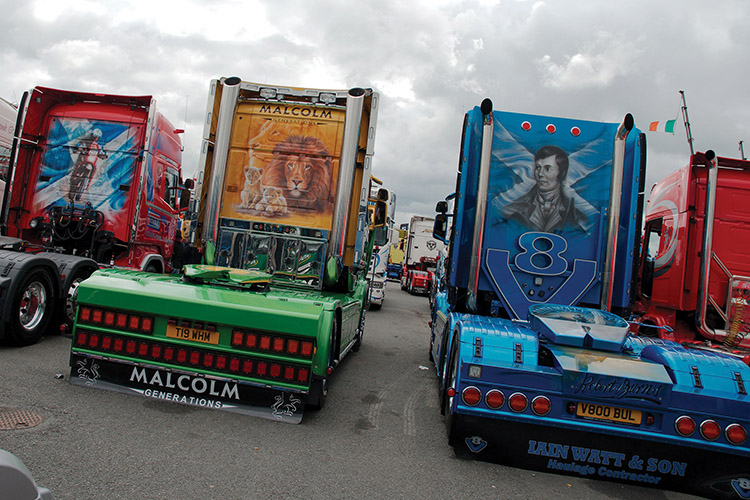 The Decibel Drive-By Contest at Full of the Pipe Truck Show Ireland 2018 will be a historic event as this is going to be the first time that such a competition – huge on the continent – will have been staged at a truck show on this island. It's just another example of the organisers leaving no stone unturned in ensuring that FOTP is an entertaining and action-packed weekend for all.
The loud pipes will be out in force on the second weekend of June as Punchestown Racecourse plays host to Ireland's first Decibel Drive-By Contest, to settle all arguments and determine whose truck is the loudest and the proudest. Kevin Mulqueen witnessed similar contests at truck shows in Holland and thought it would be a good addition to Ireland's premier trucking extravaganza. While it won't be taken too seriously, it will certainly add to the immersive experience of truckers at the show.
With such a large volume of trucks on display at the show, why not check out their actual volume?! After all, it's all about lights, pipes and DuraBrites these days. Kevin points out that with exhaust stacks and side pipes becoming increasingly popular, truckers are paying more and more attention to the sound they can emit.
"It's very popular in Holland, where the decks would be very big," he notes. "At the Assen Truck Show in Holland, which is the best show in Europe, guys with loud pipes and side pipes parade and readings are taken to see whose is the loudest. There's great interest in it.
"We're going to take readings at Full of the Pipe and whittle it down from a Top 30 to a Top 20, Top 10 and then a Top Three."
As with everything that takes place at Full of the Pipe, Kevin is keen to stress that it's not going to be taken too seriously. It's more about the taking part, a bit of craic…
"It's more for the bit of banter and something for the lads to do at the show. It's a long weekend for the drivers so this is a bit of additional entertainment for them, something they can get involved in and have a bit of fun with.
"After the parade, they will come out individually and start at Point A and stay revved between two cones to get the sound at its highest level, which we will register."
In physics, the decibel (dB) is the unit used to measure the intensity of a sound. The decibel scale is unusual (a factor of 10 multiplying logarithm) because the human ear is incredibly sensitive. Ears can hear everything from your fingertips touching together to loud jet engines. But, in terms of power, the sound of the jet engine is about 1,000,000,000,000 times more powerful than the smallest audible sound.
On the decibel scale, the smallest audible sound (near total silence) is 0 dB. A sound 10 times more powerful is 10 dB. A sound 100 times more powerful than near total silence is 20 dB. A sound 1,000 times more powerful than near total silence is 30 dB. A standard diesel truck on the road or street produces around 90 – 100 dB.
The readings of the loud pipes at Full of the Pipe will be a little louder… "This is something that has come on a lot and it's going to be entertaining," Kevin concludes. "It is going to be the first time to do this at a truck show in Ireland and maybe it'll catch on.
"As a venue, Punchestown was new last year so we didn't introduce it but this year we spoke about it and did a test run and found that we have enough space there. It's another fun element to the show and we're looking forward to seeing how it works out. As I said, I'm expecting it to generate a bit of banter amongst the drivers and that's the main objective of a contest like this."
Pipe dreams at Full of the Pipe!
Full of the Pipe Truck Show Ireland 2018 - Punchestown Racecourse, 9/10 June 2018