Driving to success
22/05/2018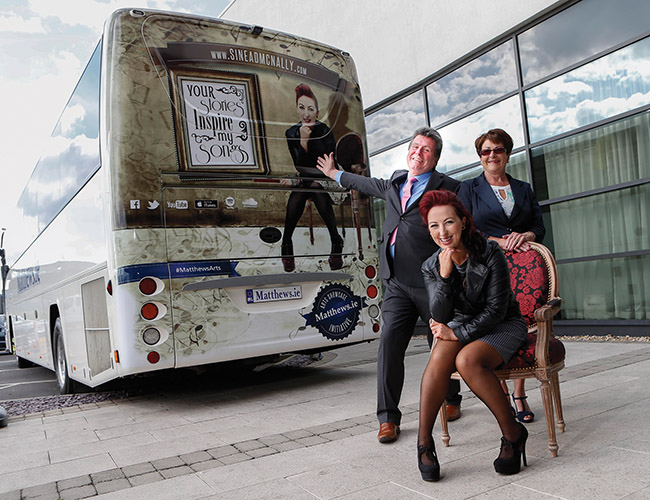 Coach travel has certainly changed over the years, long gone are the days of sitting in a bus that has uncomfortable seating, while the nearest thing to air-conditioning was by opening a window.
Comfort is now a main priority of all coach companies and providing a service to their customers that ensures their journey is as smooth as possible. To say the coach industry has been subject to many changes in recent years would be an understatement, but for one Monaghan based company, they have gone to a whole new level.
When one mentions the name Matthews Coach Hire or indeed that of its managing director Paddy Matthews, everyone will feel that they have heard of this company and the chances are that they have done as this business has featured prominently in the news in recent years.
Matthews Coach Hire is an innovative company that is always looking at ways to improve its service, even though they are the leaders in their field of expertise in Ireland. Based in Inniskeen, Co Monaghan, this coach hire firm offers a nationwide service, while for many years now they have been providing a reliable service to the people of Louth through their daily services from Dundalk and Drogheda to Dublin on a return basis.
Having gained a reputation for delivering a top quality service over the course of the last 18 years, Matthews Coach Hire has always looked at ways at improving the service provided to the large customer base and they are not ones to rest on their laurels as continual improvement is being made.
Founded in 1995 by husband and wife team Paddy and Mary Matthews, Matthews employs 72 people and has a fleet of 35 vehicles across commuter, tour and corporate hire services. This family run business, which is headquartered in Inniskeen has gone from strength to strength over the years and provides a wide range of services including tours, commuter services, corporate hire and private coach hire.
Paddy and Mary's son and foster daughter Noel and Majella are heavily involved in the day to day running of the company and for this year's edition of the Wee County Yearbook we speak to the Matthews' siblings about the success that the company has had on and off the road in recent years.
For the past three consecutive years, Matthews Coach Hire' success can be gauged by the awards that they have won as twice in the last three years they have received the SEAI energy awareness award. Since 2008 when Noel attended a seminar cost savings and energy consumption, the company have strived to improve in this area and they have done so with spectacular results.
"When Noel attended the seminar, he learned of ways that we could reduce our fuel costs in the business and we set about doing that ourselves. While, we were doing that, we were advised to enter into the SEAI awards and we did so with great success," said Majella. "In 2012, we saved €80,000 which is a substantial amount. We invested in a G.P.S tracking system in 2011 and began a campaign to make the drivers more aware of the fuel consumption that they were using. They all underwent training and this proven very successful. Drivers' performances have been linked to their Christmas bonus and not only has this secured their jobs, but it is also rewarding their work.
"There have been a number of side benefits to this also as maintenance costs have been reduced as well as windscreen replacements. It keeps everyone motivated and that is a big plus also," added Majella.
Matthews Coach Hire won the prestigious Energy Awareness Award at the SEAI Sustainable Energy Awards which was their second success in three years, while they have also picked up other accolades during that period also. The company came out on top beating stiff competition from some of the country's biggest businesses.
"We were delighted to win this award, as it represents our energy saving work across the company, over a number of years," said Noel, who is the company's Fleet and Quality manager. "When you look at the companies that were also nominated in our category, you will get an idea of the scale of our project and achievement.
"This energy saving project has allowed us to reduce fuel consumption from 30 litres per 100km to 27.23 litres per 100km, which makes a huge difference across our fleet. Our vehicles are often driven by two or more drivers per day, making it impossible to pin fuel usage to any one individual using standard fuel management techniques."
Earlier this year, the company became Ireland's most environmentally friendly passenger transport company when they became the first public transport company in Ireland or the U.K – and only the second in the world – to achieve the new ISO 50001 energy management accreditation.
Noel revealed that as a bonded tour company, they were focusing on tourism in the country and providing an unrivalled service to the thousands of tourists that descend on Ireland on an annual basis.
"We are focusing on coach tours. There has been a change in the legislation with regards to visas for the Asian countries, so they can travel over here more freely and we hope to benefit from this. We have already increased on our tours and this will be an area that we will be concentrating on more."
Noel and Majella are delighted with the direction is heading in and he knows that hard work and dedication has got them where they are today. From humbling beginnings running one mini bus to a fleet of 35 exclusive vehicles, Matthews Coach Hire is leading the way in its field of expertise.
Contact Details:
Callenberg,
Inniskeen,
Co. Monaghan,
Ireland
Tel: +353 42 9378188 / Lo-Call: 1890 25 20 40
Email: [email protected]
Fax: +353 42 9378709
Taken from Irish Trucker & Light Commercials magazine, February/March 2018, Vol 21 No 2