Quality parts at competitive prices
23/04/2018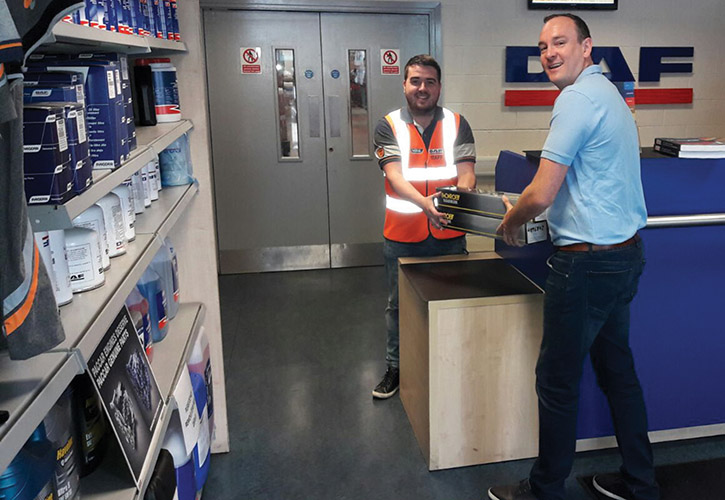 Established a little over a year, Commercial Vehicle Parts in south Dublin has well and truly hit the ground running in the supplying of quality OE spec parts at competitive prices. Company co-director Paul Henry told more to Irish Trucker recently.
Based in Clondalkin, Co Dublin, Commercial Vehicle Parts recently celebrated its first anniversary and the plan for the business is to very much keep moving in the same direction for the near future.
Paul Henry is one half of the company's directorship and testified to the facts when Irish Trucker caught up with him to discuss the venture that both he and Philip Fahy jointly run.
Set-up by Philip in September 2016, Commercial Vehicle Parts caters for all of your needs when it comes to commercial vehicle parts and prides itself on supplying quality OE spec parts at competitive prices.
Paul was able to take time from a schedule which has been become busier with each passing month since the company's inception to explain all about the business.
"We're in Clondalkin, Co Dublin and we're set-up since September 2016," he outlined.
"Myself and Philip Fahy are the two directors an Philip founded the business last year. At the moment there are two of us working here part-time.
"Basically, what we do here is provide a delivery service around Dublin and supply genuine parts for any truck and any make of trailer. Right now, we have one van on the road, which is a Berlingo, and Philip drives so we supply parts with it and also specialise in components."
DAF, Scania, Volvo and Mercedes are just some of the big name brand trucks which Commercial Vehicle Parts supplies parts for and the company's latest special offers can be viewed on its website - www.cvp.ie.
As for the origins of the business, they of course come down to Philip's strong background in the industry, which has given him the ability to spot a gap in the market.
Commercial Vehicle Parts has had a steady first 12 months since then and the objective for 'Year Two' is to simply keep running things as they are and move closer and closer towards that first expansion.
"Philip had worked for Motor Factors in Athy, so he had the experience to set-up this business," Paul stated.
"I'd have worked for Mercedes in the past and although things started off slow for us here last year, we've gotten plenty of suppliers in the space of 12 months or so.
"It's going in the right direction for us since we started and you can't ask for much more than that."
Considering that they've mostly stayed local with their work, Commercial Vehicle Parts has made plenty of inroads this past year and the clientele list thus far is an impressive one, considering the short space of time in which Paul and Philip had to build it.
Paul outlined that the majority of their customers are based in the capital, with the exception of a handful, as they continue to grow their list of clients throughout their second year and, hopefully, for many years to come.
"We mostly do the south Dublin area and we do have a couple of customers in Wexford as well," said the company's co-director.
"For now though, it's in and around this area that we're focused on and hopefully we can continue to build on that."
Bragan (Truck Parts), Continental Truck Spares, Grannings New Tech, MD Motor Products (in the UK) and Portlaoise Springs are just some of the company's which Commercial Vehicle Parts have dealt with (and continue to deal) with since being set-up last autumn.
Repeat business has been crucial at this early stage for the year-old venture and, as far as Paul concerned, the early success has come down to two things in particular.
"We sell decent stuff here," he stated. "We put customers first and we offer them a same day delivery service because they're close by for us.
"We plan to get a second van very soon and we'll be updating our website as well, but for now we're really just getting going and we are happy where we're at 12 months in."
You couldn't ask for much more after one year of trading and with another vehicle set to be on the road soon you can also expect staff numbers to be added to as well.
It's all part and parcel with setting up a new company and both Paul and Philip will be hoping that things continue to grow, along with their list of clients, as the weeks and months go by and 2018 nears closer.
Before you know it, Commercial Vehicle Parts will have a second anniversary to celebrate.
Commercial Vehicle Parts
Address: Cherrywood Park
Clondalkin Dublin 22
D22X727 Mob: 0876554081
Web: www.cvp.ie
E-mail: [email protected]
Taken from Irish Trucker & Light Commercials magazine, January 2018, Vol 21 No 1