Thorntons Recycling clean up at Pakman Awards
18/04/2018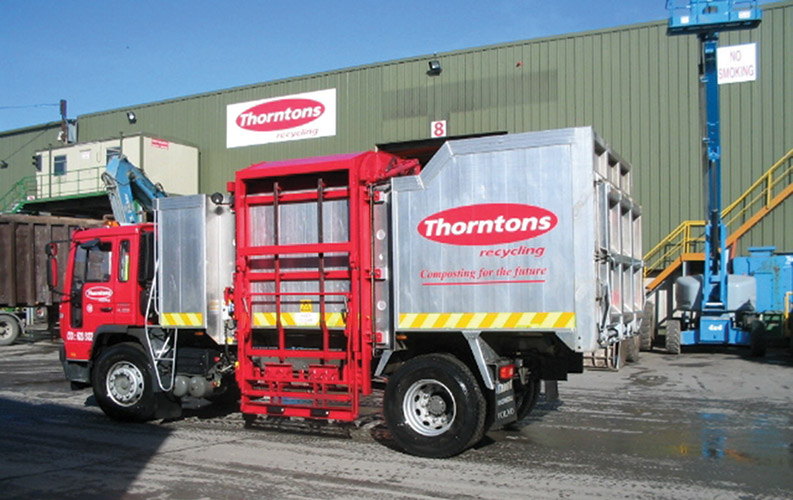 Thorntons Recycling had double reason to celebrate at the 2017 Pakman Awards in Dublin's Intercontinental Hotel when it scooped the Waste Collector of the Year Commercial Award and the Waste Recycling & Recovery Facility of the Year Award.
The Pakman Awards are national awards that recognise excellence in waste management and recycling among businesses, organisations, community groups and initiatives in Ireland. They replaced the Repak Recycling Awards in 2015 to allow greater accessibility to the awards for all organisations who demonstrate their sustainability and environmental efforts. The inaugural Pakman Awards marked a significant change in direction for Repak whose awards were previously confined to its members and recovery operators. It's now open to all organisations who can demonstrate their environmental waste management practices and efforts.
As one of Ireland's leading waste management and recycling companies, winning Pakman / Repak Awards is nothing new to Thorntons Recycling. The company previously won the Operator of the Year and Green Energy Provider Awards to name but two.
"We are delighted to be named Waste Collector of the Year Commercial and to receive the Waste Recycling & Recovery Facility of the Year Award," says Thorntons Recycling marketing specialist John Byrne.
"We are pleased to be recognised as the market-leading commercial waste management provider. This award gives validation to the standards we propose to our clients. The awards follow strong nominations which highlight our excellent level of service as well as our ability to respond effectively to the latest industry developments.
"The awards celebrate the hard work our employees commit to servicing our clients and place Thorntons Recycling as the number one waste management service partner.
"Winning the Waste Recycling & Recovery Facility of the Year Award highlights our investment in the best available technologies to bring state-of-the-art recovery and recycling rates, reducing the amount of material going to landfill."
Founded in 1979 by Padraig and Carmel Thornton, Thorntons Recycling has since grown into one of the country's largest waste management companies, providing waste collection, recycling and recovery services to Dublin, Meath, Kildare and Wicklow. The company prides itself on being one of Ireland's most progressive and advanced recycling companies with an impressive company recycling rate of 90 per cent in 2016 and a devoted staff of over 450. Thorntons Recycling is proud of the yearly improvements in recycling rates with the goal of ensuring the maximum amount of waste is fully recycled or reused as an alternative fuel source.
Nowadays, the directors of the business are brothers Shane and Paul Thornton. Thorntons Recycling's head office is located on Henry Road, Park West Business Park, Dublin 12, while it operates six facilities in Dublin and Meath. They are: Recycling Facility – Killeen Road; Mixed Dry Recyclables (MDR) Facility – Park West Business Park; Thorntons Security Shredding – Park West Business Park; Kilmainhamwood Compost Facility – Kilmainhamwood; Meath Thorntons Tanker Service – Dunboyne Thorntons Civic Amenity Centre, Dunboyne; Ballyogan Recycling Park (operated on behalf of Dun Laoghaire / Rathdown County Council).
Over 60,000 household customers and 4,500 commercial clients avail of the waste management and recycling operator's best value and unrivalled service. The company has seen a huge increase in customers communicating with it online and through its smartphone app.
Along with a three-bin service to households and commercial clients, Thorntons Recycling operates a tanker department which complements its recycling business by enabling it to assist its customers in handling their liquid wastes and a confidential shredding service that completes the firm's one-stop shop promise.
The company runs a fleet of over 140 vehicles that are serviced regularly at its maintenance facility which employs highly-skilled mechanics and engineers.
Thorntons Recycling believe in delivering the highest standards of customer service aligned with a defined Corporate Social Responsibility and the best value-for-money to its customers. Of paramount importance to Thorntons Recycling is that its customers and the community understand the benefits of recycling and using their Green Recycling bin correctly.
The 'Thorntons in the Community' programme was designed to meet the challenge of this societal need and shared value. The programme sees the company sponsor local events of all sizes to promote recycling activities. Thorntons helps its customers to "Reduce, Reuse and Recycle" while assisting communities to manage waste.
"In the last 12 months, we have designed and developed the 'Thorntons in the Community' CSR programme, which is focused on community groups that are willing to partner with us in sharing recycling habits and good practice. The programme highlights the benefits and second uses of materials," John adds.
Thorntons Recycling recently welcomed a EU delegation to its Mixed Dry Recyclables (MDR) facility in Park West Business Park. The visit was hosted by the Department of Justice as the representatives were auditing Ireland's application of environmental legislation. The visitors were joined by members of the Environmental Protection Agency (EPA), Dublin City Council and the Department of Justice.
Thorntons Recycling
Unit S3B,
Henry Road, Park West Business Park,
Dublin 12.
Telephone: (01) 623 5133 Fax: (01) 623 5131
Email: [email protected]
Web: www.thorntons-recycling.ie
Taken from Irish Trucker & Light Commercials magazine, January 2018, Vol 21 No 1