All go at Lagan Cement
29/03/2018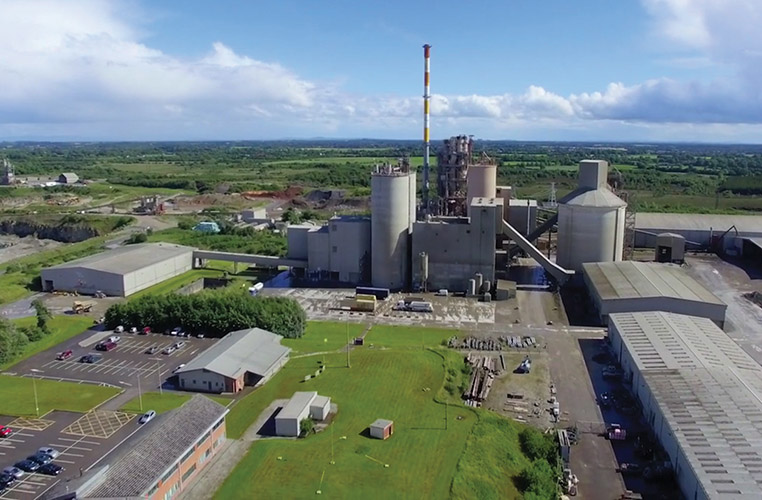 From its state-of-the-art manufacturing plant near Kinnegad, County Westmeath, Lagan Cement manufactures a range of high-quality bulk and bagged cement products for distribution across the island of Ireland and the UK. We touched base with Quarry & Dispatch Senior Manager Alan Glennon to get an update on day-to-day activities.
Lagan Cement is an invaluable operation, which plays a key role in keeping the wheels of the local economy in the midlands – and further afield – turning. As well as supplying premium cement products to the build environment, the Kinnegad-based arm of the Lagan Group generates massive employment … not least in the haulage industry.
Up to 60 hauliers could be on the go on any given day, contracted by Lagan Cement to bring raw materials to the impressive manufacturing facility – located on a spacious 750-acre site in the heart of Ireland - or distribute produce to sites the length and breadth of Ireland and the UK. As Quarry & Dispatch Senior Manager, Alan Glennon bears witness on a daily basis to the scale of the operation as trucks roll in and out of the midlands, every movement recorded and carefully regulated:
"All of our haulage is subcontracted and we have excellent hauliers working for us," he notes. "We have 40+ hauliers supplying our product and I'm also responsible for the raw materials coming into site, which means there could be more than 60 lorries on the road for us on any given day.
"The bagged cement goes to Ireland North and South, England and Scotland, while the bulk cement also goes to the North and South of Ireland as well as to Dublin Port for export into the UK. Between taking in the raw materials and distributing the finished product, huge employment is created."
To produce its superb, renowned range of quality bulk and conveniently-sized bagged cement products, Lagan carries out a painstaking and precise cement manufacturing process which comprises blasting, crushing, blending, milling in the raw mill, pyro-processing in the kiln, milling in the cement mill, storage in cement silos, and finally dispatch via tankers and bags
Since commencement of production in 2002, Lagan Cement has operated one of the most modern cement manufacturing facilities in Europe. The industry-leading cement works in Kinnegad has the capacity to produce 700,000 tonnes of high quality cement per annum for both the domestic and export markets. These products comprise CEM I 42,5 R Bulk, CEM I 52,5 R Bulk, CEM II/A-L 42,5 N Bulk and CEM II /A-L 42,5 N Bag cements.
CEM II Bulk is a high quality general purpose cement suitable for most applications, while CEM I 42,5 R is a special purpose cement used in concrete to achieve a higher rate of early strength development compared to using CEM II Bulk.
Lagan Premium+ Bagged multipurpose cement is ideal for general use in large or small jobs and suitable for concrete, mortar, render, screed and grout applications. Lagan White bagged cement is the cement of choice for superior architectural quality finish, providing attractive and durable concrete, rendering and mortars. Meanwhile, Lagan's specially selected kiln dried building sand is ideally suited for jointing or grouting
Comings and goings to and from the manufacturing plant run like clockwork. But is it a major logistical headache to ensure that all the arrivals and departures at the facility are fully co-ordinated, managed and logged? "Transport is one of my briefs and it is certainly busy here but I'm very fortunate to have a great team around me who continually carry out their duties with knowledge and professionalism," says Alan. "They know what they are doing and they look after the day-to-day stuff while I handle the shipping schedules for both bulk and bagged cement."
As the recession hit the construction sector hardest, it naturally had a massive impact on Lagan Cement. But Alan is pleased to note that things are turning around again: "We are selling well over 600,000 tonnes of cement per year. The UK market is picking up and the island of Ireland is also getting busier, especially along the east coast."
Could Brexit pose a challenge in the not-too-distant future? "There is a lot of uncertainty around Brexit and there are obvious fears, but I'm not convinced it will have the major impact that some observers are predicting. Naturally there is a lot of fear but at the same time it is in the mutual interest of Ireland, England, Scotland and Wales that we continue to have good trade relations as we are so close together geographically and therefore so dependent on one another. Thus, I believe that the correct and right trade deals, border crossings and tariffs will be implemented."
The continued success of the business is linked to a very focused and strategic approach to environmental, social and economic responsibilities. To this end, increasing their use of green renewable energy and developing their range of lower carbon CEM II type cements have been significant milestones to date in allowing Lagan Cement to grow in a sustainable way.
In line with their vision, the company continues to achieve the highest standards in environmental care, Health & Safety and product quality control. "There's a massive Health & Safety side to this," says Alan. "All of our haulage subcontractors are a part of that. Even before they start, they go through a rigorous safety induction and they have to have all the relevant safety certs, etc. in their possession.
"The hauliers are meticulously vetted and our internal Health & Safety department on site keeps all of that documentation filed and updated to ensure that the highest standards of Health & Safety are maintained.
"We have unbelievable guys working for us and they do a great job and provide outstanding service, but we do demand high levels of service, safety and compliance. Reputable hauliers tend to stay with us and we have a great working relationship with them. A lot of them are here 8-10 years plus and that gives us consistency and stability. If you have a big turnover of subcontractors, then you are obviously doing something wrong."
Over the years, Lagan Cement has sought and achieved a wide range of independent accreditations in recognition of outstanding performance, which reflect excellently on the professionalism and commitment of the company's dedicated workforce. These include Benor Quality Certification; BES 6001 Responsible Sourcing Certificate; OHSAS 18001 Certification; ISO 5001 Energy Management Certificate; ISO 9001 Quality Certificate; ISO 14001 Certificate; KOMO Quality Certificate; NF Quality Certificate; and NSAI Excellence Through People Certificate.
Looking to the future, Alan confirms that there will be no let-up in the pursuit of excellence: "Quality and safety are of paramount importance at Lagan Cement and we are passionate about providing our customers with quality product on time," he concludes.
"We are constantly striving to become better at what we do, across the board, including transport. 'To Be Even Better' is one of our mottos – it's written on the signposts in here and it's something that we abide by."
Lagan Cement,
Lansdown Cement Works,
Killaskillen,
Kinnegad,
County Westmeath.
Tel: 044 9379200
Fax: 044 9379201
Email: [email protected]
Web: www.lagancement.com
Taken from Irish Trucker & Light Commercials magazine, January 2018, Vol 21 No 1