A well-oiled machine
09/03/2018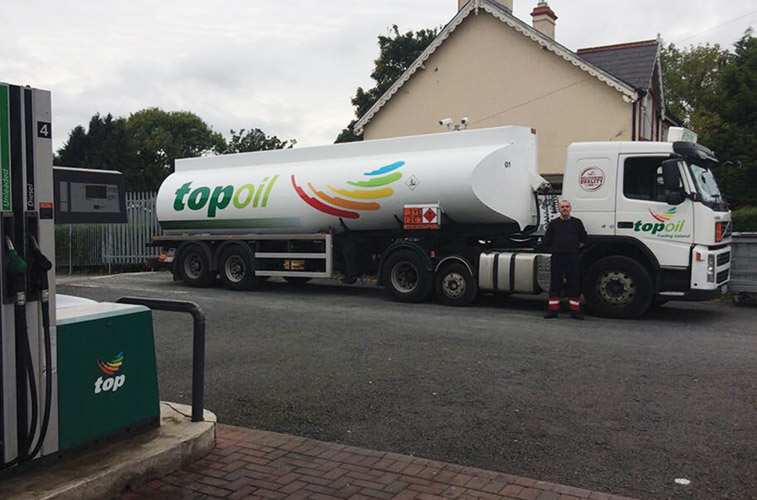 Lissanna Fuels Ltd is a family-run authorised distributor for Top Oil and EuroBlue AdBlue. Based in Culloville, Co. Armagh, this new company is owned by Sean Farrell who also operates two service stations in Lurgan, Co. Armagh and Coalisland, Co. Tyrone.
Only trading since March, Lissanna Fuels is the latest addition to the Farrell family's burgeoning oil and fuel supply business. Originally coal merchants, the family now provide a bulk oil delivery service to filling stations and forecourts across Northern Ireland.
"Our late father Patsy Farrell used to draw coal out of CCO (Bord na Mona Fuels) in Dundalk and deliver to customers in the region. That's how it all started," Sean explains.
"The business has since evolved into bulk oil deliveries and service stations. Lissanna Fuels was set up to cater for customers both in the north and south of Ireland. It would be remiss of me not to mention our mother Briege who has supported us all the way."
Sean has one Volvo articulated truck which pulls a tanker trailer and a curtain-sider, which is dedicated to working for Top Oil and EuroBlue. It delivers bulk diesel, petrol, kerosene and marked gas oil to service stations straight from the port in Belfast. They also draw Top Oil's own brand of coal from Lisahally Port in Derry.
A family-owned Irish business with a 200-year trading history, Top Oil import and distribute over 1.3 billion litres of product every year. They provide a true end-to-end solution, from 'Port-To-Pump', and all the points in between. This ensures security of supply of the best Quality Assured fuel products for Irish industry, businesses, farms, homes and motorists across the 32 counties.
Top Oil's network of 180 service stations, motorway service areas, fuel card locations, resellers and home heating depots is growing every day. The company is dedicated to the oil industry in Ireland, having stood the test of time supplying customers for over two centuries.
Lissanna Fuels also distribute EuroBlue's AdBlue products to filling stations and garages nationwide. Based in Enniscorthy, Co. Wexford, EuroBlue is another Irish-owned business offering a complete AdBlue solution for operators of SCR diesel vehicles. As a fully certified and the only audited manufacture and distributor of AdBlue licensed by the Verband der Automobilindustrie (VDA), EuroBlue is proud to offer the best quality and priced AdBlue to the Irish market.
EuroBlue provides the complete AdBlue solutions service to cater for whatever your AdBlue needs are, including metered bulk deliveries, a full range of packed options, a complete range of high quality dispensing and storage equipment and nationwide delivery. All of EuroBlue's AdBlue is independently tested and verified prior to release to ensure you only get the ISO 22241 Quality required by your vehicle manufacturer.
"We deliver AdBlue in 1,000-litre IBC, 200-litre drums, 18-litre cans, 10-litre cans and 1.5-litre bottles to the service station industry. The 1,000-litre IBC is popular with hauliers, bus operators and farmers," Sean says.
"The major benefit of using AdBlue in your diesel vehicle is that it reduces emissions, and thus reduces the negative impact your business may have on the environment. It is non-flammable, inexpensive and is becoming as common as diesel use in the transport industry. All new vehicles are required to use it."
Sean opened his first retail service station in Lurgan (Francis Street Service Station Ltd) in 2010 and has since opened a second in Coalisland (Coalisland Filling Station Ltd). Both are part of the Top Oil nationwide network with Vivo and Spar being the retail brands of Lurgan and Coalisland respectively.
The two stations provide customers with the best of both worlds – great motoring service and great convenience stores for all the necessities for home. The stores include a fresh deli counter with a range of choices for breakfast, lunches or dinner. In Coalisland, where the station is located at 1 Ballnakilly Road, truckers will be able to avail of a special breakfast roll and tea deal by the first week in December to coincide with the opening of the shop's new fuel card terminal. This will be a fast-fill pump with nozzles for both diesel and Adblue, suitable for both trucks and cars, which means only one stop is necessary for all users.
Lissanna Fuels Ltd
10B Annaghad Road,
Culloville,
Newry,
Co. Down,
BT35 9JG
Telephone: 028 3086050
Mobile: 087 9176881 (Sean)
Email: [email protected]
Taken from Irish Trucker & Light Commercials magazine, November/December 2017, Vol 20 No 7