Higgins Waste & Recycling Services - on the go since 1982
27/02/2018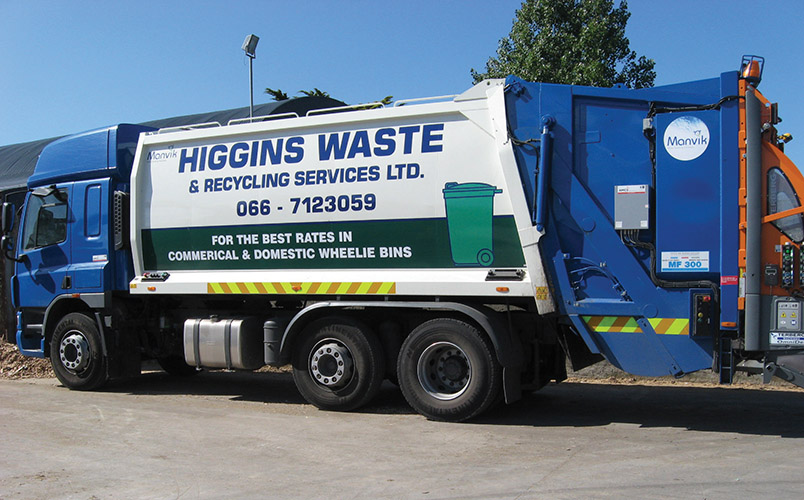 Set-up in 1982, Higgins Waste & Recycling Services Ltd in Tralee, Co Kerry has firmly established itself as a leading waste management company. Irish Trucker heard more from Jacqueline Higgins, who is one half of the directorship.
Higgins Waste & Recycling Services Ltd has come a long way from the days of just concentrating on skip hire back when it first originated, as this year marks three-and-a-half decades in existence for the company.
Based in The Kerries in Tralee, Co Kerry, the company has grown to encompass all aspects of waste and recycling management, offering its clients the full range of waste management solutions to both the domestic and commercial customer.
Operating a fleet of Scania and Volvo trucks, Higgins Waste & Recycling Services Ltd is also dedicated to the diversion of waste from landfill, remaining its primary aim to this day.
The firm is headed up by husband-and-wife John and Jacqueline Higgins and the latter was able to take time from what continues to be a busy schedule at Higgins Waste & Recycling Services Ltd to explain all about the business.
"We've 20 staff here and at the moment we're operating with 10 trucks, which are all Scania and Volvo,"Jacqueline outlined.
"Business has been good overall and our staff numbers are keeping up so we can't complain. We were hit during the downturn a bit in that some customers went into liquidation, but since then we've maintained our work and have gone into ground stone, gravel and blocks."
Higgins Waste & Recycling Services Ltd is a member of the Irish Waste Management Association (IWMA) and holds waste license and waste collection permits for the entire Munster region.
It also operates its own amenity and waste transfer station in The Kerries which is situated about half a mile from the centre of Tralee. The company's Amenity Centre has proven to be a massive success since opening 12 years ago, allowing customers to manage their waste and recycling goods.
At the transfer station, waste is baled before being forwarded to other disposal facilities.
Indeed Higgins Waste & Recycling Services Ltd has been active in the commercial sector for 35 years now and has also been operating in the domestic sector since 2003.
In October 2011, they began a contract with Tralee Urban District Council to collect waste and recyclables from 5,000 homes, which saw its overall household customer base swell up to 6,000.
"Our main aim is to provide a good service and we feel that we do offer our clients that,"said Jacqueline.
"We're also growing with new clients in some of the new hotels and the domestic market. With regards to our domestic clients, they are paying by weight in more recent times and I think that pay by weight is going to be a new phenomenon in this industry, especially around Dublin."
She continued: "You'd be surprised by the amount of more people that are recycling now. Really, it's a force of habit. We're doing a lot of work with builders, supermarkets and hotels at the minute."
It's a far cry from when the company first started out three-and-a-half decades ago with just a tractor, a skip carrier and 12/14 skips.
Nowadays, it operates with a modern fleet of 10 trucks that include domestic wheelie bin, commercial wheelie bin, cardboard and paper, glass and food, skip and hook load trucks.
With its staff numbers currently sitting at 20, Higgins Waste & Recycling Services Ltd's success to date has come down to the strong values it holds and continuing to provide a high quality service to its customers after all these years.
"You have to keep giving people a good service. We don't have a landfill here in Kerry, or Munster for that matter, so we have an incinerator in Dublin that we use,"explained Jacqueline.
"It's a huge change and a big cost to us transport-wise but it has to be done. It's a growing market but it's a fluctuating one as well, so you have to just keep working through it."
The Higgins family have made a habit of working through both the good times and the bad, and the team at the company's Amenity Centre is always on hand to give advice on how to recycle, as well as how to minimize costs.
There are a number of different payment options available for both domestic and commercial customers. For domestic customers, these include an online topping up system, Payzone, an annual payment or bin tag.
However, in more recent years more and more customers are opting for a Pay As You Go online service, which Jacqueline filled us in on.
"The Pay A Bill online service is something we took on in 2010 where customers can log on through their own account and pay their bill,"she said.
"We also have an app for people to pay online as well and it's something that we've gone into because we know that people want convenience. They like to be able to get things done without any hassle and we try to provide them with that."
So what's in the pipeline for the coming months for Higgins Waste & Recycling Services Ltd? The company's co-director explained that they'll hopefully be increasing their fleet numbers again soon in order to keep up with demand.
"We bought a new skip truck last month,"she said. "It's a Volvo that we bought through McCarthy Commercials in Watergrashill –and hopefully we'll be adding more trucks to our fleet soon."
Higgins'waste and recycling centre is open to the public six days a week, 9am to 5.30pm Monday to Friday, and 9am to 4.30pm on Saturday. Customers can bring all of their waste and recyclable goods to the yards at The Kerries where all types of waste will be accepted.

Higgins Waste & Recycling Services Ltd
The Kerries,
Tralee, Co Kerry
Email: [email protected]
Tel: 066 7123059
Taken from Irish Trucker & Light Commercials magazine, November/December 2017, Vol 20 No 7