Topaz'new flagship site in Carlow is a real winner
23/02/2018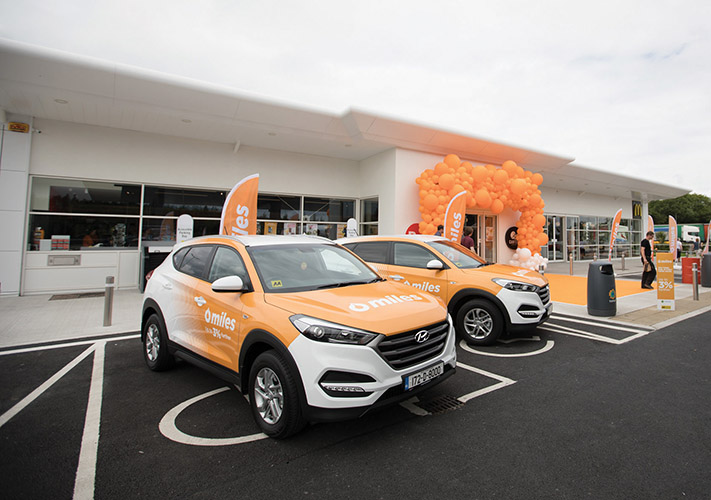 On March 19th 2017, Topaz opened its fantastic new flagship service station at Junction 5 on the M9 in Rathcrogue, County Carlow. This modern motorway service station / food court doubles up as an ideal truck stop along the busy Dublin –Waterford route and is going down a storm with both the trucking fraternity and other commuters. We caught up with general manager Helena Scallan to find out more.
The genesis of Topaz'newest service station on the M9 motorway has come as a real fillip for motorists using the busy Dublin-Waterford Road as well as the local community. In conjunction with three new food court offerings -Topaz's renowned healthy 'food on the go'offering, Re.Store; its latest Mexican street-food concept, 'Cantina'; and a 24-hour McDonald's restaurant (as well as extensive self-service customer refreshment and coffee facilities) –the new forecourt has generated employment for well over 100 people.
Completely customer-orientated, the forecourt / service station offers customers a broad and varied range of services –ideal for a little (or extended!) breather along one of Ireland's busiest routes. The service areas operate 24 /7, providing a full range of services to all road users day and night, boasting in excess of 140 parking spaces, generous truck parking, charging points for electric vehicles, coach parking, carwash, wifi access, showering and toilet facilities.
All of this is complemented by a large indoor seating area, as well as external picnic and seating areas.
Topaz Junction 5 M9 is one of two new motorway service areas to be opened in 2017 by Ireland's largest fuel and convenience retailer in conjunction with McDonald's, the other one also very strategically located - on the M8 Cork-Dublin Road in Fermoy and due to open this Autumn.
Between both sites, which represent a total investment of €16m, permanent employment will be created for 230 people, with an additional 100 working on site during construction.
"It's been non-stop here since we opened,"general manager Helena Scallan told Irish Trucker when we dropped into the Rathcrogue facility for a chat some five months after opening. "We have 37 people employed here in the service station and there's never a dull moment.
"We're in an excellent location –the first motorway station on the M9 after you leave Dublin. We have a 24-hour filling station as well as walk-in facilities and a choice of Mexican food, deli food or McDonalds around the clock."
Truckers are particularly appreciative of the facilities on offer and the sheer convenience of the new Topaz station: "We have overnight parking for trucks and they are virtually full every night. They can call in and get a bite to eat and a shower and then move on the next day whenever they want. We also have truck pumps here and AdBlue pumps as well, so we're doing everything we can to make sure the truckers are looked after.
"Word has spread that we're here and truckers are very appreciative of the fact that we have the space here as well as the service and facilities to cater for their needs. The parking area is at full capacity every morning and we get a lot of repeat custom from truck drivers."
Topaz'newest service station has been a resounding success to date and all the signs are extremely encouraging that it will continue to go from strength to strength. Already, it's very difficult to imagine what this veritable hive of activity was like before Topaz, Junction 5 M9 appeared!
Of course, it's not just lorry drivers who pop in. "Obviously, we cater for all commuters,"Helena confirms. "They can top up their fuel or stop and grab some food or even just come in for a coffee and to read the paper on a Sunday morning. It's a lot handier than going into Carlow town and both passers-by and locals are pleased with the service we're offering them."
Since opening, the multi-million-euro Topaz facility on Carlow's Wexford Road has enjoyed increasing customer numbers week on week, with significant numbers of locals and passing trade experienced. "It has exceeded all expectations,"says Helena. "It's growing literally every week and to be honest we are all pleasantly surprised by the immediate success we've recorded so far. This is something that's been badly needed in this area and the positive reaction proves that."
Green diesel, diesel, unleaded petrol and AdBlue –with a pump at the truck stop and also on the forecourt –are all available on-site 24/7.
The opening of the new motorway service station tied in nicely with Topaz investing €6 million in the roll-out of its new fuel brand, Miles, across its 430 Irish petrol stations. As part of the publicity campaign for this re-launch, a television advertisement was filmed on site in the striking Rathcrogue forecourt.
Miles is the fuel brand which is part of the global Circle K offering, which acquired Topaz in February, 2016. Additives in the petrol and diesel reduce fuel consumption by up to 3% as well as lowering maintenance costs.
From Wexford town, Helena Scallan has been working with Topaz for five years and is thoroughly enjoying the challenge of managing the Junction 5 M9 service station and truck stop. "We're going to continue to strive to achieve better standards and service levels,"she says, looking to the future. "Improving the service is our main priority and we will continue to work very hard as a team to ensure that our customers'expectations are not only met but exceeded.
"We welcome all feedback and try our absolute best to accommodate motorists and customers in any way we can. When you are running a 24-hour business, you need good people around you. The team I have here have been very, very good since the beginning and I know I can trust them and depend on them to deliver. We have an excellent management team and everybody has the same objective of constantly improving and taking the business to the next level by increasing our standards all the time."
Sounds like Topaz Junction 5 M9 is here to stay!
Topaz Junction 5 M9,
Rathcrogue,
County Carlow
Tel: 059 9179358
Taken from Irish Trucker & Light Commercials magazine, November/December 2017, Vol 20 No 7